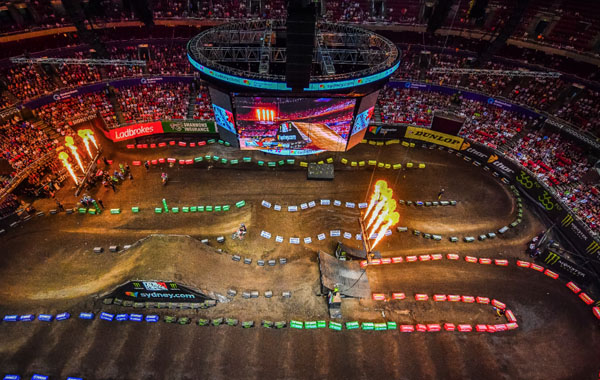 Entries are now open to all ticket holders to the Monster Energy AUS-X Open Sydney to enter the much anticipated AUS-X Million competition, one of the richest prize offerings to event attendees in Australian history.
$500,000 is up for grabs for individual day ticket holders who pick the Top-12 place getters in the correct order, in the main Supercross (SX1) Final on either Saturday OR Sundaynights.
The prize pool is shared should there be multiple winners on either or both nights, OR, if a ticket holder attending both nights can correctly select both nights SX1 Final in the correct order, they will walk away with the AUS-X $1Million. NOTE: Individual tickets purchased for both days are still valid.
Remember to double your chances of winning, and a shot at the FULL million dollars, you need tickets to both nights – limited tickets still available via Ticketek.com.au
SO HOW TO ENTER?
Select from the list of riders, arranging them from 1st to 12th, by dragging and dropping the riders into the position you think they will place.
Entrants must ensure they are happy with the order of the top 12 finishers of the SX1 final race they have chosen, as entry is final upon submission and no further amends to the selection can be made, even if a rider selected is injured in other racing competition.
The AUS-X Open recommend participants take their time and select carefully given there is only chance to enter.
AUS-X Open also recommend entering Sunday's competition after Saturday's Final results are released, to ensure the best possible chance at winning.
For details of the rider winner odds, visit Ladbrokes.com – the Official Betting Partner of the Monster Energy AUS-X Open Sydney.
Entrants to the AUS-X Million must be 18 years or over and must provide a valid 2017 AUS-X Open ticket to Saturday and/or Sunday event(s) on November 11-12 2017, to be eligible to win the cash prize(s).
All ticket classifications are valid, entrants must provide both the trans number and unique PAX number on their event ticket(s).
Entries will only be accepted via the official website portal and must be completed before Qualifying for SX1 begins on Saturday November 11 (before 3:45pm AEDT) and Sunday November 12 (before 11:45am AEDT).
Final race results as at 7pm AEDT on 13 November 2017 will be used to determine the winners for this Promotion, with winners published at www.ausxopen.com on 28/11/2017.
For full Terms and Conditions, visit www.ausxopen.com/million
Watch the video for a full demo on how to enter the AUS-X Million below!