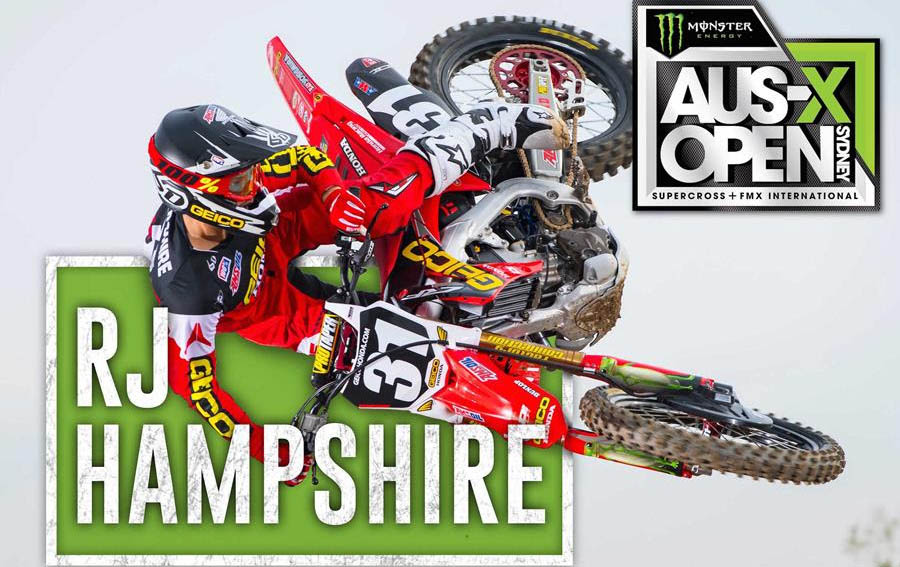 Monster Energy AUS-X Open Sydney has released another superstar name to the already stella line up, for the SX1 competition at next weekend's event at Qudos Bank Arena.
23 of the best Supercross talent from around the world, as well as the finest local riders from across Australia will bang bars to become the AUS-X Open SX1 450 Class Champion, on November 11 and 12, which includes rounds four and five of the 2017 Australian Supercross Championship.
The last minute inclusion to the SX1 list is none other than America's RJ Hampshire, who is set to be a strong contender against the existing star studded field.
The Factory Honda rider Hampshire came in at fifth place in the AMA West Coast Supercross Championship (250cc) in 2015, and eighth place in the AMA West Coast Supercross Championship (250cc) in 2016.
"I can't wait to race in Australia! I've been putting in a lot of hours on the 450 lately and am feeling really good on the bike. I'll give it everything I have to compete for the win!" Hampshire stated.
A surprise last minute change has seen Josh Grant's Kawasaki Racing Team withdraw him from competing at the AUS-X Open, due to his upcoming testing schedule for the 2018 Supercross season. A decision both Grant himself and AUS-X Open organisers were disappointed with.
"We were extremely disappointed that Kawasaki had decided to withdraw Josh (Grant) from this year's AUS-X Open. Josh was really excited to come out, as were we to have him – but regardless, we're really excited to have an up and coming talent like RJ Hampshire out to make his Australian debut. He has an incredible style and flair that we're sure fans are going to love watching," AUS-X Open Director and Co-founder Adam Bailey said.
"There's no doubt that this year's AUS-X Open has an incredible rider line up that we're really proud of. Of course we were as disappointed as anyone to hear that Chad (Reed) wasn't going to be ready to race in front of his home town fans this year. We appreciate that he did everything humanly possible to get the treatment he needed to do so and like the true champion he is, he's committed to come home to see his fans and sign as many autographs as possible," exclaimed Bailey.
Details on how fans can get the opportunity to get up close and personal with Chad Reed across the Monster Energy AUS-X Open Sydney weekend, will be announced early next week.
As the final official SX1 rider lineup is now finalised, AUS-X Open ticket holders will have the chance to enter their predictions to the AUS-X Million, which will officially open in the coming days.
Stay tuned for further announcements!
MONSTER ENERGY AUS-X OPEN SYDNEY – SX1 450cc OFFICIAL RIDER LINEUP
1 – Jason Anderson (Factory Husqvarna)
2 – Justin Brayton (Factory Honda)
3 – Dean Wilson (Factory Husqvarna)
4 – Dean Ferris (Factory Yamaha)
5 – Daniel Reardon (Factory Kawasaki)
6 – Kade Mosig (Satellite Yamaha)
7 – Dylan Long (Factory Yamaha)
8 – Todd Waters (Factory Honda)
9 – Luke Clout (Factory Honda)
10 – Nathan Crawford (Factory Kawasaki)
11 – RJ Hampshire (Factory Honda)
12 – Nick Schmidt (Factory Suzuki)
13 – Daniel Herrlein (Privateer Suzuki)
14 – Joel Wightman (Privateer Honda)
15 – Jesse Dobson (Factory Honda)
16 – Robbie Marshall (Privateer Honda)
17 – Luke Wilson (Factory Suzuki)
18 – Geran Stapleton (Privateer Honda)
19 – Boyd Hocking (Privateer Yamaha)
20 – Nicholas Bressan (Privateer)
21 – Jono Krusic (Privateer Yamaha)
22 – Tim Macarthur (Privateer)
23 – Joshua Bell (Privateer)