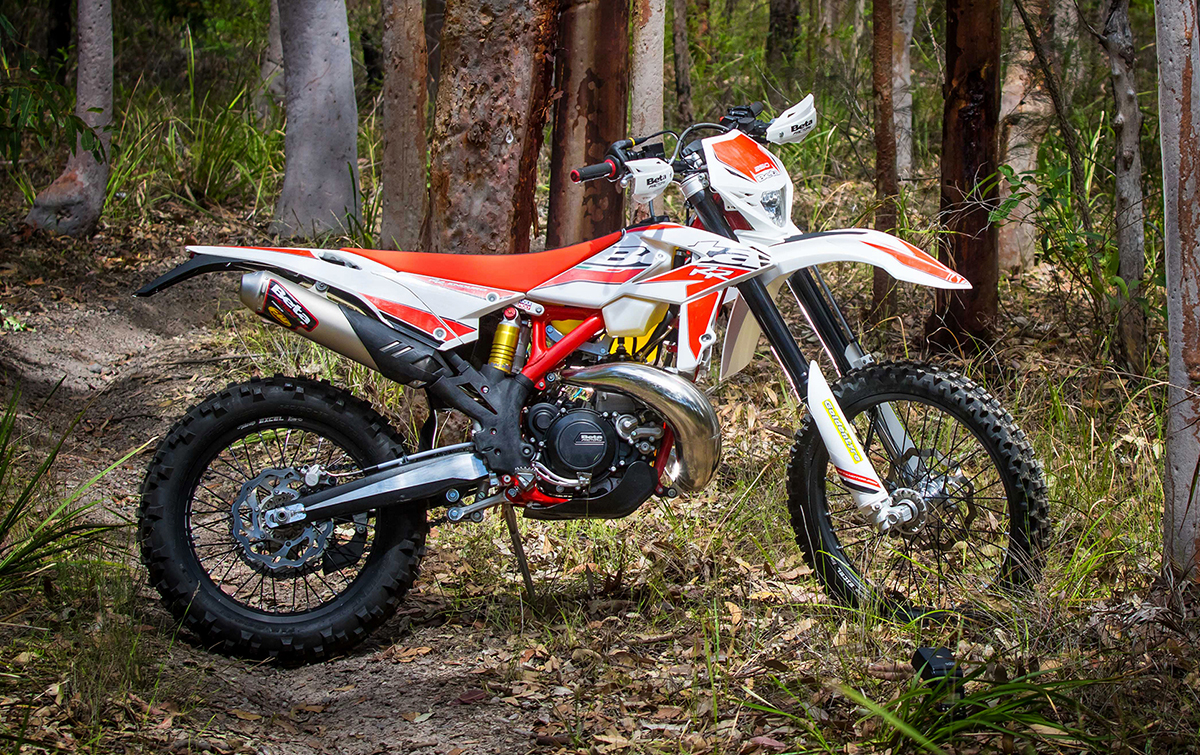 Beta is hitting the 2018 model year with a comprehensive stable of capacities and we gave two of the new breed a run for a day
WORDS AND PICS ASHENHURST 
It's been a few years since I rode a Beta. I was always left pretty content after riding these Italian bikes, but on the other hand there was always something that wasn't quite right and kept it from being an obvious contender against the big dogs. This time around was something of a revelation. I feel pretty safe to say that these are the most improved bikes I've ever ridden and this is great news for the industry at large. The Japanese don't service the trail scene well anymore and there's little point holding our breath for them to come back. However, the European manufacturers combined are perhaps putting out more bikes than ever and while the gene pool took a hit when Husqvarna was bought by KTM, as Australians seeing Gas Gas return with an excellent EC300 while Sherco continues to grow and now Beta on the up, it's all good news for variety and price-point competition in our local market.
Offroad legend Ben Grabham is now with Beta in a brand manager role and he's been taking the bikes around from trailride to open day to wherever he can offer riders a chance to try the Betas and the response has been great.
For our test day Grabbo brought up a 250RR two-stroke and 390RR four-stroke and we were joined by 14 times motocross and supercross champ Craig Anderson for the day. Ando has been pretty keen on offroad for a while and he certainly can twist the throttle in the trees.
GEARING UP
So I'll get this out of the way immediately – I don't like Sachs suspension. I never have and to me it's been the Achilles heel of the Beta. That the bikes are still running Sachs was kind of a disappointment when we see Gas Gas has gone to KYB and Sherco is running WP. I quizzed Grabbo a fair bit about this before we rode and he assured me that the Sachs has improved dramatically. Grabbo's job is sell bikes but he's also one of the most forthright blokes you'll ever meet so I took him at his word, whist pretty sure if it isn't better then Ando's pace will make that evident.
The tracks we rode were mostly single trail with barely a hint of moisture which is insane given we'd had huge storms just days before. The surface was skatey and rutted and pretty shit but good for testing. We also ran some fast open trails to gauge the bikes tapped-out and got a visit from a family of wallabies keen to commit suicide.
The bikes are at first glance, sharp looking kit with plenty of good componentry from the lithium battery and Nissin brakes to the ignition mapping switch as standard, frame guards and the pièce de résistance on the 250RR which is the oil injection – premix don't live here no more people – while the 390RR runs Synerject dual injectors.
Both bikes are electric start only and run pipes by FMF and long gone are the shitty thin seats and in come a far more comfortable bum rest.
The 390RR has a new chassis, new clutch and redesigned airbox along with suspension tweeks, new exhaust and a weight loss of 5.3 kilograms, while the 250RR lost 4.7 kilos which is a big weight loss at any one go.
There's nothing that immediately grabs you that looks out of place or missing. These are pretty complete packages with Excel rims, nice anodized touches and if anything isn't quite to your liking then there's big range of genuine parts on offer.
2018 BETA 390RR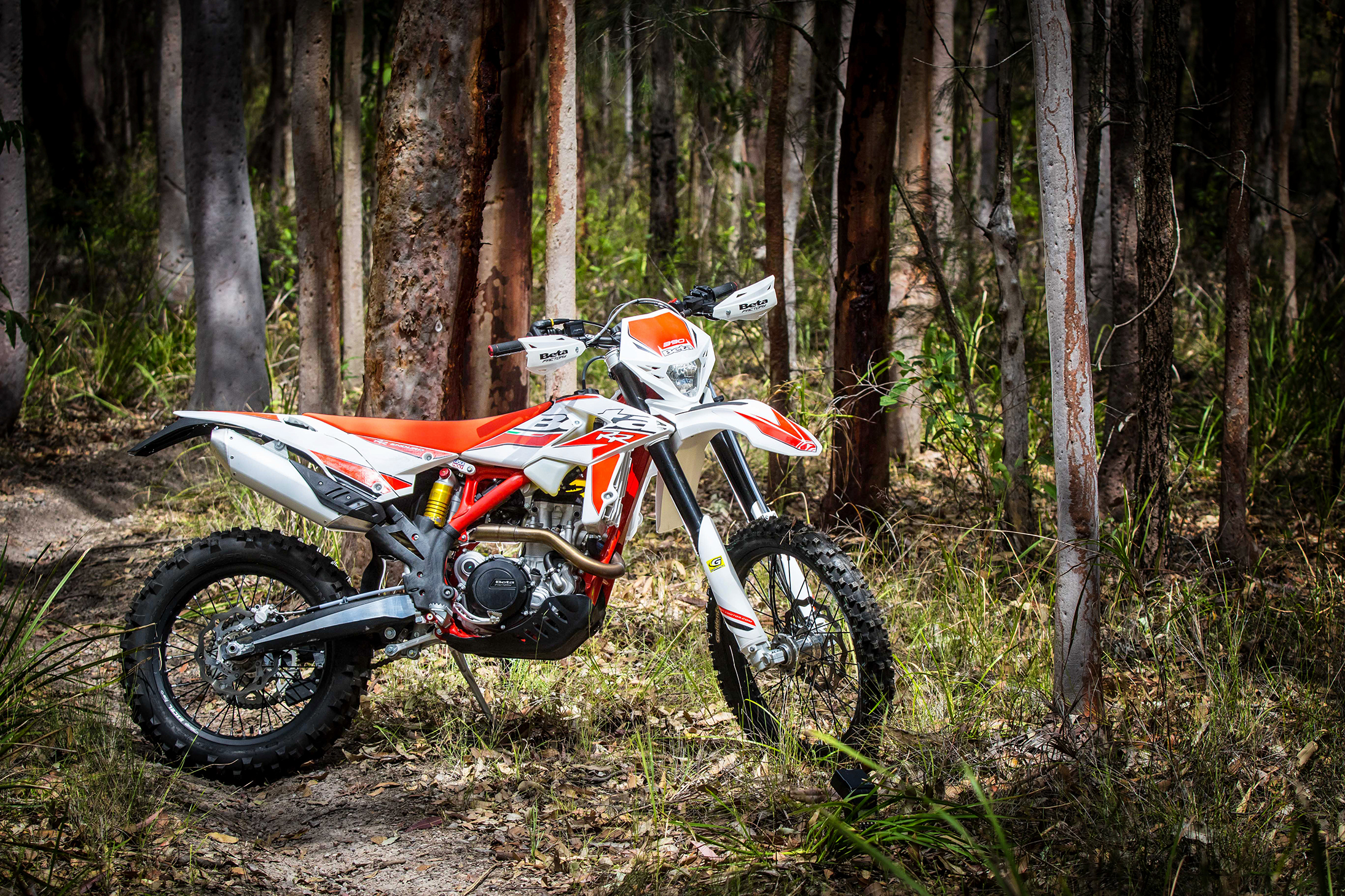 I like the 400cc size. Somewhere around 350-400 is the Goldilocks zone for bikes over 250 in my opinion while 450 is too much and getting worse.
Running the dual injectors is pretty clever; Kawasaki does it on its KX250F, and it gives you an immediate response – and I mean immediate – from the slightest movement of the throttle. It actually took a bit of getting used to but you touch the throttle with a bee's dick and the wheel turns. It's completely linear with no latency or build-up almost like an electric bike. And the pounce from low throttle is awesome. Any tree root or rock sticking up more than ant's arse is a launch pad and pulling hard out of tight rutted corner is no problem. The 390 holds its gears well and doesn't have dramatic dip in any part of the rev range. This engine really is all I would ever need. It's fun but also thrilling and it can potter about or rage against the trails.
So this was my first time back on Sachs suspension for a few years and as I mentioned before it's never been a favourite. But I gotta hand it to Sachs and Beta here, this stuff is good. Genuinely good. It was the first thing Ando raved about when we stopped for a catch-up and I had to agree. On a dry, tight, rutted-out, shitty trail (which was actually heaps of fun), the bikes showed no crazy behaviour and stayed planted at both my average pace and Ando's much, much faster speeds. The 390's front-end stayed stable and once you locked it on a line it didn't try and wonder. It absorbed the smaller hits with a good level of comfort but once you lift the pace and hit stuff harder it really shines. The bike is so thin and light and fun you tend to start bouncing off stuff like a demented Tiger just for the hell of it.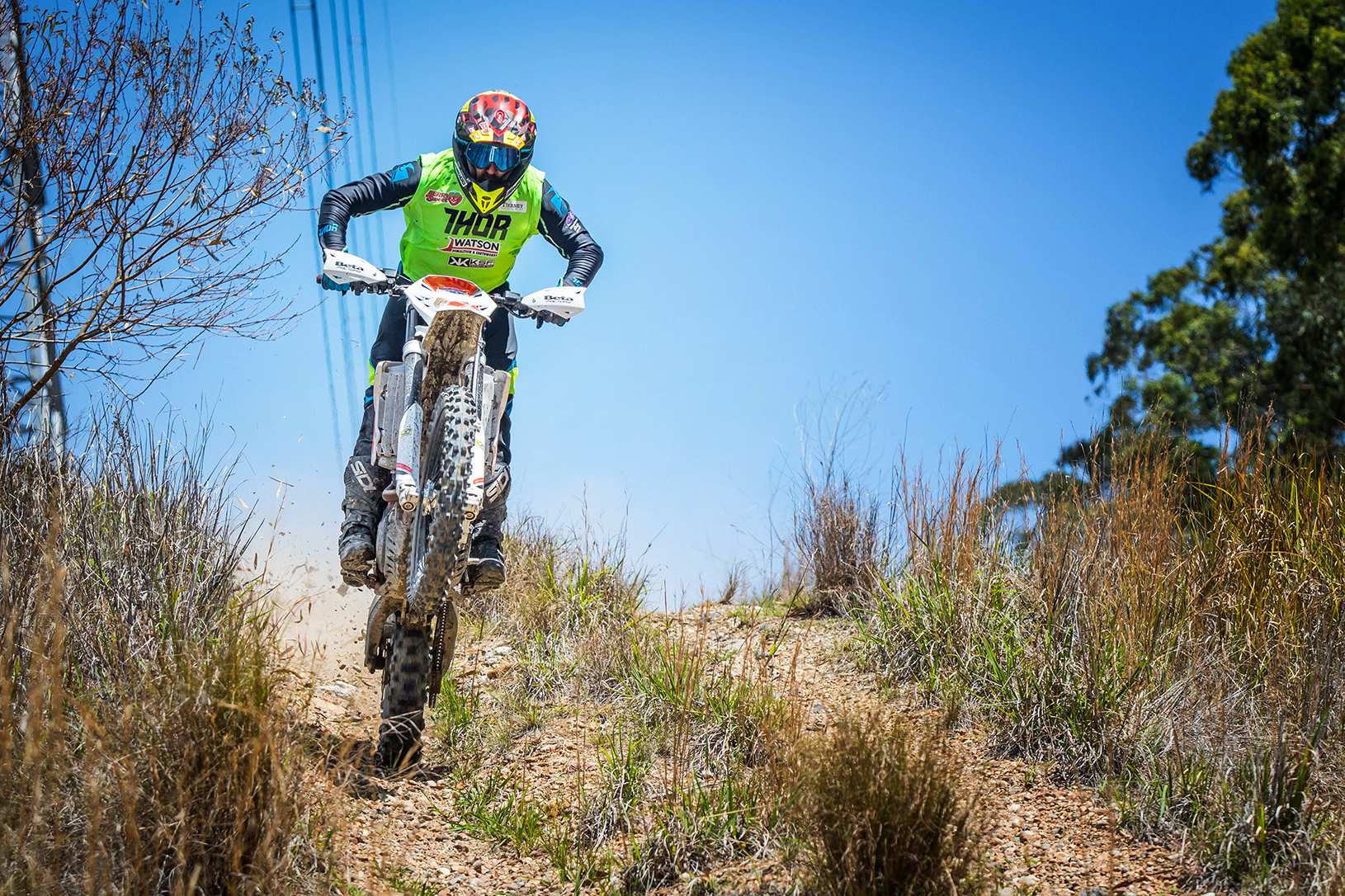 The Nissin brakes were a bit grabby for my liking which is a surprise because I like aggressive brakes and the clutch felt a tad heavy but not to the point where I'd have a whinge.
This is a fun bike to ride with plenty of power, a brilliant delivery of said power and a great chassis and suspension package to match. This really is a great and versatile size four-stroke that I hope plenty of riders can get to try.
The 390RR will have RRP of $13,150 which is a thousand bucks less than the KTM 350EXC-F which comes in at $14,195. Obviously price comparisons against the bigger brands are tempered by re-sale values but the initial hit is a appreciably less.
BETA 250RR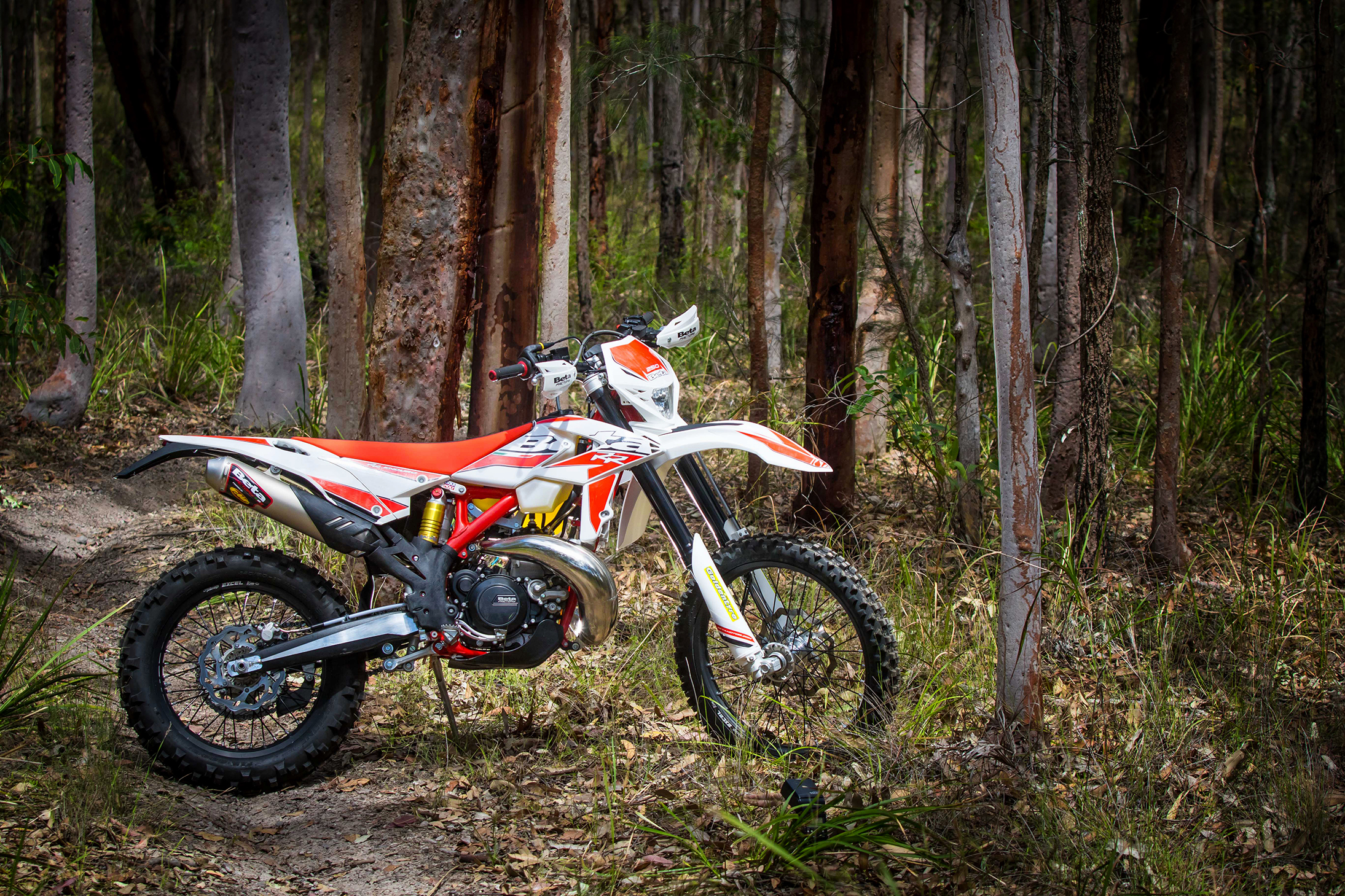 Ando's first words were, 'holy shit this thing's awesome!'
This could well be one of the most fun bikes we've ever ridden. The 250RR is incredibly light and nimble and eats twisty tracks like nothing else. The engine is a sweet mix of pull and punch so you can maintain a nice controlled throttle or rip it and hold-on but it's always manageable and always so satisfying.
Ando marginally preferred the suspension feel of the 250RR over the 390 saying the two-stroke was a more balanced package and I agree. You really can just aim the 250 at whatever you have the balls to hit and it'll be right there with you and it'll only be a lack of talent that stops the show.
We didn't change a single thing besides the lever position all day.
Even on open tracks which we ran absolutely flat-out, the 250 has more than enough to spin your beanie, but it stays so stable and predictable the whole time.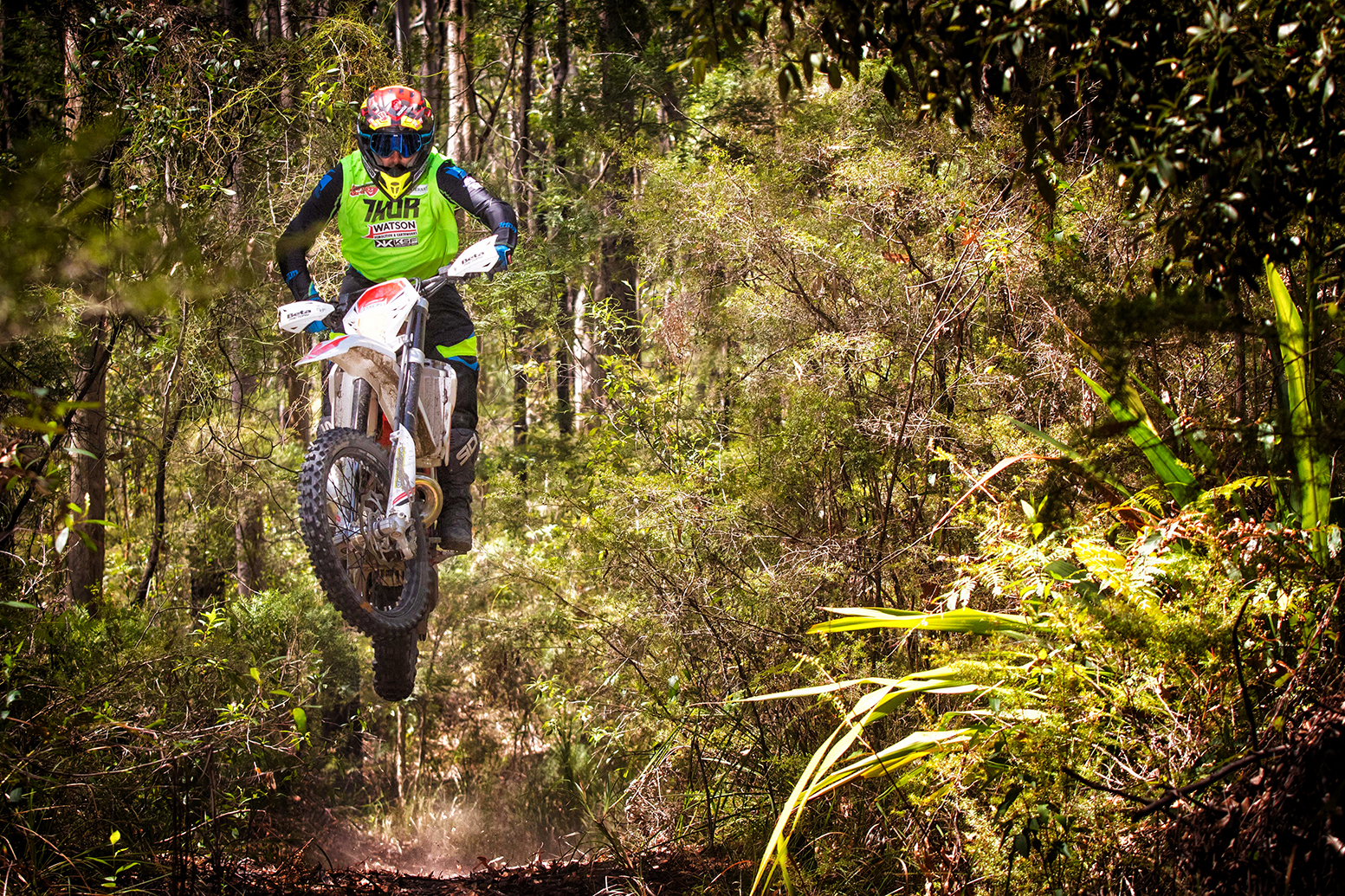 It reminds me of a race prepped KTM 200EXC in how nimble it is but with that bit more muscle that's either there to provide smiles on the trails or win races. Beta have a 300 as well but it's hard to see what more you'd need after riding the 250. If you're main thing is single trail then this bike, while not at all limited to the twisties, is one you need to try before you hand over the cash on anything else.
Grabbo said the oil injection gives you about three tanks of fuel before you need to top up the oil reservoir and that just makes this an even more attractive bike which will sell for $11,390.
This is the sort of bike that makes you want to ride. It's fun and not intimidating but it doesn't short-change you on the mumbo. This is what riding is all about in one neat package. Love it.
FAMILY AFFAIR
Beta is owned by the same Italian family that started the company. We've seen brand after brand change hands and claim to be the same but in in this case Beta is the real deal and has been in business since 1905. Italians can be a bit unpredictable in their manufacturing process and sometimes perhaps a bit too relaxed in after sales. Grabbo said he'd recently visited the factory and things have been revamped and the future is looking bright in a lot of ways. If they can match the best in this regard and then let the bikes do the talking then we are in for a great ride on the new breed of Betas. We can't wait to ride more of them; or just these two again. Just leave them here; we promise to look after them.