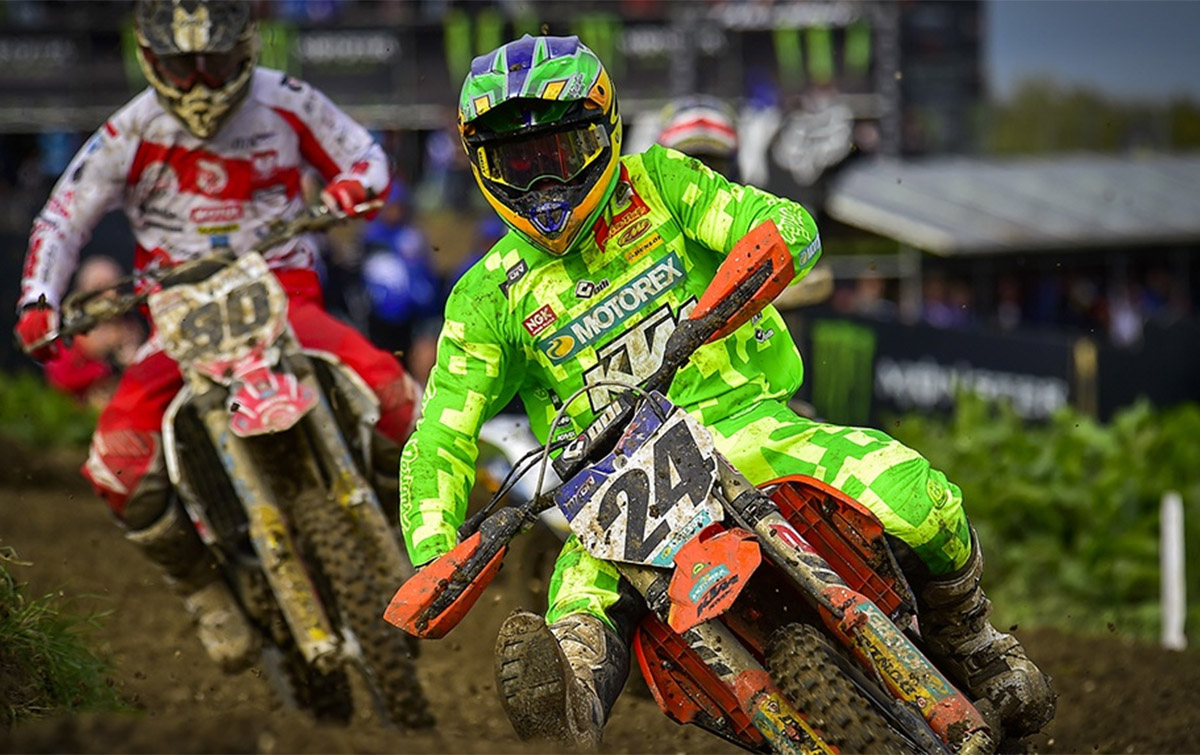 MXGP
The 71st edition of the Monster Energy Motocross of Nations presented by Fiat Professional is off and running today in spectacular fashion. The action packed Qualifying races initiated the biggest and best motocross race of the year held on the picturesque hillsides of Matterley Basin, Winchester. Tens of thousand of fans filled the background creating an amazing atmosphere for a Saturday as it will surely increase tomorrow.
Qualifying in the top spot was the three time defending champions, Team France scoring 4pts with Gautier Paulin, Christophe Charlier, and Romain Febvre, then just as last year's final result Team Netherlands, Glenn Coldenhoff, Brian Bogers, and Jeffrey Herlings followed scoring 4 points as well but the true surprise was Team Australia as Dean Ferris, Hunter Lawrence, and Kirk Gibbs qualified 3rd with a total of 6 points.
The first Qualifying Race of the day was that of the MXGP class with the vibrant crowd roaring in the background. When the gate dropped Team Germany's Max Nagl took the holeshot but it wasn't long before he was passed by Team Slovenia's Tim Gajser.
Following the moves of Gajser and making their way past Nagl was Team France's Gautier Paulin, Team Italy's Antonio Cairoli, Great Britain's Max Anstie, along with a handful of other riders. For Nagl the race didn't get any better as he would continue to drop positions then fall and pull out of the race.
Back at the front Gajser was in a race of his own leading by a substantial margin. In second was the Frenchman Gautier Paulin but behind Paulin was an epic battle between Max Anstie and Antonio Cairoli. The pair of Anstie and Cairoli duked it out for the majority of the race with Cairoli leading the way more often than not. Anstie on lap 8 of 10 took the spot from Cairoli with an amazing move around the outside coming into a turn. However Cairoli responded shortly after taking the spot back and while Anstie remounted a charge he collided with a lapped rider over a jump.
At the finish it was Slovenia's Tim Gajser ahead of France's Paulin, Italy's Cairoli, Great Britain's Max Anstie (who recovered quickly from his fall), Belgium's Jeremy Van Horebeek, and Russia's Evgeny Bobryshev. Team USA's Cole Seely finished 9th in his first Motocross of Nations race of any type.
Tim Gajser in the press conference said: "The track is really good, I'm enjoying it. I had a really good start, I was second and made a quick pass to get into the lead, made it happen and controlled the race. I'm really happy that tomorrow we will be in the final."
MXGP Qualifying Heat top ten: 1. Tim Gajser (SLO, Honda), 27:02.312; 2. Gautier Paulin (FRA, Husqvarna), +0:05.416; 3. Antonio Cairoli (ITA, KTM), +0:06.841; 4. Max Anstie (GBR, Husqvarna), +0:21.486; 5. Jeremy Van Horebeek (BEL, Yamaha), +0:31.752; 6. Evgeny Bobryshev (RUS, Honda), +0:35.494; 7. Dean Ferris (AUS, Yamaha), +0:38.418; 8. Arnaud Tonus (SUI, Yamaha), +0:39.206; 9. Cole Seely (USA, Honda), +0:42.268; 10. Glenn Coldenhoff (NED, KTM), +0:42.872.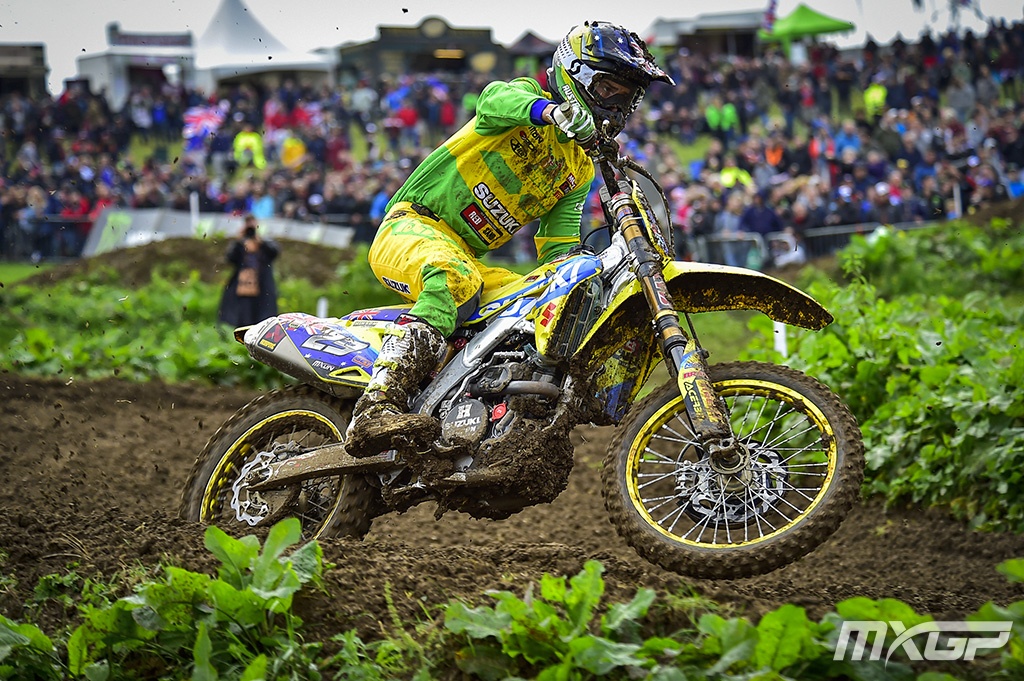 MX2
Following the MXGP Qualifying Race was the ultra competitive MX2 version. Team Australia's Hunter Lawerence started the race perfectly as he took the early lead and holeshot after his 2nd gate choice. Just behind Lawrence was Team Netherland's Brian Bogers and Team Spain's Jorge Prado Garcia.
From the 37th gate pick team USA's Zach Osborne would come out of the first corner around 16th but by the end of the first official lap he made his way to 6th. Meanwhile Team France's Christophe Charlier registered 5th on the first lap and did well to maintain his position only loses three spots by the finish including on to Osborne.
Osborne wasn't in 5th for long though as he passed Great Britain's Tommy Searle on the same lap as Charlier. Osborne continued his charge and caught up to the #35 of Jorge Prado who he cooly passed on his way through the uphill roller section. One lap later Osborne made it by Bogers for second but was still 11 seconds behind Lawrence who led.
For the next 5 laps Osborne chipped away at the lead eventually catching Lawrence but when he tried to pass the Australian responded and held the position, not letting off the throttle. The pace of Osborne proved to be too much for Lawrence in the end however as the American took the lead for the race win on the last lap.
Osborne in the press conference said: "It was tough, we had 37th gate pick and I didn't make the very best start with that pick. I think I was maybe like 25th or 23rd when we came out of the first corner and I made some passes on the first lap. Even when I got into second I didn't think it was possible to catch him but I just started to put my head down and he started to make some mistakes and I won."
MX2 Qualifying Heat top ten: 1. Zachary Osborne (USA, Husqvarna), 27:26.409; 2. Hunter Lawrence (AUS, Suzuki), +0:01.129; 3. Brian Bogers (NED, KTM), +0:24.169; 4. Jorge Prado Garcia (ESP, KTM), +0:25.359; 5. Thomas Kjer Olsen (DEN, Husqvarna), +0:27.304; 6. Darian Sanayei (PUR, Kawasaki), +0:30.267; 7. Tommy Searle (GBR, Kawasaki), +0:43.731; 8. Christophe Charlier (FRA, Husqvarna), +0:46.334; 9. Valentin Guillod (SUI, Honda), +1:12.973; 10. Harri Kullas (EST, Husqvarna), +1:13.996
OPEN
The open class was last chance that the teams would have to qualify directly into the final tomorrow. Taking an impressive holeshot was the rider new to a 450, Team Switzerland's Jeremy Seewer.
Seewer lost the lead quickly though when Team Netherland's Jeffrey Herlings went flying by and Team France's Romain Febvre shortly followed suit. Behind Seewer was a motivated Team Australia's Kirk Gibbs, Team USA's Thomas Covington, and Team Great Britain's Dean Wilson.
While Herlings pulled away with the lead Romain Febvre kept him honest and showed he wasn't far off the pace. As Seewer and the rest of the field lost touch with the top two, Dean Wilson was applying pressure to another 450 rookie, Thomas Covington.
Team Belgium's Kevin Strijbos started the race around 10th but was making his way forward to catch the battle of Covington and Wilson. Wilson looked to have made the move on Covington on lap 5 but Covington held his own a rallied back. Later however Wilson made his way through and so too did Strijbos.
At the finish Jeffrey Herlings, who took the win nearly 29 seconds ahead of second place, Romain Febvre stated: "Obviously we did a pretty good job with qualifying second, it's a shame we didn't win qualifying but still it is all about tomorrow. I think my teammates did a good job, I think Glenn was a bit off today but you know tomorrow if he gets a good start he can regroup himself and Brian did a really good job and rode to the maximum. There is a lot of good guys in all three of the classes so it is going to be tough and I was happy about my riding today."
OPEN Qualifying Heat top ten: 1. Jeffrey Herlings (NED, KTM), 26:40.776; 2. Romain Febvre (FRA, Yamaha), +0:28.669; 3. Jeremy Seewer (SUI, Suzuki), +0:35.853; 4. Kirk Gibbs (AUS, KTM), +0:43.400; 5. Dean Wilson (GBR, Husqvarna), +0:45.274; 6. Kevin Strijbos (BEL, Suzuki), +0:59.581; 7. Thomas Covington (USA, Husqvarna), +1:05.754; 8. Graeme Irwin (IRL, Suzuki), +1:09.555; 9. Tanel Leok (EST, Husqvarna), +1:12.723; 10. Alessandro Lupino (ITA, Honda), +1:27.188