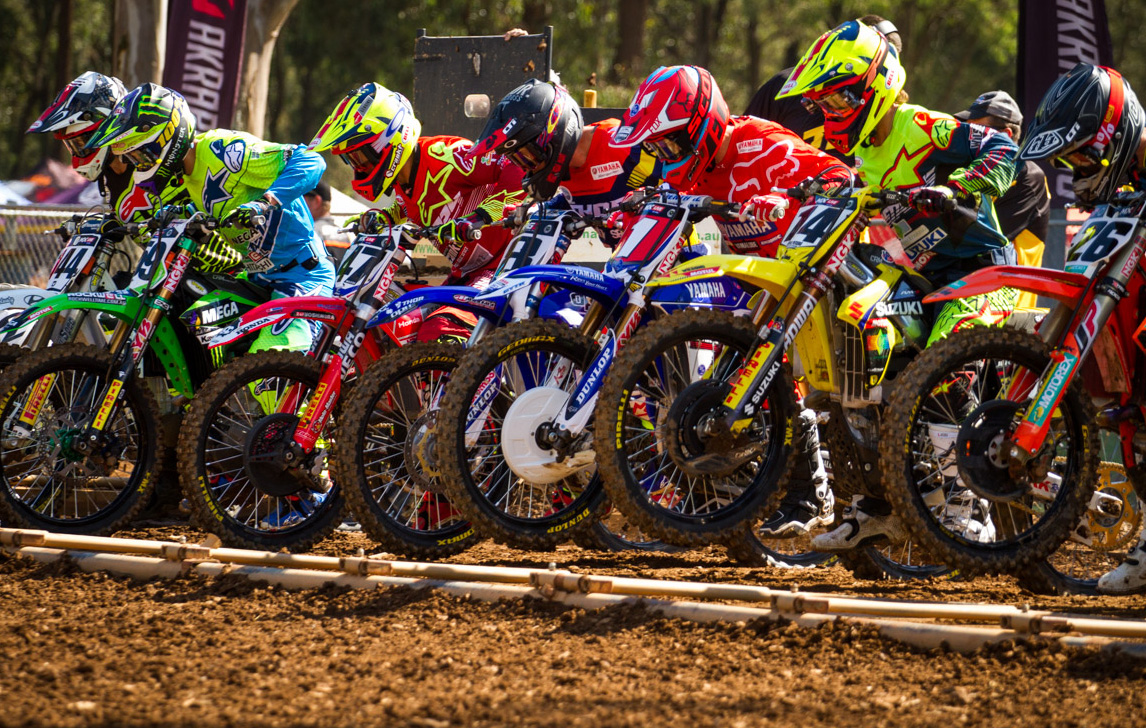 STORY SCOTT BISHOP PHOTOGRAPHY MATT BERNARD
Kirk Gibbs is the only rider to stop the Dean Ferris freight train. Does anyone else look to be able to take it to the reigning champion?
Realistically, when you look through the rider list, the only three riders with the credentials to beat Ferris are Kirk Gibbs, Todd Waters and Brett Metcalfe. Others might have a good race here and there but to beat Dean in 2 x 30 minute motos is a tall order at the moment. Kirk has come off an injury at the end of last season and has been getting better while Todd has been dealing with injury himself as well as adapting to a new bike and team and been below his best. Brett has had team issues and his attendance for the remaining five rounds is still in the air.
To beat Dean at the moment, everything needs to be at 100% because as we saw in the US, he is riding at a world class level at the moment. Todd, Kirk and Dean have raced each other all their lives and always seem to find each other on the track but right at the moment, Dean seems to have stepped it up a level.
I don't doubt that Kirk and Todd will find that level at some point but how fast that can combine the bike, confidence and fitness required to beat Dean is the question. Dean has a 48 point lead and can start making championship with a points lead like that. He doesn't need to win races any more, but I think he will keep it balls to the wall for a couple more rounds as cashing those bonus cheques every weekend must be fun for him at the moment.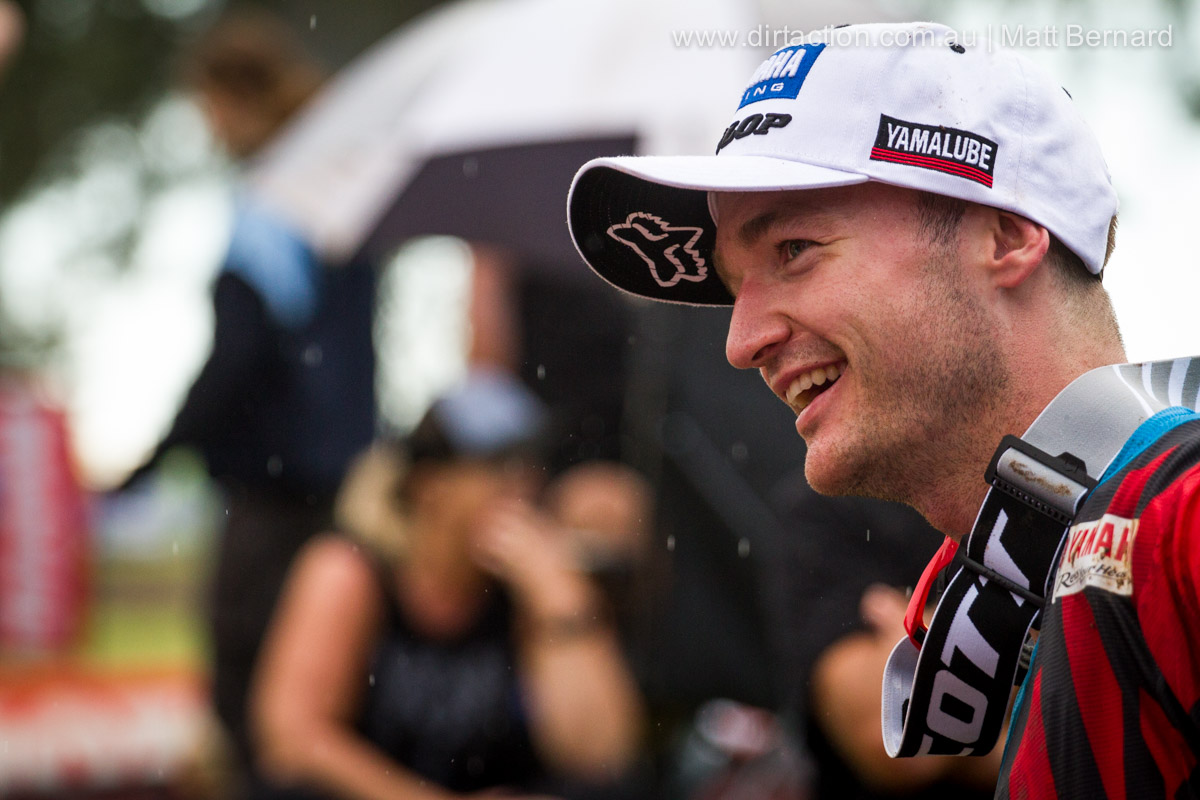 Can we expect some more aggressive racing for the rest of the year in the Under 19s class?
The MXD class is also interesting as you have a bunch of riders trying to find their feet in professional racing and stamp some kind of authority on their rivals. Sort of like a dog marking territory by pissing on every tree. So combine that with a bigger stage, some added pressure and trying to ride at their 100% and you are always going to get some banging off bars.
And, that's the way it should be. The incident between Jy Roberts and Cody Dyce has bought this topic to the surface again and I have no problem with riders going for it. My concern from the Murray Bridge incident was where on the track it happened. A fast 90 degree turn probably isn't the place to try such an aggressive move and when both riders go down, you know it probably wasn't executed that well.
I didn't want to see Jy punished for what happened at Murray Bridge but I don't want that to be the level for passes to happen either or we potentially could have a lot more injuries from passing attempts gone wrong.
Hopefully, both learn from it and can continue to race closely for the rest of the series because the racing is always better when you can race alongside the guy alongside you without fear of injury. I hope Jy and Cody have a great battle all the way down to the final race and the best guy wins- that's what championships are all about.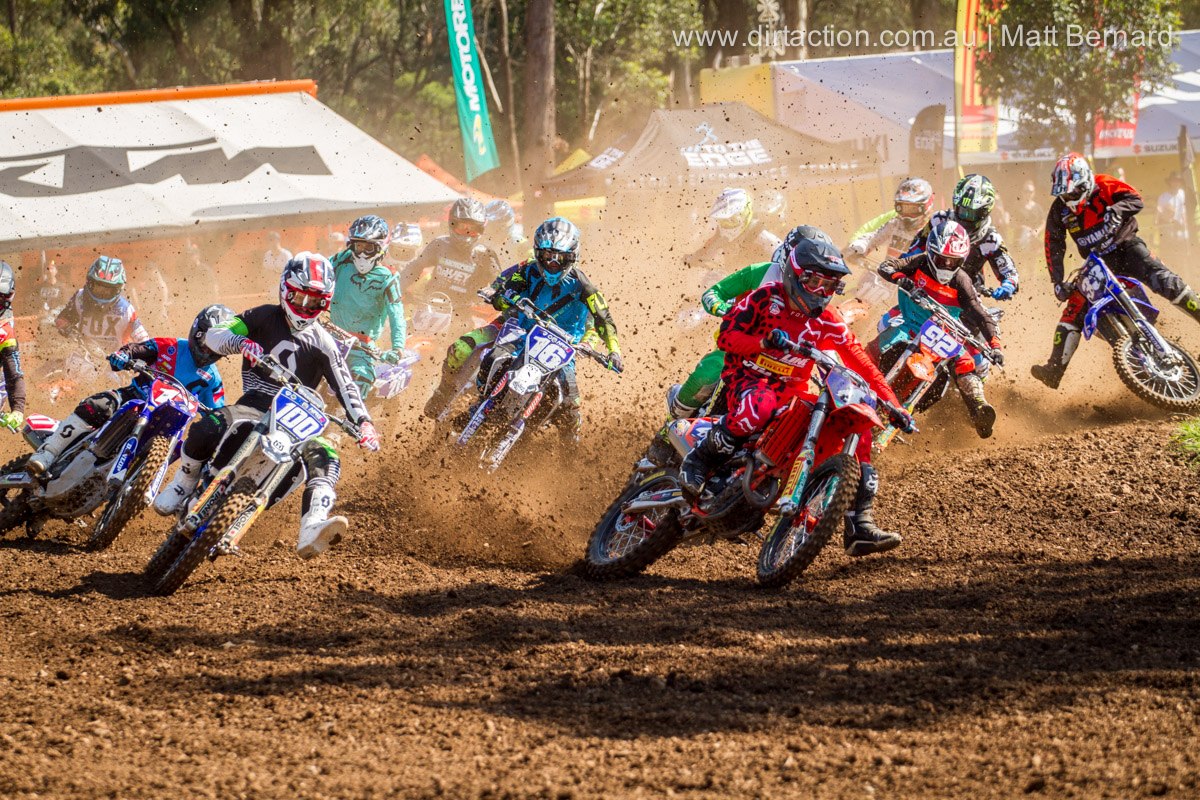 Will a two-stroke stand on the MX2 podium come seasons end?
The points in the MX2 class are pretty tight with just 34 points separating the top 5 riders. Of the top five, two are on two stroke with Hamish Harwood in third and Egan Masten in fifth. So, even just on paper, the chances are pretty good.
Hamish's strength is his consistency and endurance but possibly lacks the outright speed of the other four riders while Masten is as fast as any of them but struggles in mud or wet conditions. Of the last five tracks to come, there isn't really a track that heavily favours either a two stroke or four stroke. Most riders would agree that Murray Bridge and Raymond Terrace are tracks that favour two strokes but out Nowra, Shepparton, Port Mac, Toowoomba and Coolum, possibly Toowoomba leans more towards a two stroke.
The beauty of this years MX2 championship is the closeness of the racing. At Conondale, six guys were within six seconds at the finish and at some point, everyone one of those six riders had the chance to win that race and were leading it. That's how championship races should be contested. I think we will see one two stroke on the MX2 podium by end- no idea who it will be though.