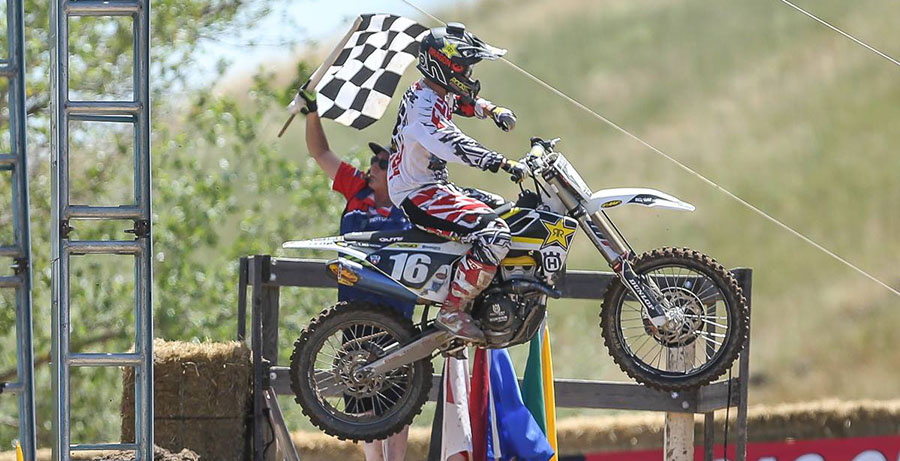 After winning a regional 250SX title in supercross, Zach Osborne entered the 2017 Lucas Oil Pro Motocross Championship season opener as one of the sport's hottest riders. He also considers himself even better suited for outdoor motocross than supercross, which has made him one of this year's top championship contenders.
Osborne took a great first step toward a possible title Saturday at the Red Bull Hangtown Motocross Classic. After posting the top time in both of the morning's practice sessions, he swept both motos and will now take control of the red plate as the series prepares to shift to Glen Helen. Read below for a moto-by-moto recap of what went down in the 250 Class at Hangtown.
Moto 1
The first holeshot of the year went to Adam Cianciarulo. The Monster Energy/Pro Circuit Kawasaki rider, who came close to winning a supercross title earlier this year, was followed by Sean Cantrell and Zach Osborne out of the first turn.
Cantrell, a rookie with Troy Lee/Red Bull KTM, is making his pro debut today. After starting second, he dropped a spot to Osborne early in the race, then fell into a battle with Aaron Plessinger for third.
Eight minutes into the race, Plessinger finally got around Cantrell, then charged toward Osborne. Along with Cianciarulo, the top trio of riders began pulling away from the rest of the field.
Just before the halfway mark of the race, Osborne caught Cianciarulo and made a move for the lead. The two briefly went back-and-forth until Osborne emerged with the top position. With the lead in hand, Osborne began to pull away from the rest of the field.
Osborne went on to win by 5.3 seconds over Cianciarulo, with Plessinger rounding out the podium.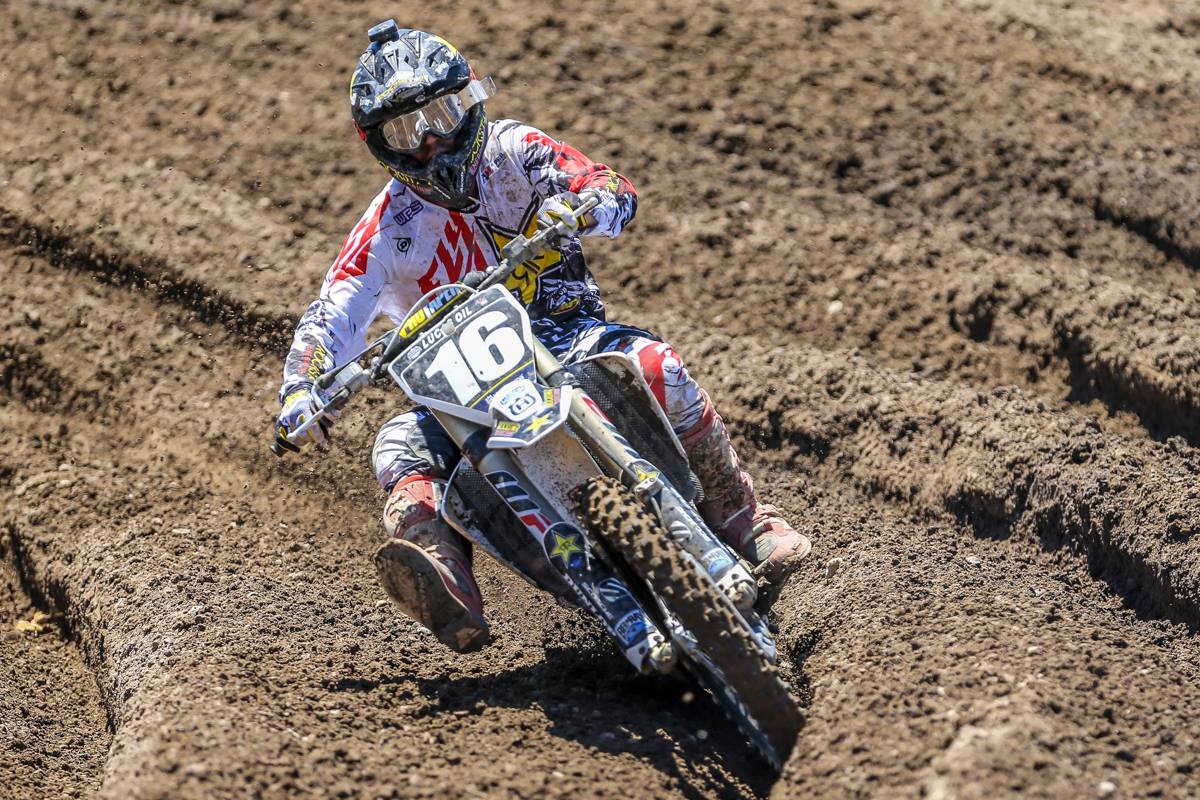 Dylan Ferrandis was putting in a solid ride early in the moto. The Lucas Oil Pro Motocross rookie had worked his way up to fourth, but with under eight minutes left on the countdown clock, he went down hard and struggled to get going again. Ferrandis ultimately did not finish the race. Due to his strong times in recent testing sessions and his experience racing the Grand Prix series, the Yamalube/Star Racing Yamaha rider is considered a possible dark horse this year.
One of the beneficiaries from Ferrandis's crash was Alex Martin, who is in his first year with Troy Lee/Red Bull KTM. Martin overcame a bit of a disappointing start (eighth place after the opening lap) to finish fourth. His brother, two-time 250MX champion Jeremy Martin, was not so lucky. J-Mart experienced bike problems in the final four minutes and had to pull out of the race.
Colt Nichols rounded out the top five with a career-best finish, while Mitchell Oldenburg, Joey Savatgy, Justin Hill, Mitchell Harrison and Cantrell all finished inside the top ten.
One of the biggest movers during the race was Rockstar Energy Husqvarna rookie Michael Mosiman. Despite sitting 26th at the conclusion of Lap 2, he worked his way up to 12th by the end of the race.
Another rookie, GEICO Honda's Cameron McAdoo finished 15th.
Results
1. Zach Osborne
2. Adam Cianciarulo (-5.3 seconds)
3. Aaron Plessinger
4. Alex Martin
5. Colt Nichols
6. Mitchell Oldenburg
7. Joey Savatgy
8. Justin Hill
9. Mitchell Harrison
10. Sean Cantrell
11. Austin Forkner
12. Michael Mosiman
13. Nick Gaines
14. Luke Renzland
15. Cameron McAdoo
16. Shane McElrath
17. Jerry Robin
18. Lorenzo Locurcio
19. Cody Williams
20. Jimmy Decotis
Moto 2
Once again in Moto 2, Zach Osborne got another strong start — this time taking the holeshot. Monster Energy/Pro Circuit Kawasaki teammates Joey Savatgy and Adam Cianciarulo battled for second just behind him.
Savatgy cleared Cianciarulo and set his sights on Osborne. You may recall the last time these two met on the track was at the supercross finale when Osborne put Savatgy on the ground on the final lap to win the 250SX East title. The racing was a lot less aggressive this time around, but thoroughly entertaining. Savatgy was able to use an inside line to take the lead away from Osborne on the opening lap. But Savatgy was unable to pull away, and they went head-to-head again not long after. This time Osborne retook the lead and proceeded to drop the hammer.
With a victory in Moto 2, Osborne swept both motos to win the second overall race of his career.
After losing ground to Osborne, Savatgy came under attack from Alex Martin, who had spent the first seven minutes of the race working his way up the leaderboard. A-Mart was able to take second place away from Savatgy on Lap 4.
After falling behind Aaron Plessinger into fourth, Savatgy was involved in a tight three-way battle with teammates Adam Cianciarulo and Austin Forkner. Forkner emerged from the pack and passed Plessinger to come away with a top-three spot, but Savatgy and Cianciarulo ultimately faded to the backend of the top ten.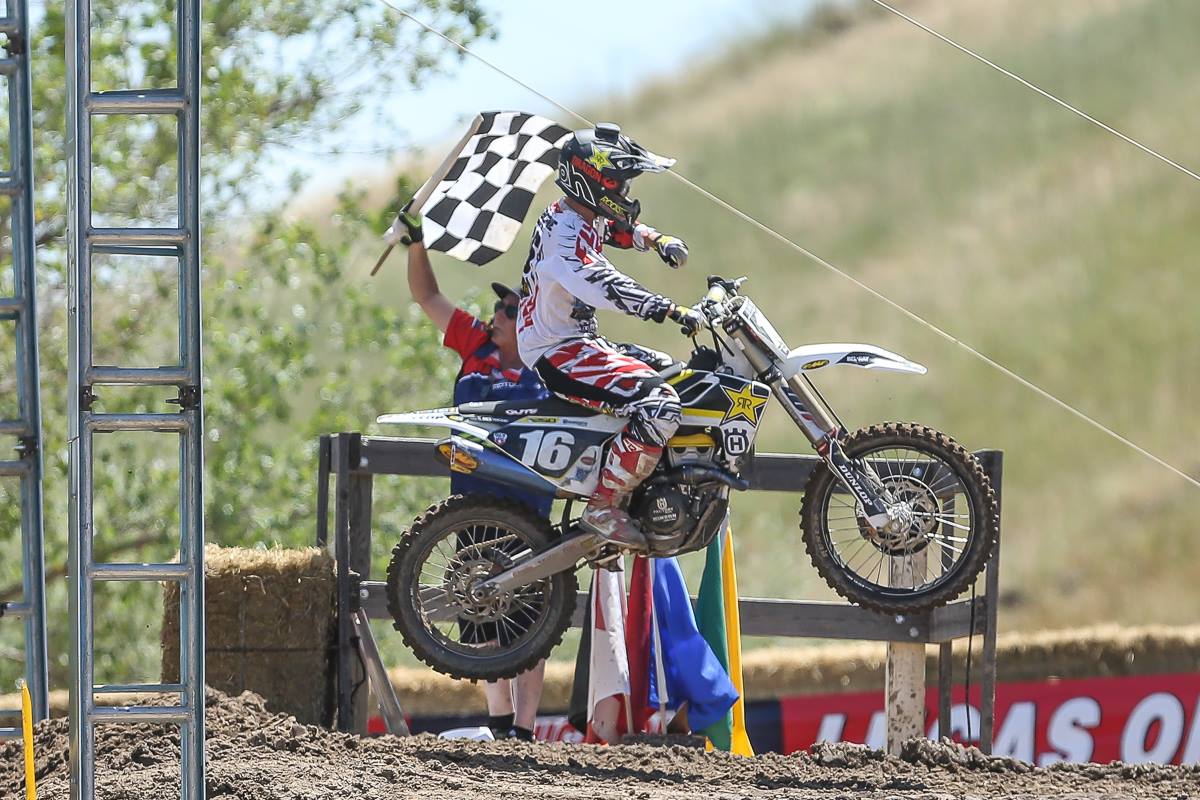 While sitting in third, Forkner faced a lot of pressure late in the race from Jeremy Martin. J-Mart, who had a DNF in Moto 1, had to overcome a slow start for the second straight race. With about three minutes left on the countdown clock, Jeremy tried to get around Forkner but couldn't find the momentum. Forkner eventually put some distance between himself and Jeremy and closed in on the other Martin brother, Alex, for second.
With two laps remaining, Forkner made the move on Alex, and Jeremy was close behind, shuffling Alex back to fourth. Jeremy continued to go after Forkner but ran out of time.
Despite dropping those two positions and finishing off the podium in both motos, Alex Martin still ended up second overall with his 4-4 moto finishes.
Behind Osborne, Forkner and the two Martin brothers, Aaron Plessinger finished out the top five. They were followed by Colt Nichols, a trio of Pro Circuit riders (Savatgy, Cianciarulo, Justin Hill) and Shane McElrath.
Plessinger (3-5) finished third overall behind Osborne and Alex Martin.
Results
1. Zach Osborne
2. Austin Forkner (-2.9 seconds)
3. Jeremy Martin
4. Alex Martin
5. Aaron Plessinger
6. Colt Nichols
7. Joey Savatgy
8. Adam Cianciarulo
9. Justin Hill
10. Shane McElrath
11. Mitchell Harrison
12. Mitchell Oldenburg
13. Sean Cantrell
14. Michael Mosiman
15. Nick Gaines
16. Cameron McAdoo
17. Lorenzo Locurcio
18. Gustavo Souza
19. Brandan Leith
20. Luke Renzland
Overall Results
1. Zach Osborne (1-1)
2. Alex Martin (4-4)
3. Aaron Plessinger (3-5)
4. Adam Cianciarulo (2-8)
5. Austin Forkner (11-2)
6. Colt Nichols (5-6)
7. Joey Savatgy (7-7)
8. Justin Hill (8-9)
9. Mitchell Oldenburg (6-12)
10. Mitchell Harrison (9-11)
11. Jeremy Martin (35-3)
12. Sean Cantrell (10-13)
13. Shane McElrath (16-10)
14. Michael Mosiman (12-14)
15. Nick Gaines (13-15)
16. Cameron McAdoo (15-16)
17. Luke Renzland (14-20)
18. Lorenzo Locurcio (18-17)
19. Jerry Robin (17-40)
20. Gustavo Souza (34-18)