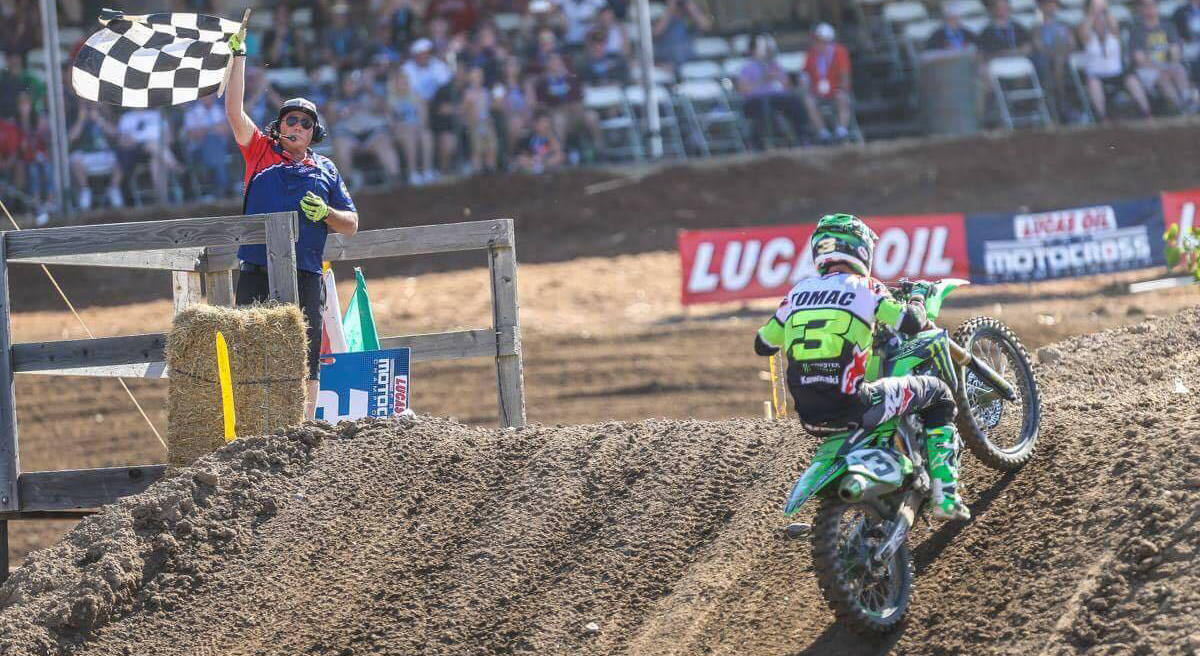 With no previous 450MX champions in the field, it's a foregone conclusion that Lucas Oil Pro Motocross will see a brand new champion crowned this summer. The consensus pick has been Monster Energy Kawasaki's Eli Tomac, who has shown dominant potential at times throughout his career.
Despite a fall in Moto 1 and a poor start in Moto 2, Tomac lived up to the hype by sweeping both motos at the season-opening Red Bull Hangtown Motocross Classic. He had to work hard for the victory though. Read on below for a moto-by-moto recap of what went down at Hangtown.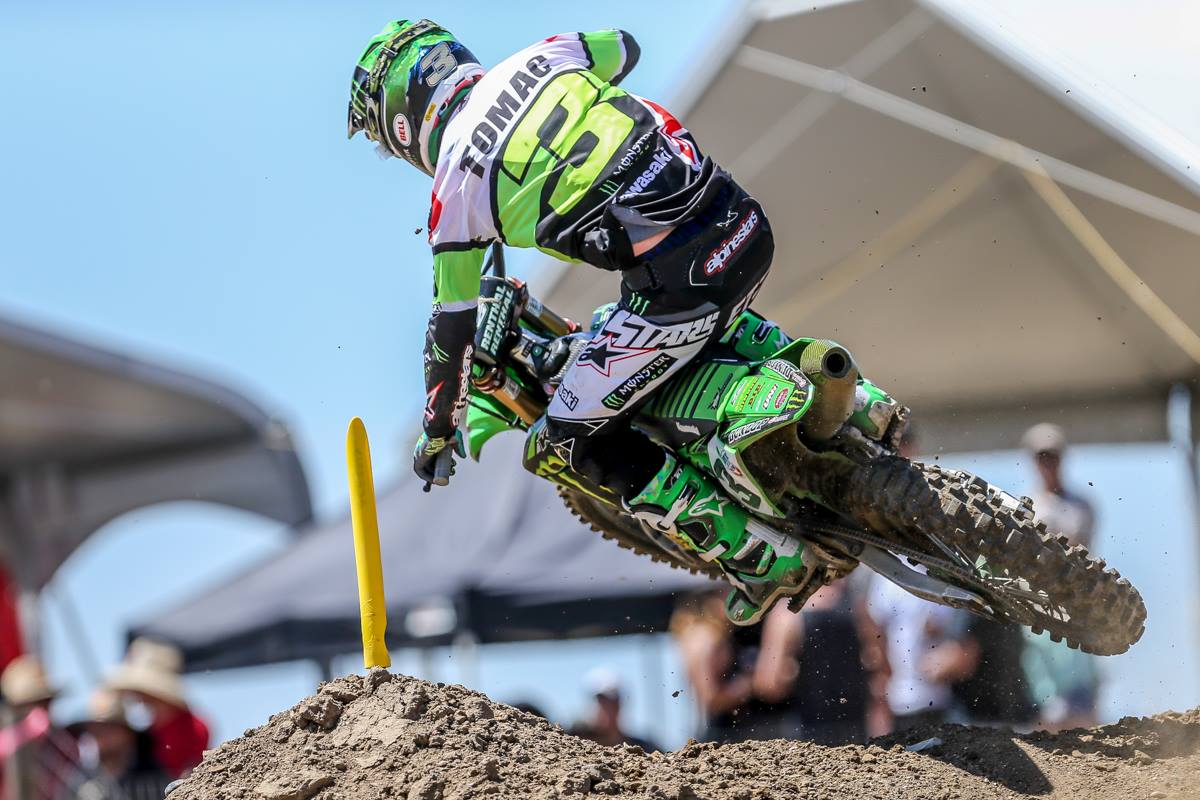 Photo: Grant Reynolds
Moto 1
Christian Craig, who bumped up to the 450 Class for Lucas Oil Pro Motocross and is riding the injured Ken Roczen's Honda, claimed the holeshot in Moto 1. Not far behind him were Marvin Musquin in second and Cooper Webb in third.
Eli Tomac, this year's leading title favorite thanks to the absences of the injured Roczen and the retired Ryan Dungey, quickly worked his way up to fourth, then passed Webb for third. Three minutes into the race, Craig went down, setting up a battle for the lead that a lot of fans were hoping to see: Musquin vs. Tomac.
Musquin did his best to take away Tomac's lines, but on Lap 4, the Monster Energy Kawasaki rider was finally too much to handle. Once he moved into the lead, Tomac checked out. He built up such a large lead that even after falling off the bike with about three minutes left, Tomac was still 10 seconds ahead of Musquin when he remounted. Tomac ultimately crossed the finish line 15 seconds ahead of Musquin for the victory. It's reminiscent of his performance at Hangtown two years ago, when he dominated the field in both motos, though his margins of victory were even larger that year.
Musquin held on for second place. Webb, in his 450 Class debut, dropped multiple spots to Josh Grant (about 11 minutes into the race) and Cole Seely (about 15 minutes into the race) to finish fifth.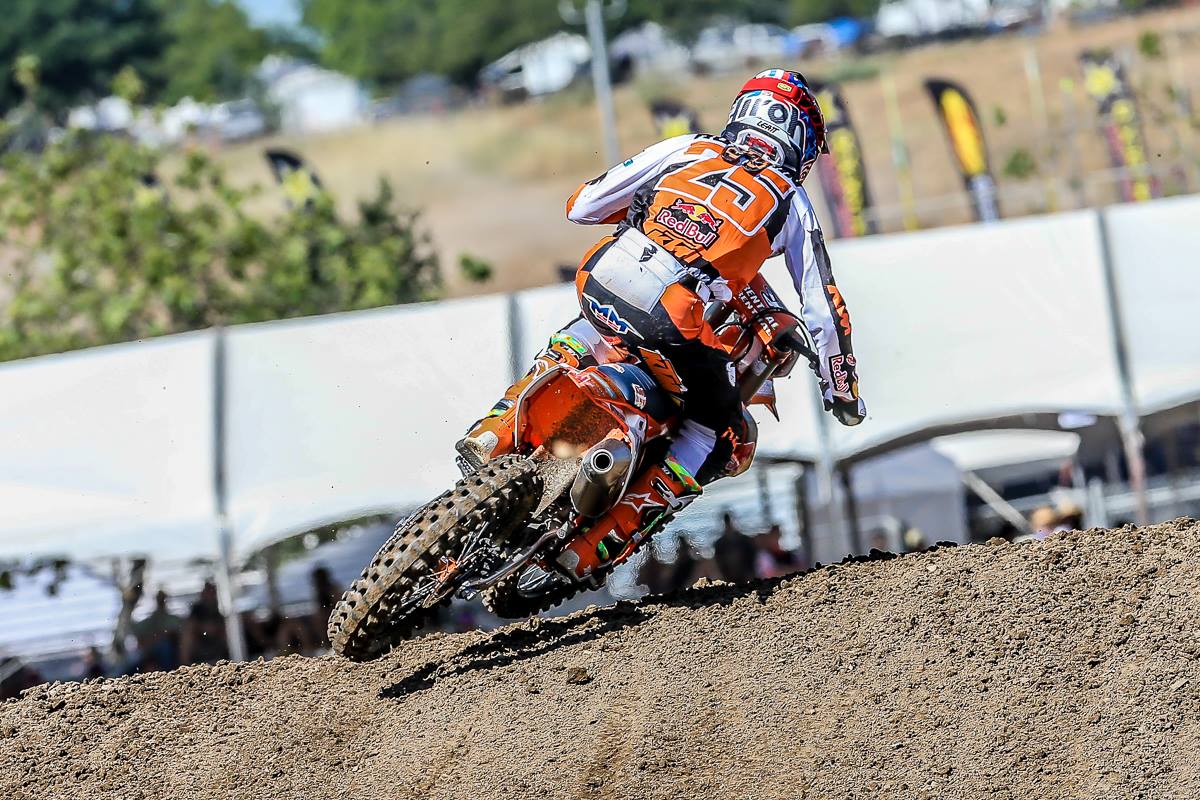 Photo: Grant Reynolds
Blake Baggett, Broc Tickle, Justin Bogle, Craig and Dean Wilson rounded out the top ten.
The early stages of the race included a crash that collected Wilson, Justin Barcia and Jason Anderson. Although Wilson and Barcia were able to resume racing, Anderson left on a cart and could be seen with blood around his left eye. Anderson tweeted after Moto 1 that he had been hit by a rock and had to stop racing because blood was filling up his goggles. He also said that the cut has been stitched up and he will be back on the line for Moto 2.
Moto Results
1. Eli Tomac
2. Marvin Musquin
3. Josh Grant
4. Cole Seely
5. Cooper Webb
6. Blake Baggett
7. Broc Tickle
8. Justin Bogle
9. Christian Craig
10. Dean Wilson
11. Justin Barcia
12. Weston Peick
13. Fredrik Noren
14. Cody Cooper
15. Martin Davalos
16. Kaven Benoit
17. Dakota Alix
18. Rhys Carter
19. Brandon Scharer
20. Heath Harrison
Moto 2
Marvin Musquin stormed out of the gate, but he was edged out for the holeshot by Josh Grant. Meanwhile the other podium finisher from Moto 1, Eli Tomac, was plagued by a poor start and had to come from outside the top ten.
Dean Wilson took advantage of a good start to move into the top five within the first five minutes of the race. About nine minutes into the moto, Wilson and Tomac overtook Broc Tickle to move into fourth and fifth, respectively. That resulted in an exciting battle for fourth place between Wilson and Tomac. Although Wilson held his own for awhile, Tomac got around him with about 19 minutes left on the countdown clock.
At that point, the running order was as follows: Grant, Musquin, Justin Barcia, Tomac, Wilson. Tomac soon caught up to Barcia and passed him for third.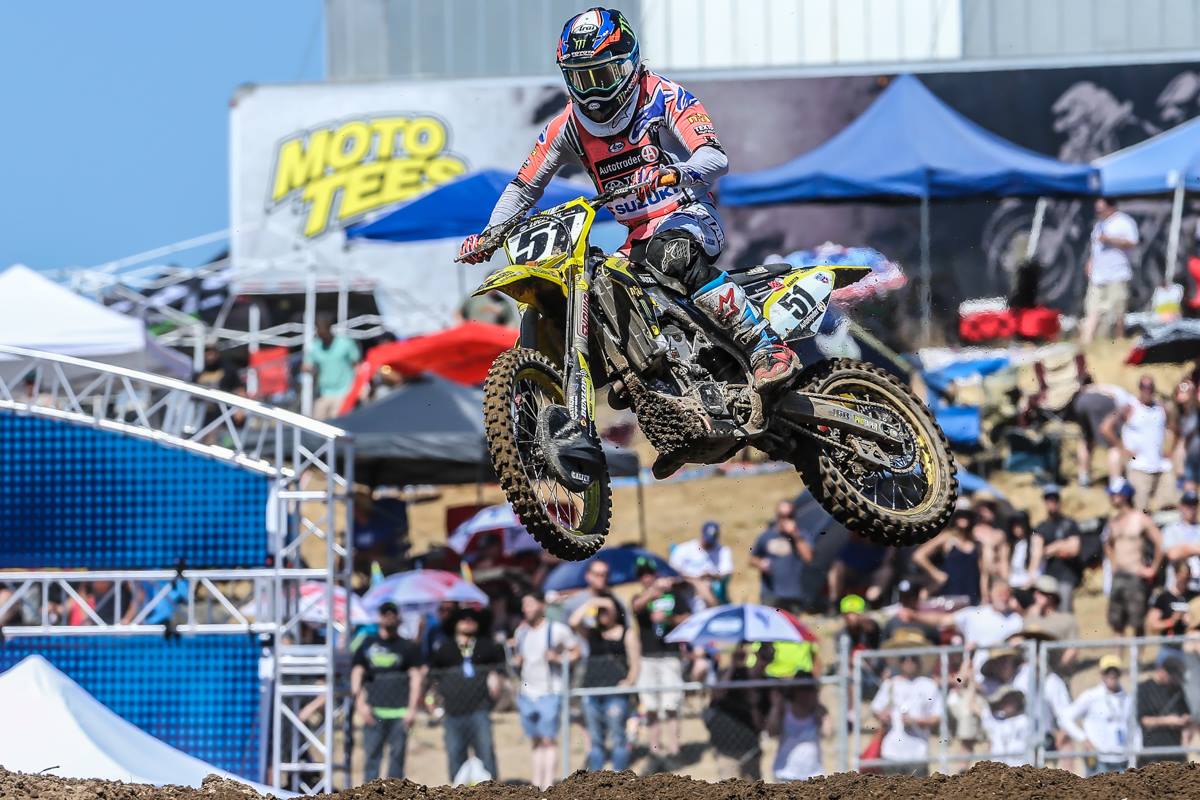 Photo: Grant Reynolds
With Grant, Musquin and Tomac running in the top three at the midway point, the standings were in inverse order from their Moto 1 results, meaning that any shuffling would have an impact on the overall results.
Around the 13-minute mark, Musquin was all over the back of Grant. When Musquin finally made the pass (which put him in control for the overall victory), his gap on Tomac was just under five seconds. Grant had led the race's first seven laps before getting passed.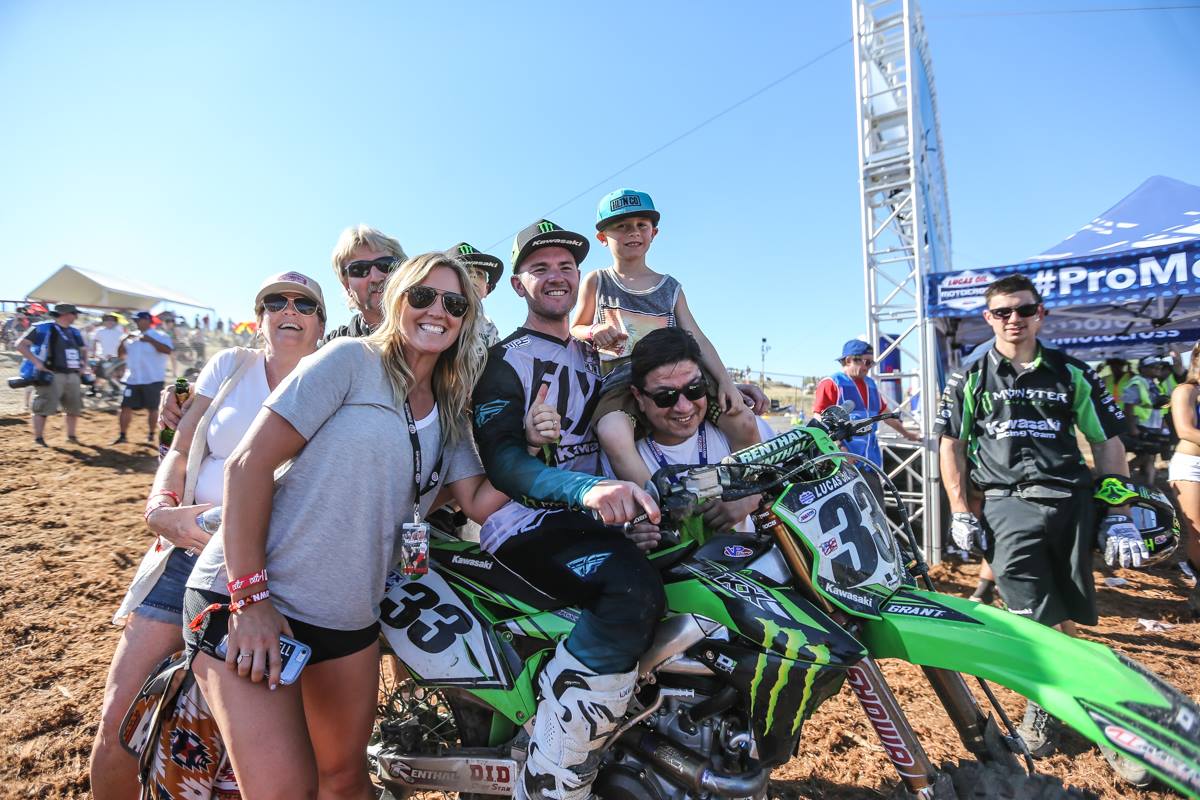 Photo: Grant Reynolds
First, Tomac had to get around his teammate, Grant — that move came around the 8:30 mark. About two minutes later, Tomac had cut Musquin's lead down to nearly nothing. Despite a series of fierce challenges, Musquin successfully kept himself in front of Tomac for awhile, although the two nearly made contact going through the halfpipe. With under four minutes to go, Tomac made his most aggressive challenge yet, making contact and temporarily getting in front of Musquin, but Musquin got him back as they proceeded to race aggressively through the halfpipe once again. As the countdown clock ticked under two minutes, Tomac finally found a line to the outside of Musquin to move into first place.
Things settled down after that, with Tomac, Musquin and Grant finishing top three, just as they did in Moto 1. That made them the top three in the overall standings as well.
Wilson and Barcia hung on for top-five finishes, while Tickle, Cooper Webb, Blake Baggett, Jason Anderson (back from his eye injury in Moto 1) and Justin Bogle finished top-ten.
With 10-4 moto finishes, Wilson ended up fourth overall, giving the Rockstar Energy Husqvarna rider his career-best result in the 450MX Class.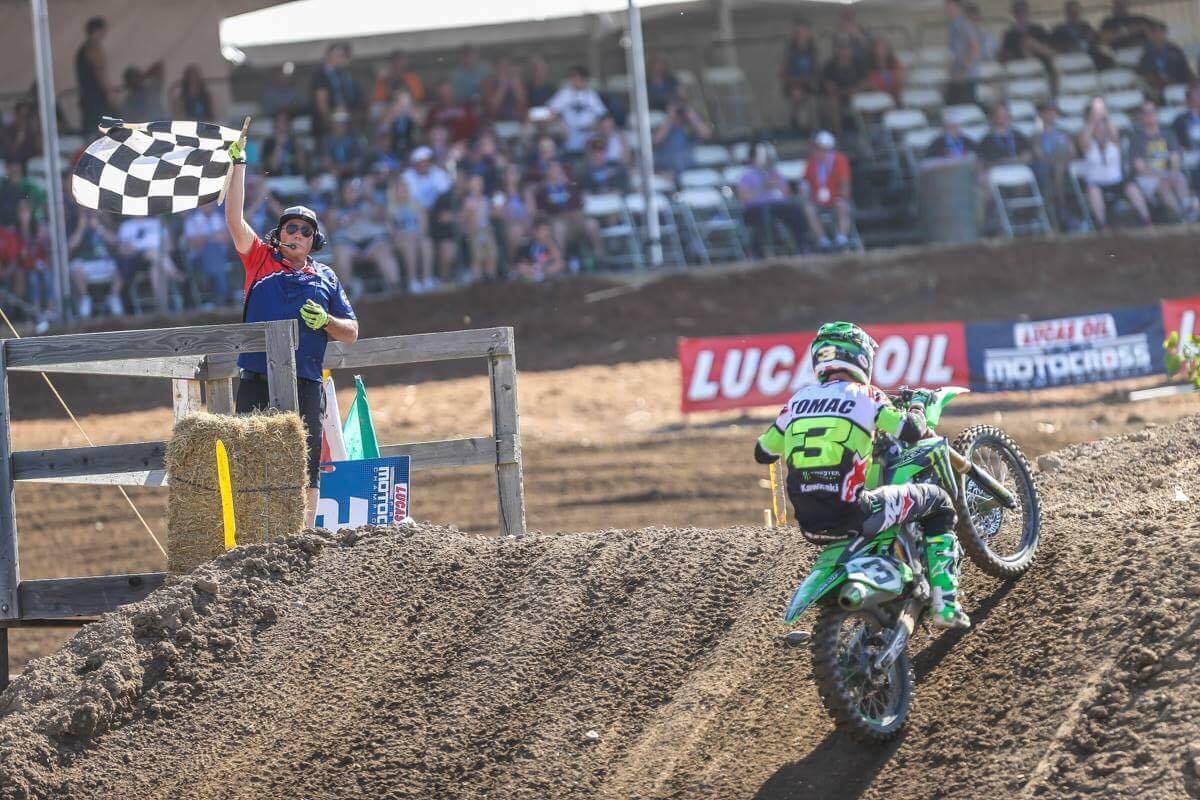 Photo: Grant Reynolds
Moto Results
1. Eli Tomac
2. Marvin Musquin
3. Josh Grant
4. Dean Wilson
5. Justin Barcia
6. Jason Anderson
7. Broc Tickle
8. Blake Baggett
9. Cooper Webb
10. Justin Bogle
11. Weston Peick
12. Cole Seely
13. Martin Davalos
14. Christian Craig
15. Fredrik Noren
16. Dakota Alix
17. Rhys Carter
18. Heath Harrison
19. Angelo Pellegrini
20. Josh Mosiman
Overall Results
1. Eli Tomac (1-1)
2. Marvin Musquin (2-2)
3. Josh Grant (3-3)
4. Dean Wilson (10-4)
5. Broc Tickle (7-4)
6. Blake Baggett (6-8)
7. Cooper Webb (5-9)
8. Cole Seely (4-12)
9. Justin Barcia (11-5)
10. Justin Bogle (8-10)
11. Weston Peick (12-11)
12. Christian Craig (9-14)
13. Jason Anderson (39-6)
14. Martin Davalos (15-13)
15. Fredrik Noren (13-15)
16. Dakota Alix (17-16)
17. Rhys Carter (18-17)
18. Cody Cooper (14-37)
19. Kaven Benoit (16-38)
20. Heath Harrison (20-18)