STORY SHANE BOOTH PHOTOS BY DAMIEN ASHENHURST
Riding someone's race bike can be an exciting, rewarding, disappointing or confusing task. At the highest levels, these bikes are built from a common base to suit the rider quite specifically. The testing period factory teams go through is in large part to find the exact setup that allows the rider to get the best from the bike and be happiest on race day.
This is no easy task. Jeremy McGrath and Ricky Carmichael have completely different riding styles and body shapes so their CRs would have been nothing alike. Josh Green's WRF has nothing in common with Beau Ralston's even though they're on the same team and racing the same races — and on and on it goes.
So, when we ride some of these bikes we're not judging it in the same way we would a stocker that we can all buy. We're keen to find out what direction the rider has gone in to set their bike up, how far they're strayed from the standard form, what small things they insist on changing that you might not imagine and, finally, how good is it to ride for guys who generally ride unchanged bikes?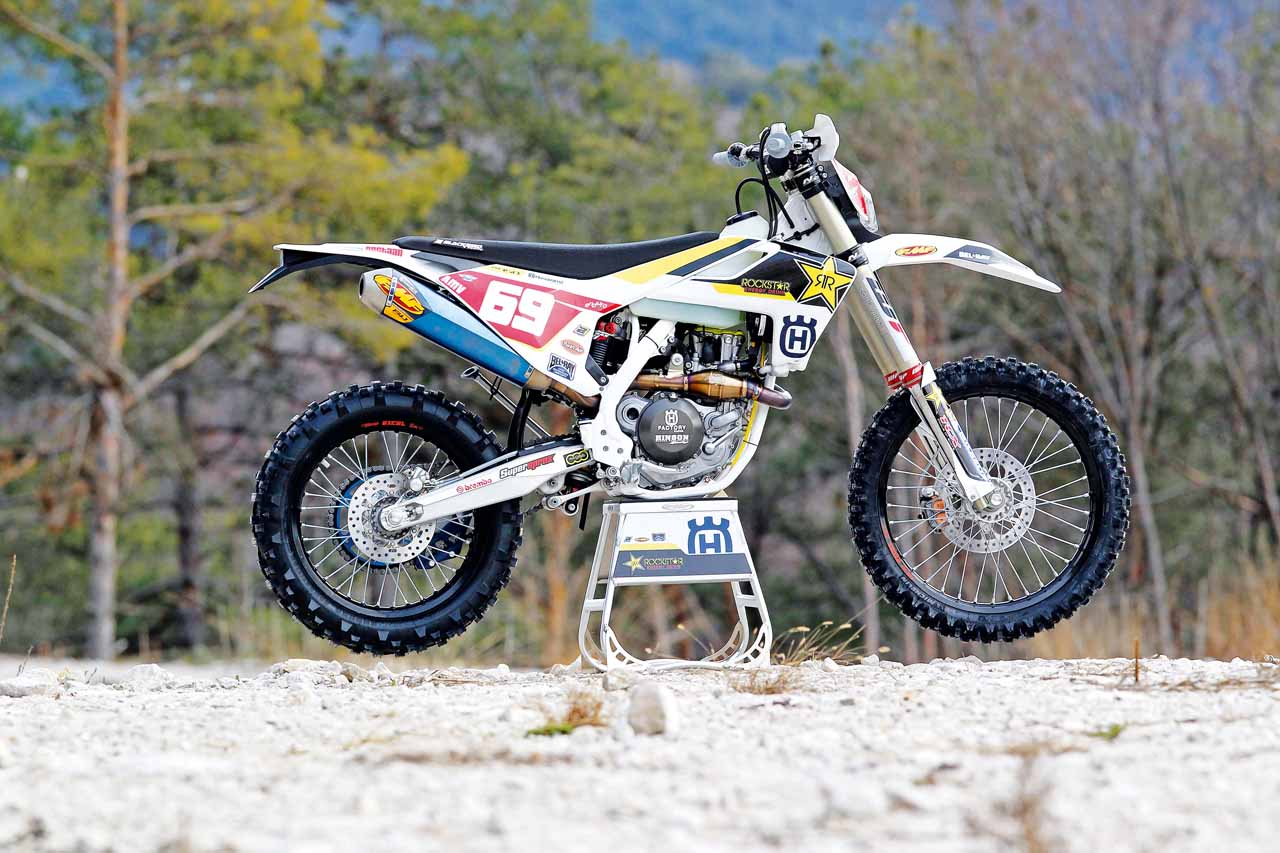 FOUR-DAY CHAMP
Frenchman Matthias Bellino won the 2016 Yamaha Australian Four Day Enduro with a pretty impressive ride that saw him smash prologue and then hold off Chris Hollis and Dan Milner to give Husqvarna its first A4DE win since Stefan Merriman did it in 2001. Somewhat sadly, this was also the final competitive ride as a pro for Husqvarna Enduro Racing Team boss Glen Kearney. GK went into retirement immediately after and has since gone on to head up the KTM off-road team efforts.
Bellino's win was all the more impressive given it was his first attempt at the A4DE, although he's certainly no stranger to winning on the big stage: "I wasn't sure what to expect; there weren't that many tests but they were awesome to ride, especially the fourth one. So it was enjoyable. It was a great event, I'm glad I came this year, because it was fun to ride it; also, when you win, that helps!
"Everything went well for us and the bike was working perfectly like it did all season. I had to work with a completely new crew and some things that were different to Europe. Here you have to have your own bumbag and CamelBak at every test and it was actually a tough race. Day two, especially, was more tough than any six-day or anything else I've done. Nine tests and uphill and downhill, it was quite tough.
"It's really good to win here especially in front of the fast guys like Milner, Sanders, Chris Hollis, so it was good to fight against them — especially Chris; he's a good guy. I'm really happy to get this victory, for myself and for the team. So it's great to finish like that."
Matthias will add that win to a host of Euro and championship triumphs that include world titles. His résumé is pretty bloody impressive, to be honest.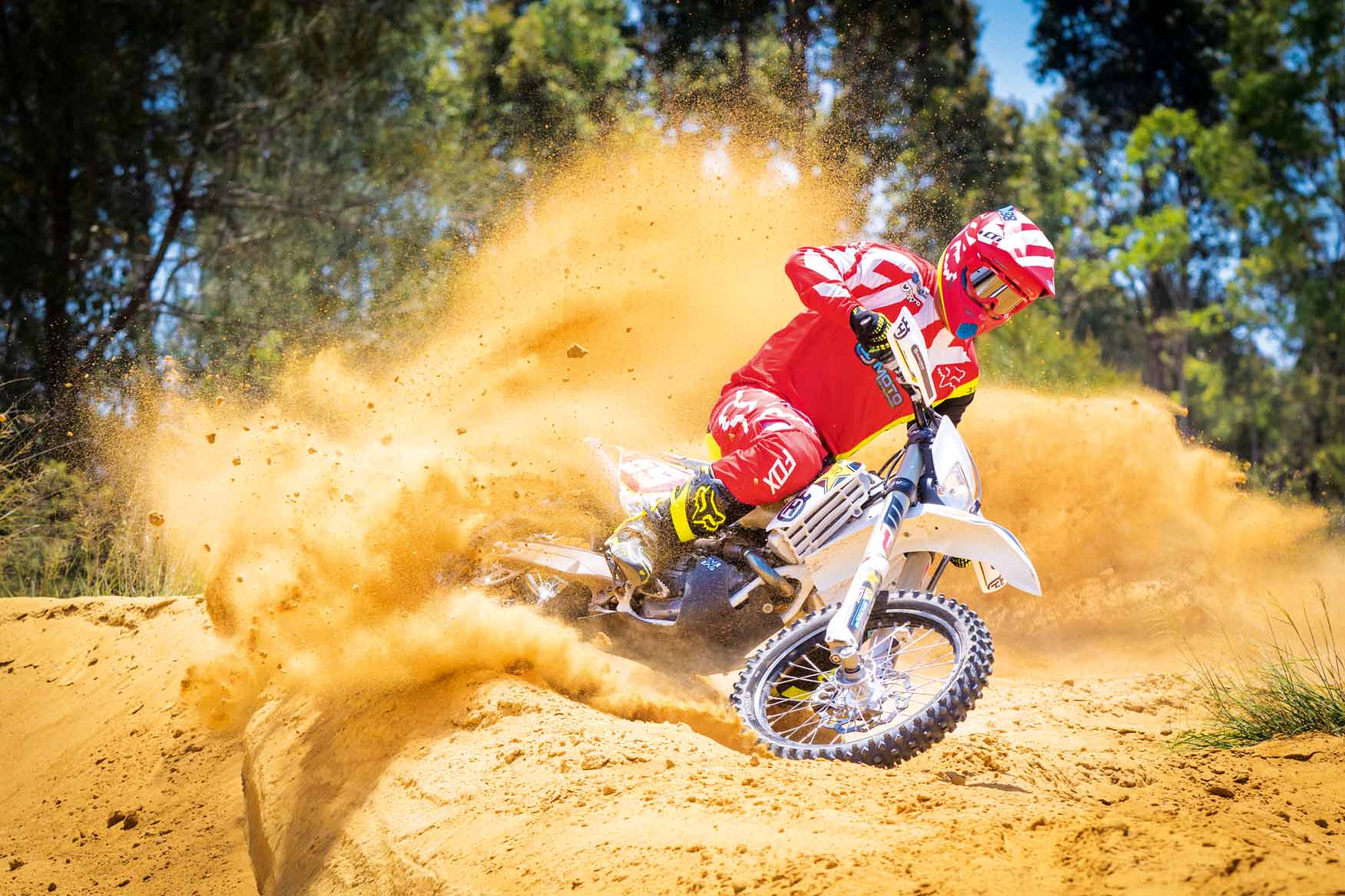 NOT SO STRANGE
Matthias' initial setup doesn't feel all that different from stock. His FE450's ergos feel totally familiar, the only standout being that he rolls his bars a fair way back.
Bellino was at pains to explain that once he finds the setup he likes pre-season he doesn't change it throughout the year. It doesn't matter what the conditions are, be it snow or dust, he leaves his bike as it was in the pre-season and takes any and all guesswork out of the year, preferring to work with a completely familiar machine all year. That's 100 per cent the first time we've heard a pro rider say that and in fact we can name several who fool around with their bikes too much during a season.
Boothy took an immediate liking to the 52mm Cone Valve forks and remarked that if he could he'd take them home and put them on his bike. What was most impressive was the forks' ability to take the big hits without bottoming and also give an outstanding performance on the smaller stuff, which is in many ways the Holy Grail of suspension.
Matthias has these dialled to be ultra-versatile even at the high level of performance demanded at his pace. On the day of our shoot he was hitting trials obstacles at slow speed, boosting big time off rock ledges and then hitting the circle rut and the pipe leap all on suspension that seemed equally good at all of it.
Boothy took the bikie on a high-speed sand section that was rutted out and came back amazed at how well it tracked and the confidence it gave him to push. A lot of the credit for that can also go to the Traxx shock.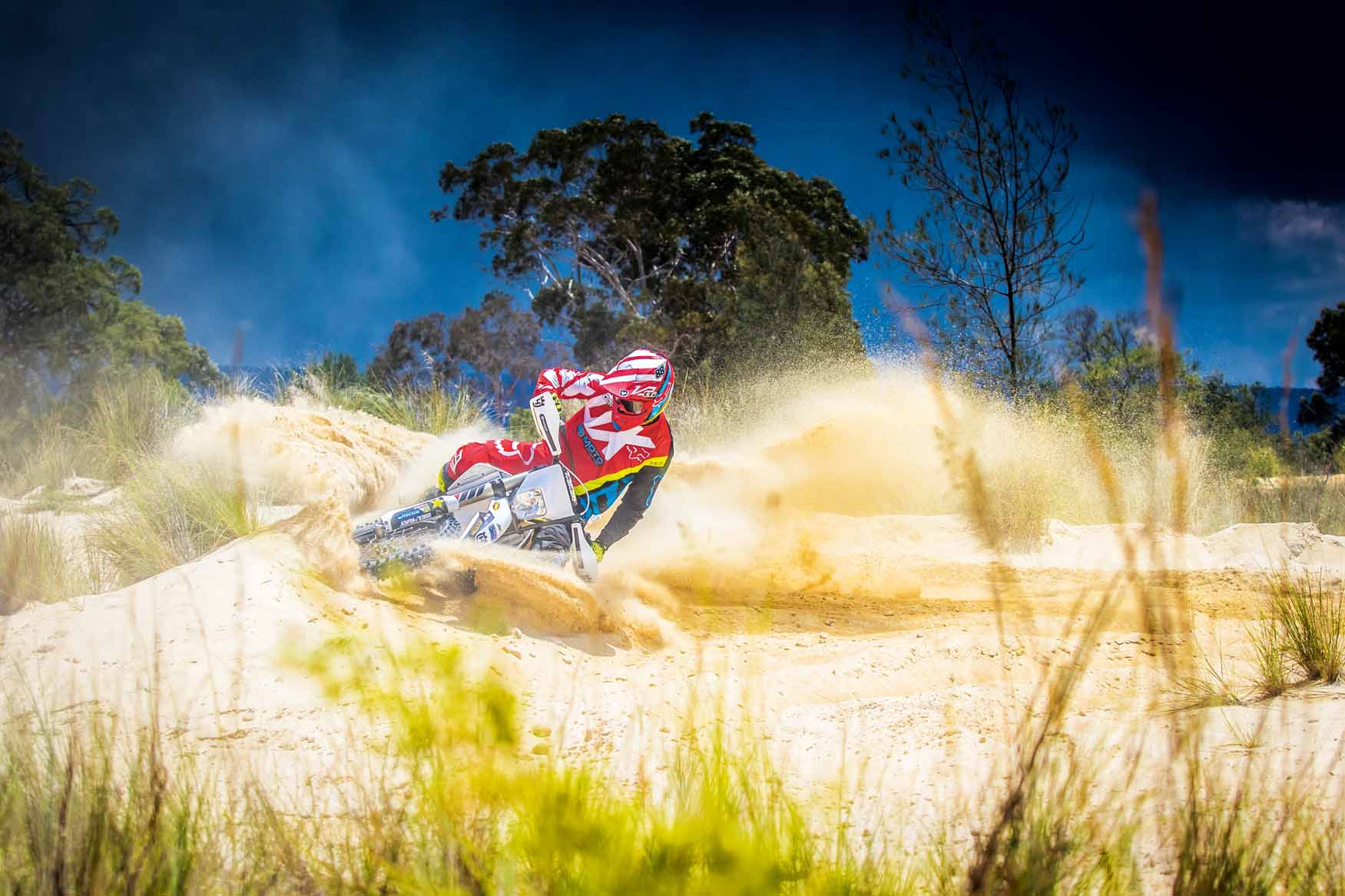 STAY SMOOTH
The FE450 has more than enough grunt from the crate and even the best riders don't need to go on a search to find a heap of more power. In fact, as we so often hear from pro riders on modern 450s, Matthias worked to even out the power delivery and produce a more linear curve. Once again, this was an effort to produce a bike that was versatile and capable of handling any conditions.
Interestingly, the biggest change to the bike comes in the form of the gearbox which in this case is from the FC450 – Husky's motocross model. Matthias prefers to ride in higher gears and he says this helps him do just that. The bike runs an FMF titanium and carbon exhaust, always a nice addition to the bottom to midrange as well as a simple weight-saving measure.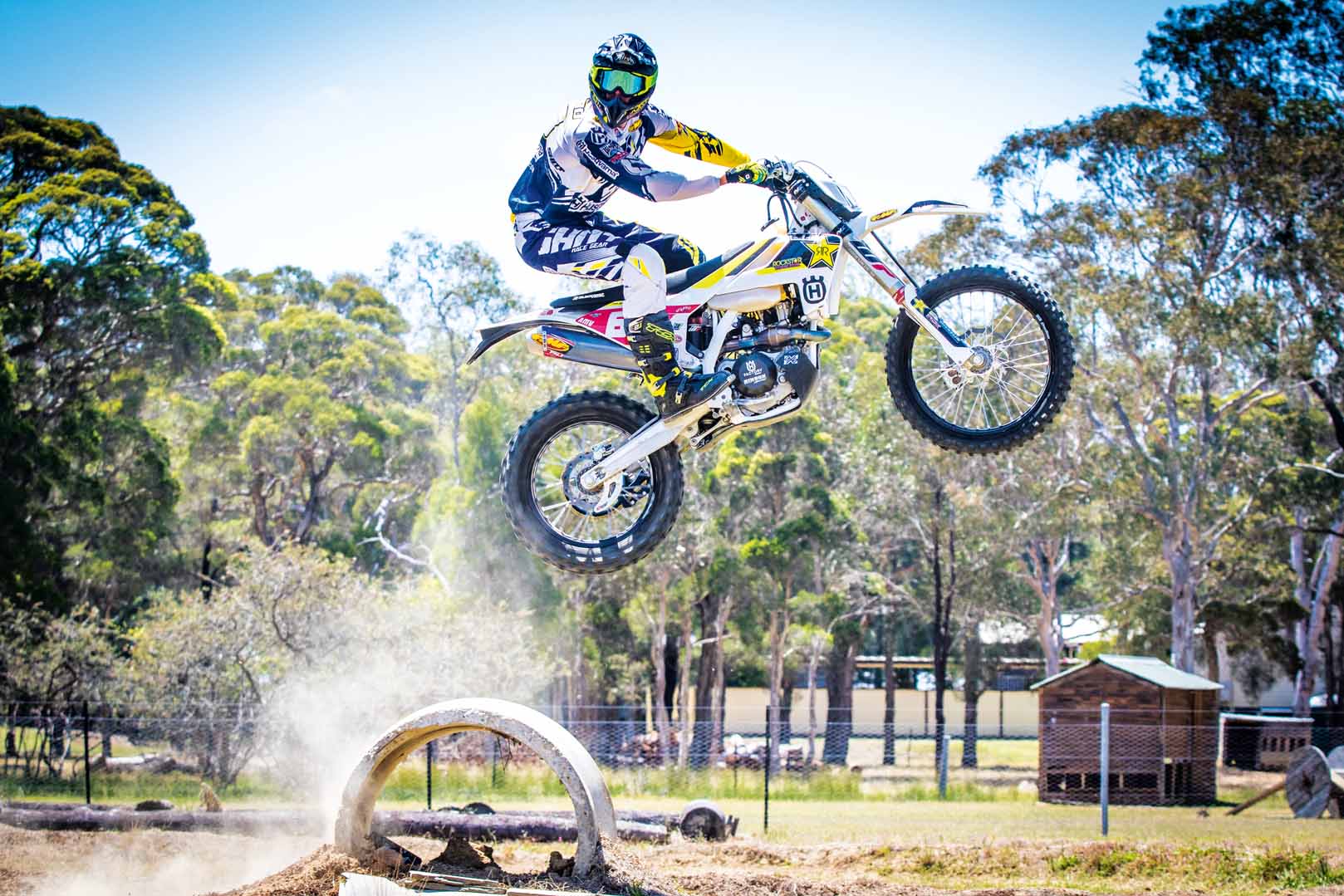 TAKE OUR MONEY
While there would be plenty of far more expensive and complicated race bikes in Australia, this is one of the most impressive bikes we've tested here at DIRT ACTION.
As we said before, this isn't about judging a bike as such; it's about seeing what one of the world's best riders can make from a bike we can all buy. And what Matthias has put together is a brilliant package. It's not over the top — it has its idiosyncrasies — but it's stunning exactly where you want it to be: in the suspension and the engine.
We already knew the chassis is good but Bellino and the Husky boys have taken it to another level with this race bike. No wonder the guy is so successful.