With its days of dominating racing behind it, the Kawasaki KX250F was due for an update. For 2017, it gets even more than that — it's a whole new machine
Story Shane Booth Photography Jeff Crow
The KX250F has enjoyed some long periods of success, especially at the hands of Mitch Payton's Monster Energy Pro Circuit Kawasaki team, but those days of domination have been few and far between of late. That's down to a number of things — a combination no doubt of team, riders and injuries and maybe the fact that the competition has caught up.
The KX 250F was still a strong bike in 2016 but was starting to feel the need for an update: the ergos felt a little tired and the once class-leading engine had been caught and even passed by some of the pack.
Well, for 2017 Kawasaki has answered with something wholly new. There isn't much here carried over from 2016; a new engine, frame and plastics make for a fresh look and improved performance. I was keen to hit the track and see what it delivered.
THE NEW LOOK
It's not only a cosmetic improvement but also a practical one. The new lines really sharpen this bike up and give it a fast, current look. You immediately notice how much flatter the seat is and also the way the plastics join up, leaving a very seamless look and feel.
The shrouds are contoured nicely to allow for the rider's leg in turns and also designed to avoid any boot-catching problems. There are lots of little things that give this bike a factory look: the black-coated shock body, the light-silver forks with black sliders and the black triple clamps are all nice touches.
The muffler is probably the only thing that looks a little out of place — it's not really tucked away at all and takes away from the sleek look of the plastics. But that's being pretty picky. Overall, this is a sweet-looking bike that will be well received.
Overall, this is a sweet-looking bike that will be well received
SLIM JIM
The point was well made to us that the bike is slimmer and as soon as I sat on it I could feel the difference. It's not only slimmer but also much flatter; a sit-on rather than sit-in feel, which was great. I only had to adjust the clutch perch slightly and it felt ready to roll.
The handlebars were in the rear position on the clamps and I thought I'd have to change that but after a few laps it felt comfortable, so I left it.
For a bike that's slimmed down it didn't feel cramped or too small, which for me some bikes border on. I was able to feel comfortable quickly and enjoyed cutting laps straightaway.
The track we were riding was a tight little setup, ideal for getting a feel for the slimmer, lighter package and the benefits it brings. I had no problem getting this bike around tight 180-degree turns; it was easy to change direction on it and it's definitely a nimbler package than last year's.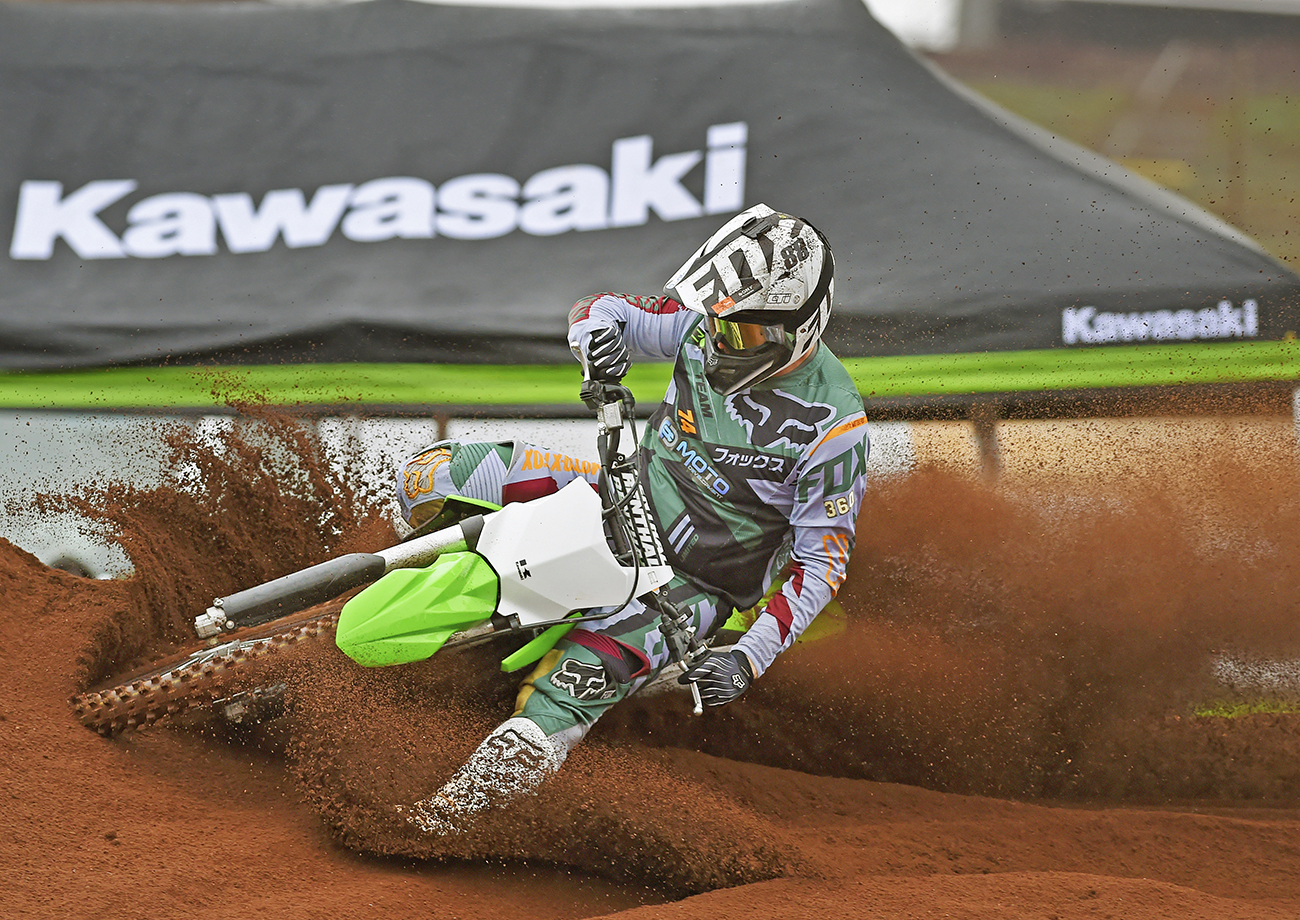 THE ENGINE
There have been some major changes here and they've been done well. The intake angle is now straighter, creating a downdraft-style intake, while the injectors have been updated and the engine is now a little more upright.
These are just a few of the updates but essentially we're dealing with a whole new powerplant. The first thing I notice is a clear improvement in bottom-to-midrange power delivery — it's strong and gets the bike off turns with hardly any effort at all. It transitions from there to a solid top end that doesn't sign off quickly. It's a quicker-revving engine than last year's and if you ride with some rpm and a little clutch this bike really laps it up.
The track we were riding was a soft, sandy surface and the bike responded well. I tried all three of the couplers and there was no doubt they made a big difference to the characteristics of the power delivery. I probably wouldn't use the hard-terrain one too often; the standard- and soft-terrain couplers would be my choices, depending on the track.
The soft-terrain coupler option, which essentially increases the responsiveness of the bike, really sharpened up the power and was probably my pick for the track we were riding and most likely anything other than a really hard, blue, groove surface.
I spent quite a bit of time doing starts and switching between using the launch control and not; while the launch control felt good I still felt I could get the bike off the line better without it, but that's just my feeling on it. Maybe on a real slick surface I'd take a punt on it but when there is traction I'd probably go old-school.
This is an engine that will put a smile on any rider's face. It has bridged the gap that its competitors started to open up in the past few years and in 2017 will be right at the pointy end of the pack.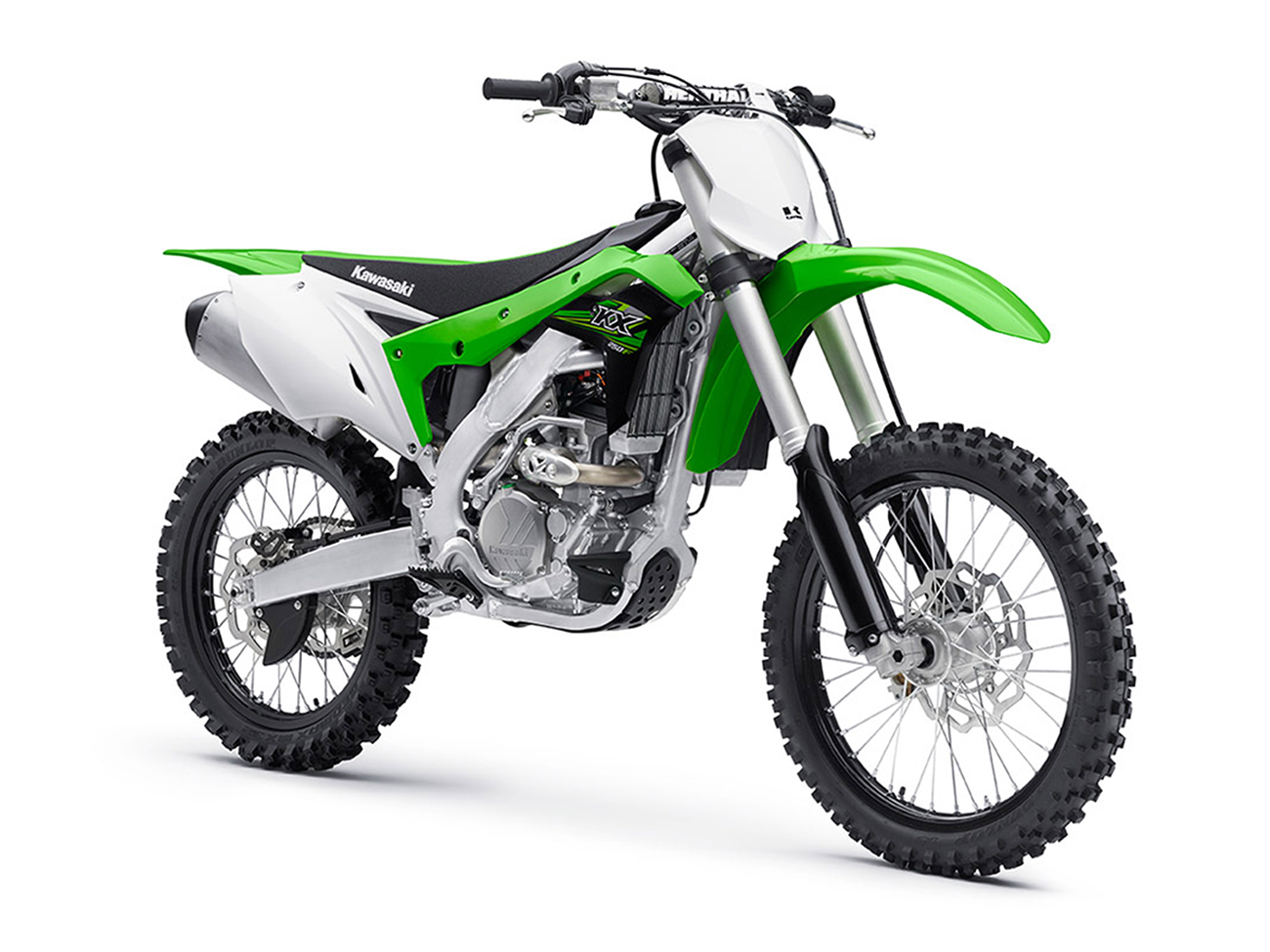 THE HANDLING
The bike feels lighter and nimbler — there's no missing that, especially on some of the tight turns we had on the track. I was happy riding it as it was; no need to get into the adjustments to dial out any problems.
There was a pretty solid set of rollers but the bike was easy to keep straight and the rear stayed settled — no crazy reactions or surprises at any point. I felt really comfortable on this thing to crank it over in the sandy turns. I never struggled with the front tucking; it would hold a line well and the engine would pull it out.
The new ergos also felt good here. Getting forward and getting a leg up high was no problem and there was no threat of a boot being caught on a shroud or anything along those lines. We didn't really hit any high-speed stuff but what we had was enough to show that this is a solid package and a great base to work from.
IT'S BACK
There's no doubt that Kawasaki has rejoined the pack in the 250F class. This is a really nice bike that handles well, feels lighter and slimmer than its predecessor and the engine improvements will impress any rider who throws a leg over it. I think it's a package that will lead to some good times for team green.
THE MAJOR UPDATES
* 1.7kg lighter overall
* New, lighter engine
* Narrower and lighter aluminium frame with revised rigidity contributes to greater front-end feel while incorporating the benefits of the proven KX450F swingarm
* Revised radiator orientation allows for slimmer shrouds combined with an even flatter seat and tank to make for easier body positioning
* Improved Uni-Trak rear suspension boosts rear-end feedback
* Aggressive new factory styling featuring in-mould graphics
WHAT'S NEW FOR THE ENGINE
* Downdraft-style intake routing – new downstream injector now dispenses its 75μm particles from 8 holes (previously 4), improving cylinder-filling efficiency and contributing to increased engine power
* Reduced mechanical loss care of an offset cylinder, plateau honing and use of journal bearings instead of a needle bearing for the connecting rod big end
* A more upright engine orientation from 14° forward to 7° forward and a repositioned intake duct allow an even straighter approach for intake air
* Lightest piston in its class contributes to increased engine performance. Coating and striation on the piston's outer surface ensure exceptional wear resistance and oil retention for minimal sliding friction
* Crank web design results in reduced engine vibration, smoother power delivery and increased performance in the mid-to-high-rpm range
* Revised rigidity for the shift fork delivers an improved shift touch
2017 KAWASAKI KX 250F SPECS
Engine: Liquid-cooled, 4-stroke single
Displacement: 249cm3
Bore/stroke: 77.0×53.6mm
Compression ratio: 13.7:1
Valve system: DOHC, 4 valves
Fuel system: Fuel injection ø43mm×1 (Keihin) with dual injection
Ignition: Digital DC-CDI
Starting: Primary kick
Lubrication: Forced lubrication, semi-dry sump
Transmission: 5-speed, return
Final drive: Chain
Primary reduction ratio: 3.350 (67/20)
1st  2.142 (30/14)
2nd  1.750 (28/16)
3rd  1.444 (26/18)
4th  1.235 (21/17)
5th  1.045 (23/22)
Final reduction ratio: 3.846 (50/13)
Clutch: Wet multi-disc, manual
Frame: Perimeter, aluminium
Front travel: 310mm
Rear travel: 310mm
Front Tyre: 80/100-21 51M
Rear Tyre: 100/90-19 57M
Caster(rake): 28.5°
Trail: 126.0mm
Steering angle (left/right): 42°/42°
Suspension:
Front Ø48 mm SHOWA SFF Type 2
Rear Uni-Trak preload
Front brake: Single semi-floating Ø270mm petal disc
Front caliper: Dual-piston
Rear brake: Single Ø240mm petal disc
Rear caliper: Single-piston
Overall length: 2170mm
Overall width: 820mm
Overall height: 1265mm
Wheelbase: 1475mm
Ground clearance: 320mm
Seat height: 940mm
Curb mass: 104.5kg with full tank of fuel
Fuel capacity: 6.4L
RRP: $10,499