STORY CONOR FRASER PHOTOGRAPHY MATT BERNARD

March 9th 2007 has an interesting importance for me. Aside from it being my 15th birthday, it was the day that I parked my 125 two stroke in the shed for good and my dad surprised me with a brand new KTM 250 SXF. The previous 2 years had been spent learning the craft of racing on what at the time I had highly considered to be a disadvantage against a field of the first generation 250 four stroke machines.
Looking back at this, my current-self wishes that I had embraced the 125 a little more than I did. When I received a call from our Deputy Editor Matt about riding and reviewing a 2019 YZ125, I hadn't even hung up the phone before I was in the van and headed for Yamaha's headquarters to pick up the test unit.
Although largely unchanged since their inception of the aluminium frame in 2005, there is something about the presence of a Yamaha 2 stroke that has stood the test of time. As the gates slowly panned open and I drove towards the receiving dock, my eyes were fixed on the little 125 that was nestled at the back of the dock on a triangle stand with a bottle of premix perched ready on the rear guard.
For some years now, Yamaha have been offering an in-house upgrade package to entice new buyers to the model, and keep it competitive with its twice and even 3 times upgraded European competitors. For 2019 this is no different as you immediately notice the aluminium sprockets, holeshot device and factory finish GYTR pipe that come standard on the bike.
What took place over the next 3 weeks could not have been any further from the events of March 2007, my 250f didn't leave the back of my van… not even once. Admittingly the YZ125 is seriously under sprung for me, so a quick turn of the clickers until they wouldn't wind in any further and a couple of rotations on the shock spring were all I needed to convince myself that that was as good as it was going to get.
It didn't matter. From the moment I nearly sheared the kickstarter off by kicking it so hard, you couldn't wipe the smile of my face. Desperately fanning the clutch at the site of anything that even remotely resembled an incline had never been so fun! For the first time in a long time I wasn't concerned at who was passing me, where anyone else was on the track or what my lap times were.
The YZ125 is probably the most nimble bike that I have ever ridden, coming off a modern 4 stroke, you are immediately greeted with a bike that can be positioned anywhere you want. The ability to turn in on a 20c coin and stick like glue to a line you didn't even think existed really opens up your mind as you look to find the most creative way around the track.
Given my size and stature, it is difficult for me to give an accurate review on the specific characteristics of this bike, especially in relation to that of the other manufactures in the class. What I can shed some light on is the importance of this model in the market. There are certain things that only a 125 two stroke can teach you, and I instantly found myself picking up on certain techniques that I had become lazy with over time.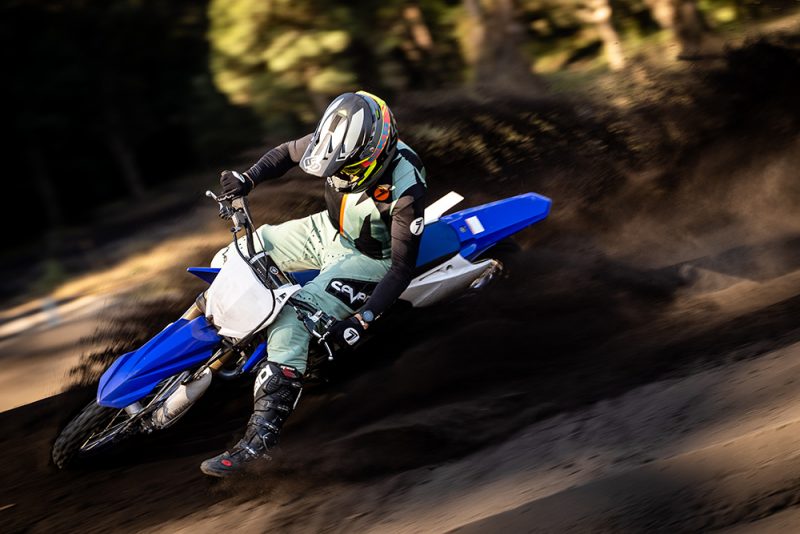 For me, the 2019 YZ125 is up there for one of the best stock bikes I have ever ridden. Even at my weight, it didn't do anything it shouldn't have and felt stable and balanced on a variety of tracks we rode. Yes, the power isn't there, but for me that's not what this bike is about. Maybe it's time to clean out the garage and scrap together some pocket money to get into one of these little beauties as a second bike!
TOP TIPS FOR THE YAMAHA YZ125
Jet it right. The motor is very sensitive to change and can slip to the lean side easily with any change. If you run any after market pipe, silencer , reed block or cylinder porting – then you will need to make changes.
Stock: 45 pilot / 43-73 needle on clip 3 / 430 main / 2.25 out on airscrew
Starting point: 42.5 pilot/ 43-73 needle on clip 3 / 470 main / 1.5 out on airscrew.
The GYTR kit that comes with the bike is a good performance gain – GYTR / HGS pipe and silencer as well as the V Force reedblock. Give it power and response over the original parts.
Don't increase compression. Adding any compression into the motor – either via decking the head or the cylinder will shorten motor life quickly.
Run good fuel. At the worst- 98 octane – for most serious guys – you will want and needle RV roo 100 or ETA MA- 3 100. Both add power and allow a little more scope for jetting and more tolerance.
It is an old school bike in its chassis so will a modern bike runs a 35mm – 105mm ride height – the YZ125 woks fine with the more traditional 25mm – 95 to 100mm ride height. Spring rates are .41 in the fork and 4.6KG in the shock – generally a little light for most 14-15 year old riders.
Gearing – standard is 13/ 48. It's a bit tall for most riders- most go to 13/49 and heavy kids or on a heavy / tight track 13/50.
Hour metre. Don't guess when you need maintenance – run an hour metre and now exactly where the bike is at and what needs to be done. Preventative maintenance is better than reactive.