KTM hits the 690 Enduro R with a heap of updates designed to expand its range and its fanbase
WORDS BY DAMIEN ASHENHURST PICS BY KTM
The KTM 690 Enduro R is a curious bike. In a lot of ways it defies easy categorization and I suspect that's because it's not a simple fit for the Australian market. On one hand we have a country that adores the big bore – the 500s and 300s continue to sell well year-after-year and so you'd not be far off the mark assuming that bumping the CCs up to 690 and calling it an Enduro would draw a crowd. But the 690 weighs some 40 kilos more than a 500 EXC-F and produces only around 10 horsepower extra so on paper alone it isn't clear that it should be considered alongside what we call enduro.
So is it an adventure bike? Well almost, except that the fuel range is limited to around 200kms (KTM's estimate), and the fuel filler cap is on the rear guard which gets covered by luggage. Husqvarna's 701 is a damn near identical bike and we've been on an adventure ride that featured a couple, all decked-out in adventure trim and there was a fair bit of work behind it on a bike that is quite expensive to begin with.
So what's in between an enduro bike and an adventure bike? That's where the 690 sits. Oh and hey, is it any good to ride?
TECH-UP
The 690 Enduro R was originally released in 2009 and devotees of the not long discontinued 640 Adventure may have thought that a larger tank and a windscreen was on its way to fill the void, but KTM had other ideas and the 690 stayed more on the dirtbike side of the equation for much of its time somewhat quietly going about its business while its cousin, the road-based 690 SMC R, got most of the love.
For 2019 KTM has released a completely revamped 690 pairing and while the SMC R is an absolute runner on the road, we're going to concentrate on the Enduro R here.
The one thing that troubled me from the start of this launch is; how is this different from the Husqvarna 701? And on an interesting note here, KTM folks don't much like talking about Husqvarnas and any conversation that draws parallels generally subsides into nothing and a change of subject. But the bikes do now have some glaring differences that allow each to fill a space of their own. The KTM in this instance gets the most tech, with a Quickshift gearbox (gear changes without a clutch), switchable ABS (Bosch 9.1 MP), which features a lean-angle sensor for road use as well the ability to lock the rear in offroad situations and a two stage traction control system that serves again separately as a road and offroad aid.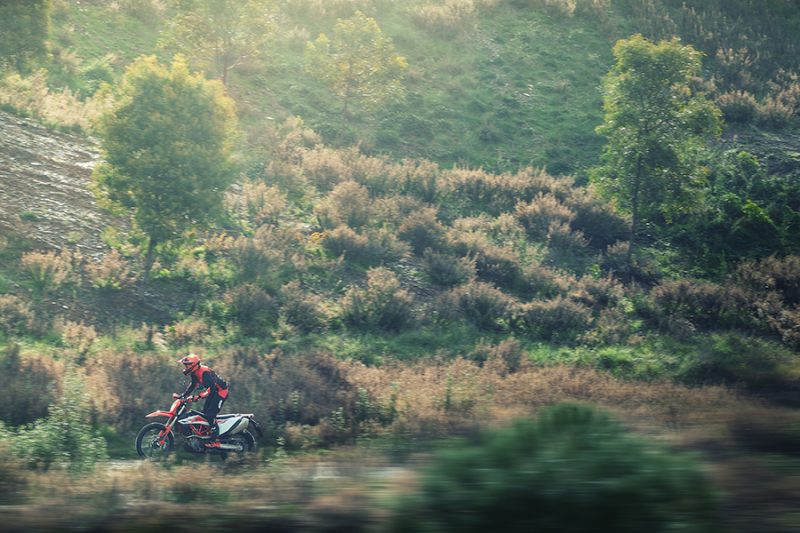 The bike has a revised chassis and has the WP XPlor suspension fitted which will be familiar to EXC owners. The seat height has been lowered and in fact it's an all-new seat too but the standout feature mechanically is undoubtedly the dual balancer shafts which bring an insanely smooth delivery from the single cylinder LC4 engine.
GUM TREES AND QUICKSHIFTING
We travelled to the amazing Algarve region of Portugal to ride both the 690 Enduro R and SMC R models. That's a long way to go to ride a bike and a lot of shitty aeroplane food was consumed along the way. Portugal is pretty amazing though and given the country is historically most famous for conquering, slaughtering and spreading disease, it's nice to find its people have chilled considerably.
Our enduro loop was just over 100 kilometres of varying terrain. While it was mostly open trails, there was also a little single track and some more technically tricky stuff in conditions that are pretty similar to Australia – in fact riding in Portugal or neighbouring Spain is a lot like riding at home, complete with the eucalypt trees. Yeah, Portugal planted a heap of familiar Aussie eucalypts, only to find out they burn like Satan's bumhole in bushfires. Should have Googled that one guys…want to buy any toads? Free shipping available.
The most immediate impression of the bike and one that would last the entire ride was that it was an impressively smooth ride. The engine drops its approximately 74 horsepower in very measured doses, making it easy to rely on the torque and run low revs on tricky trails. First and second gear are there for only the jump off the line and the trickiest and slowest sections, while the big jump to third still handles most everything at a general trail pace with a little excitement always available. It's not a bolter though – it's really quite sedate and extremely easy to ride and keep traction at a premium.
There are almost no vibrations fed back from the engine and this is complimented, somewhat to me surprise by the XPlor fork and shock. I say surprise because the Xplor as found on the EXC range is extremely soft, but it worked very well on the 690 with comfort and performance handled with equal aplomb. It didn't dive excessively and I didn't bottom it out anywhere. I imagine however for anyone looking to build-on to the 690, the suspension will need to be beefed up to take the extra weight but in stock trim it feels balanced and a good compromise.
I ran with traction control set at the lowest and ABS off at the rear (basically the bike's Offroad mode), for the bulk of the ride and I imagine that's what most Aussie riders will settle on in stock trim as well. The traction control isn't overly obtrusive and it certainly doesn't kill any corner slide fun, but it does make slippery rock climbs and river crossings a little easier to manage. Add in the fact that with the Quickshift on-board there's one less job to dedicate brain power too and you find yourself having fun on a very capable bike, with good measured power, a nimble handling package for a big bore and ergos that make it pretty much an all-day ride without discomfort.
WHO WANTS ONE?
But if I bought one, what would I do with it?
The sticking point comes largely from the ambiguity surrounding the classification of an adventure bike, which may seem odd here given the 690 literally has the word Enduro in its name and thus isn't suggesting it's anything but a huge offroader. Yet with the lowered seat height, increased fuel range and Quickshifter it fits the brief of the classic dual sport bike more than what Aussies see as an enduro machine.
The DR650 is the dual sport sales king, the SWM 650 X is a great dual sporter and so is the Husky 701 for that matter. They sit on a line between on and offroad, with medium range tanks and high gearing and a smattering of electronics, but to truly go hard in the dirt for extended periods they need a few extra pieces to increase fuel range, carry luggage and protect the precious stuff. If you found yourself on an adventure ride with someone on a 1200-plus, I can assure you you'd be able to out-ride them in pretty much any offroad instance on the 690 but some of the creature comforts are missing and the fuel range may need to be monitored closely (there is no fuel gauge – only a warning light). To me it's a model more suited to Europe but not without a home here – just in limited numbers, particularly against the soon to arrive 790 Adventure. It's almost as if a scrambler evolved to become a little smarter, a little more aggressive and more adventurous. It's a stepping-stone perhaps between scrambler and adventure, based on enduro principles; the missing link between species. It's a damn fine bike to ride and to some it will be everything, but it sits amongst one of the most complete manufacturer ranges on the planet right now and it will have trouble attracting attention, but that doesn't mean it doesn't deserve it.