The 2018 Honda CRF450R has been announced overseas. For 2017, the Honda CRF450R was a ground-up re-designed motorcycle, so for 2018 – you'll expect much of the same. However, the kickstarter is gone, replaced with an electric start only for 2018. Following en-suite of other manufactures, you'll now rely only on the button to get you going.
While we are yet to confirm Australian availability, here's the low-down on the new model from Honda USA.
Downdraft Fuel Injection
Part of an entire engine overhaul last year, Honda gave the CRF450R a new downdraft intake tract and FI body to help increase both power and fuel-metering precision. It's part of the reason the CRF450R offers such explosive power and massive torque, especially out of the starting gate and in the critical first 100 feet of the race to the first turn.
Dunlop MX3S Tires
Developed using Dunlop's latest "block-on-block" design technology, the CRF450R's MX3S tires give excellent feedback and are a perfect complement to the CRF450R's frame and suspension.
Cylinder Head Layout
The CRF450R uses Honda's latest finger-follower rocker design. The Unicam cylinder head remains the most efficient in the MX world, giving you the design and performance of a double-overhead-cam layout but the compactness of a single-overhead-cam design.
13.5:1 Compression Ratio
By revising the CRF450R's squish area last year, Honda helped boost the bikes compression to an impressive 13.5:1. That means improved combustion efficiency for more power.
"In Molded" Graphics
With the all the time you'll be spending in victory circle, you need to look your best. The 2018 CRF450R has you covered. Honda's "in molded" graphics look great, and stay looking good longer.
Skid Plate
A factory skid plate is light and offers the engine and lower-frame protection that a racer demands.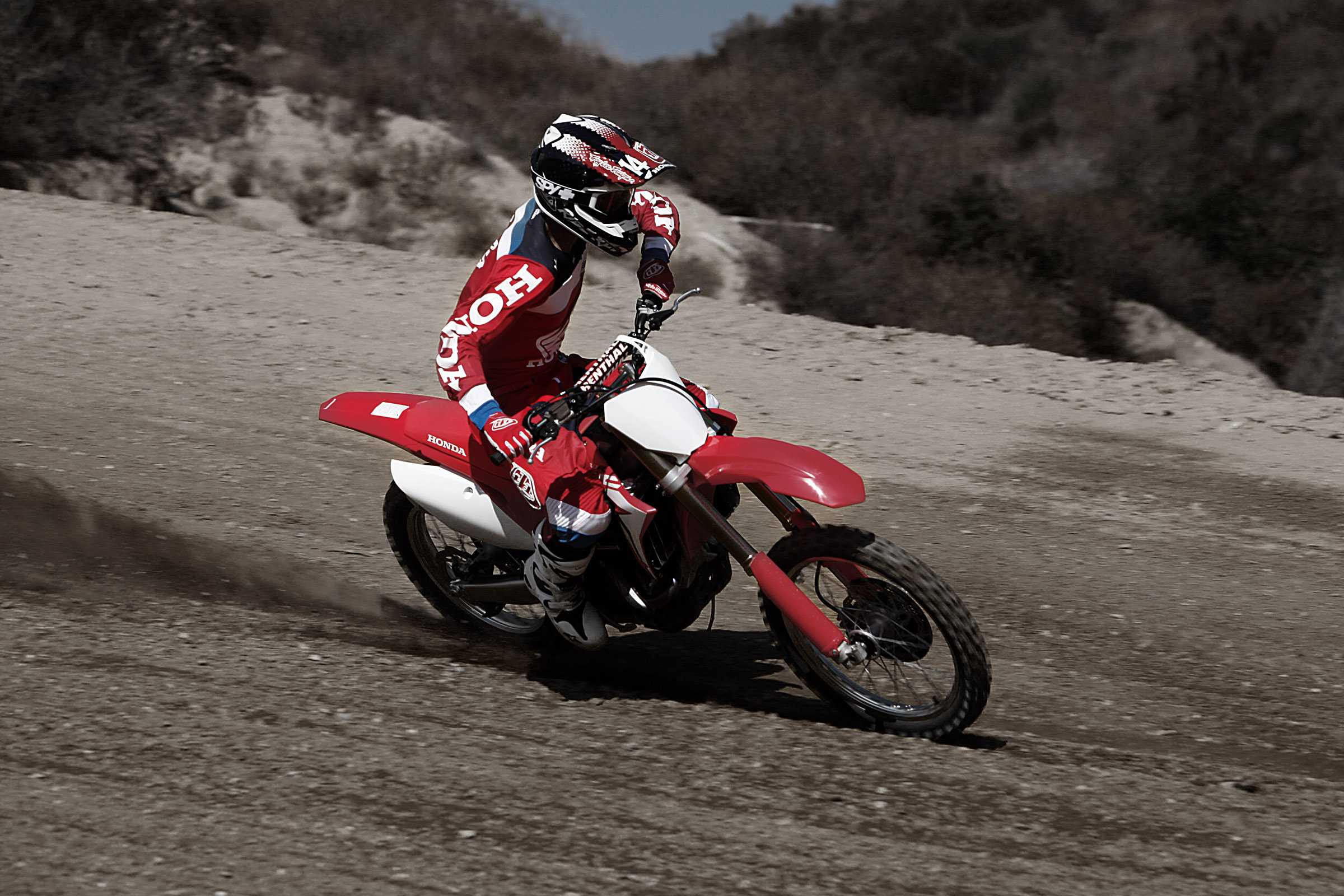 Handling
Showa® Spring Fork
The 49mm Showa® fork features a conventional spring design that helps increase the CRF450R's front-suspension precision, handling and feel. And this year Honda has revised the spring rate for better bottoming resistance and improved handling.
Next-Generation Aluminium Frame
The CRF450R's Next-Gen twin spar aluminium frame positions the rear shock's mounting point lower, opening up the airbox area and contributing to a lower center of gravity for more holeshots. The frame geometry also helps improve traction, feeling and steering precision.
Twin-Muffler Exhaust System
The CRF450R's dual exhaust system is light, compact, and positioned close and low in the frame to take weight off the rear end and bring more mass to the bike's center for improved handling. It also allows for more air flow, and that equals added horsepower.
Engineering
Electric-Start
This was such a popular option last year that Honda made it standard for 2018, and ditched the kickstarter entirely to save weight. Electric starters and lithium-ion batteries are so light now and so good that putting them on a bike like this is a win/win combination. And winning is what a CRF450R is all about.
260mm Front Brake
The CRF450R's large front-brake disc measures a whopping 260mm. You get great brake feel and a wave pattern that cuts down on weight. Front and rear brake-disc guards are part of the package too.
Titanium Fuel Tank
Grams and performance count, and the 2018 CRF450R uses a titanium fuel tank. Light and strong, it's also thinner than our previous plastic unit, while maintaining the same capacity, freeing up more space and helping to centralize fuel mass.
Engine Mode Select Button
This simple handlebar-mounted button lets you dial in engine power delivery character with a push of your thumb. Choose between Standard, Smooth and Aggressive, depending on track conditions.
Scavenge Pump
Deep in the engine, there's a special oil scavenge pump. While you may never see it, it helps keep the CRF450R's overall design compact.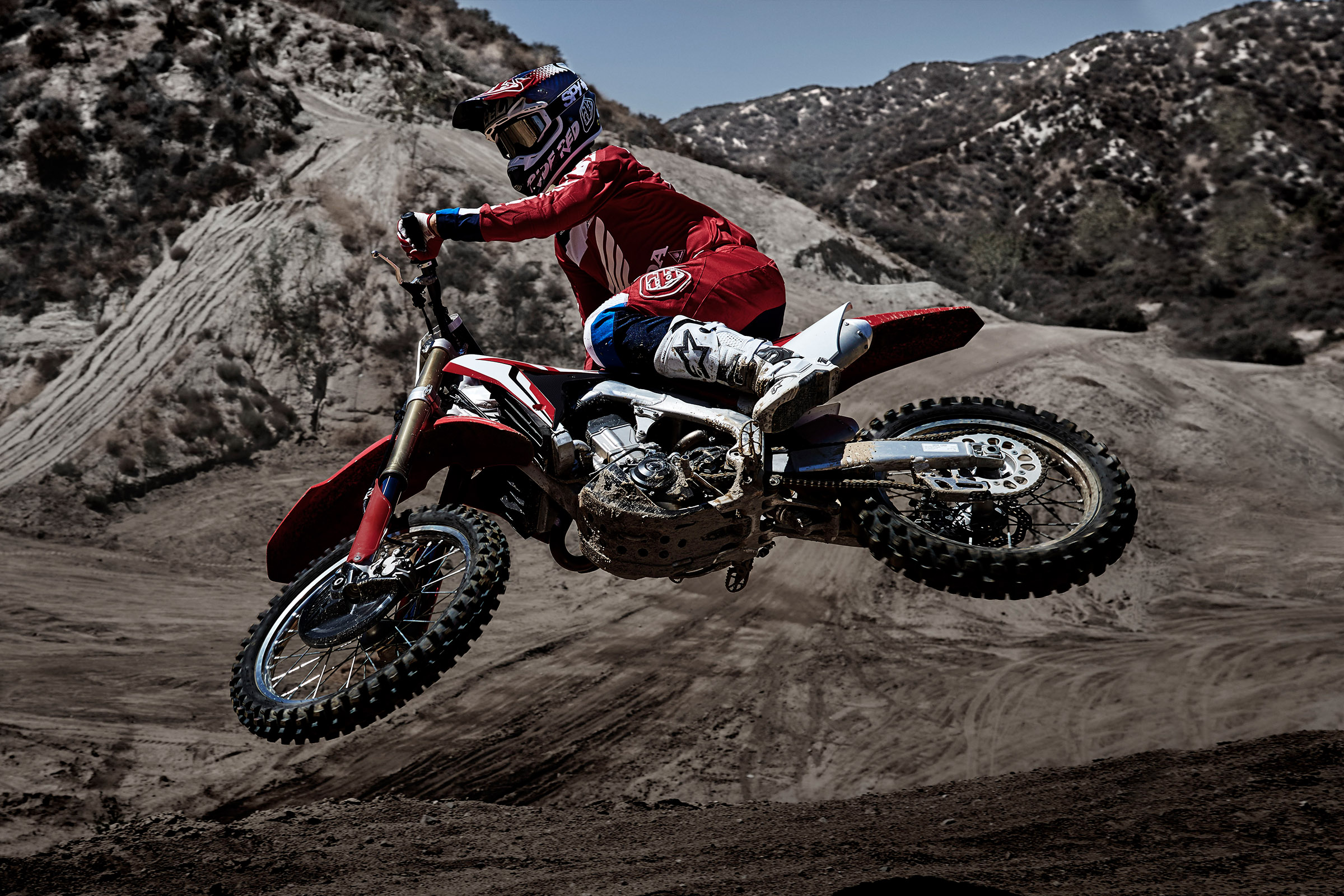 Comfort
Flat Seat/Tank Junction
The 2018 CRF450R features a flat seat/tank junction, including a titanium fuel tank. The superior ergonomics make it easier to move forward and back on the bike, increasing your control.