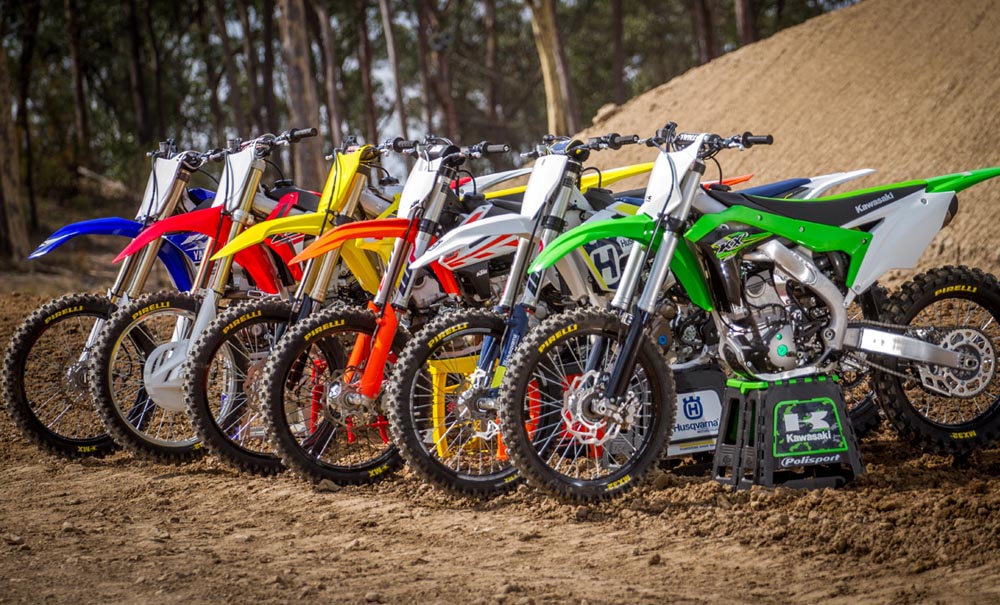 We tear up the Ranch MX track with six test riders and six brand spankin' new 2017 250Fs to see which one comes out on top
STORY SHANE BOOTH PHOTOGRAPHY MATT BERNARD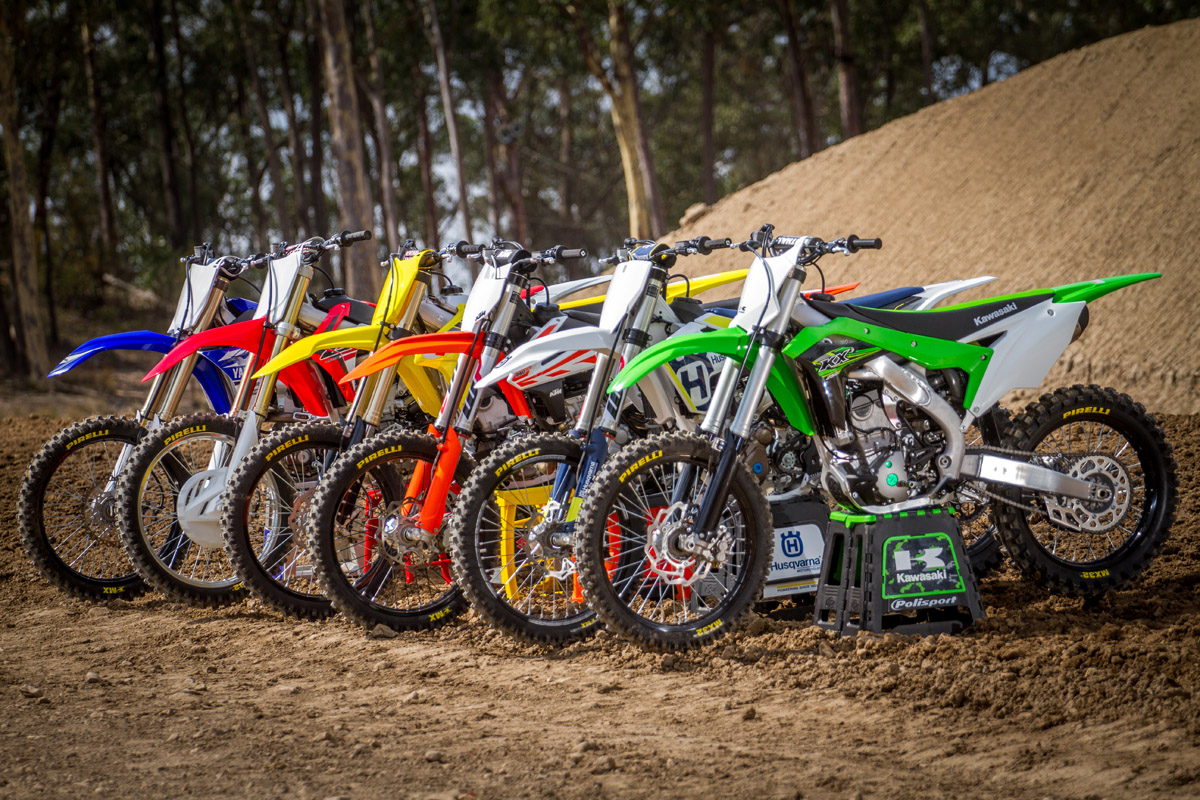 Shootouts are an exciting time of year. To get the opportunity to pick a class of bike and then ride all the brands back to back is something we don't take lightly. It takes some organising to make it happen; the manufacturers supply a motorcycle and technician for a long day of photos and riding and we appreciate their efforts — without them we don't have a shootout.
The test riders put in a huge effort, riding almost non-stop all day to get a read on the bikes and make any necessary adjustments. Believe it or not, it's a pretty tough day as a rider — awesome and fun, but tough.
We're lucky to have been allowed to use Ranch MX's track for the day. It goes without saying the track is an important factor and we had arguably the best track we've ever had for a shootout.
The final piece is the photographer. After all, if there are no photos it didn't happen, right? They have a big job shooting statics of every bike and then making sure there are enough action shots of every bike and every rider.
All in all, it takes a huge effort from a lot of people to make it happen. So, thanks to everyone — and now let's hear about these bikes.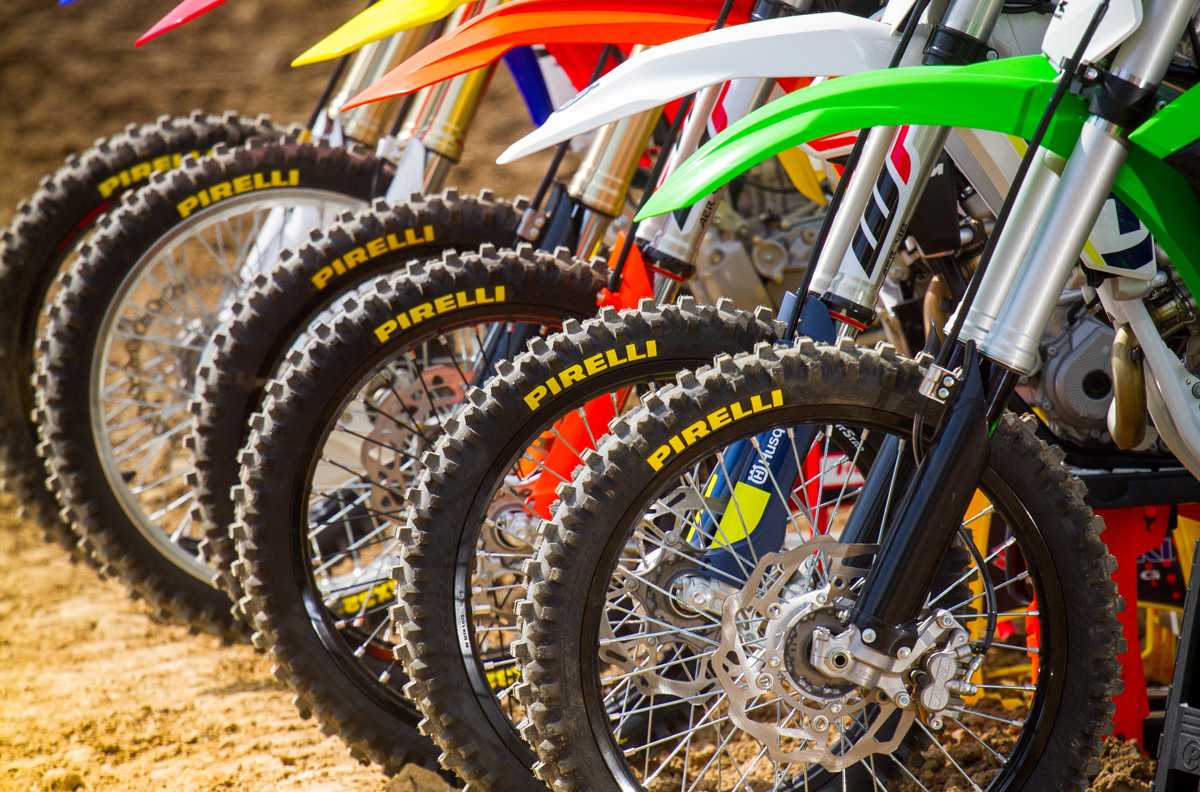 PIRELLI CONTROL TYRE
Once again Pirelli joined forces with us to supply a control tyre for our shootout. The obvious benefit of the control tyre is to help eliminate one variable from our shootout so that riders get a consistent feel from the tyres right throughout the day. Not only are the tyres going to perform the same but also wear relatively similarly, much closer than when different brands are used across the bikes.'
Pirelli supplied its tried-and-tested MX 32 front tyre in the size 80/100-21 and the rear tyre was the new MX 32 PRO in the size 110/90-19. These tyres are widely used by pro racers and work exceptionally well in the conditions we had for our shootout at Ranch MX in Raymond Terrace.
The track was ripped and watered for the day, offering up a deep track to begin with. As the day wore on the track naturally dried and some harder-pack lines formed. This is exactly what the new MX 32 PRO tyre is aimed at, maintaining grip, especially cornering grip, when the track gets harder. Selected side knobs have cut-outs to help the tyre hold on the firm surface.
All up, the riders were very happy with the tyres and we had no issues or complaints, so a big thanks to Pirelli!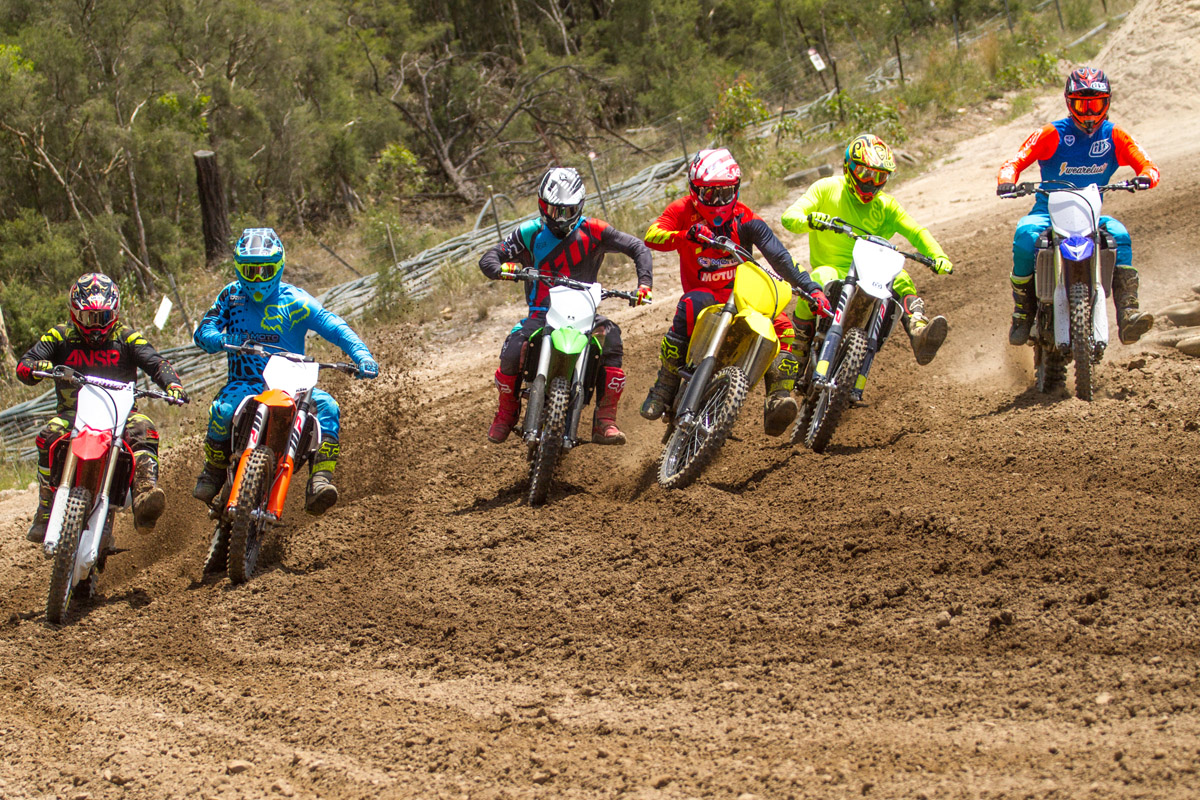 THE TRACK
The Ranch MX facility was our pick for the 250F shootout for a number of reasons and what a place it was — I think it's fair to say our best shootout venue ever for DIRT ACTION.
We at DIRT ACTION love seeing effort go into places to ride motocross and Greg Timmins and the crew at Ranch MX have gone over and above to provide a track prepared and built to the highest of standards. You'll find jumps on this track that have up ramps and down ramps that are actually worth riding!
The jumps are built extremely well and it's great to be in the air for more than a split second. They are as safe as jumps can be and the majority of them are step-up-style obstacles, which help riders judge them as you can always see the down ramps on approach. The corners form up sweet with multiple rut options in each turn.
It's not only the track but its presentation that has received bulk effort — it's the type of track finish you see at a US facility. It's easily watered with their massive truck and sprayers and they keep a good check on that front, too.
If you haven't visited Ranch MX, make sure you get up there and support it. It's not easy to run a place like this and everyone with a dirtbike needs to do their bit to help make sure it hangs around.
THE RIDERS
BRIAN SIMCOX
A young A grade rider with style to burn and speed to match, he brought a fresh young outlook to the shootout. Having never ridden one before, he had no preconceptions as to what bike does what. He was a great addition to our test crew and we think he had a pretty fun day getting to ride all of those bikes.
CHRIS URQUHART
Ex-pro racer and motocross coach Urk joined our team of test riders once again. He's ridden shootouts in the past with DIRT ACTION and it was good to have him back. He brings 25 years of racing and riding experience to the table and is still very much a current rider, finding his way onto a motocross track several times a week.
DANNY HAM
Another ex-pro and a very experienced test rider. Though not riding as much as he'd like these days, he can still get around a track better than most and offer up feedback that only experience can provide.
GREG TIMMINS
The man behind the machines that created Ranch MX, Timmo is a motocross rider through and through. He's ridden and raced motocross his whole life, both here and in the US, and is in endless pursuit of the ultimate ride park. He offered straight-up feedback from the point of view of a guy who pays for his bikes.
JORDAN BISSAKER
A young talented rider who raced through a very successful junior career and into the MX National Under 19s class, Jordan makes riding look pretty damn good and easy while his outright pace would still hold its own at a national level. This was his first shootout, too, and it's great to have the fresh outlook of these young guys.
SHANE BOOTH
Also an ex-pro racer, Boothy is DIRT ACTION's in-house test rider and has tested just about every motocross bike over the past six or seven years. He's in the rare position of having ridden these bikes year after year and witnessed their evolution.
HONDA CRF 250R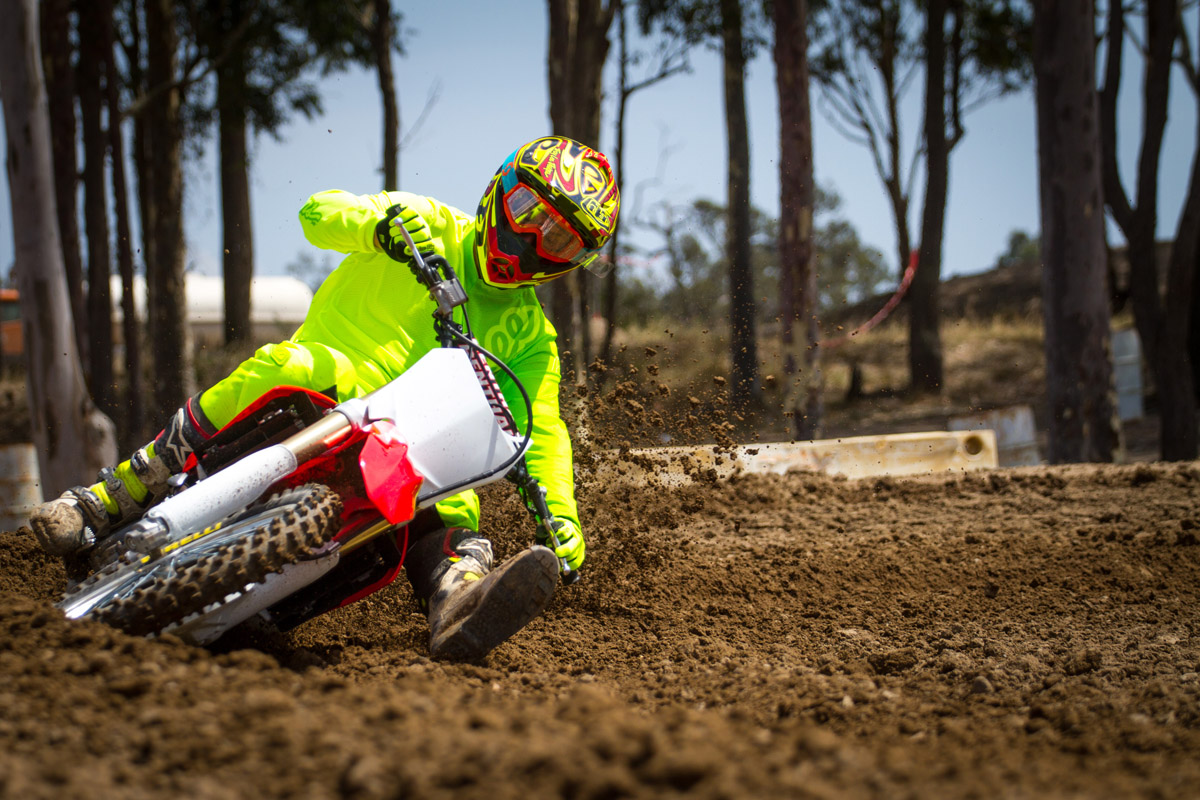 BRIAN SIMCOX
I started with the standard map and tried the more aggressive one too but like the Kawi I actually preferred the standard map. I felt really comfortable straightaway. It handled really well and the ergos just really suited me. I know the power isn't quite there but I really feel that what it lacked in that department it made up for in handling and also by having a really smooth power delivery. The power is probably a little deceiving and maybe not as soft as it first feels.
CHRIS URQUHART
From an ergo point of view they have it right. I felt really comfortable on that bike. The suspension is good and I went way harder in the fork — more air pressure and about 5 more on compression to just help it hold up more on the way into turns. The shock worked really well; I had no problems there. Pretty simple: the power is nice; it just needs more of it. It feels like it's in there ready to go but just feels really restricted. All the controls felt great. It's a really good package, just needs some more power unleashed.
DANNY HAM
To me the power felt a little flat on top — pretty gentle power all the way through, really. From an ergo perspective it did feel pretty comfortable. We got the suspension working pretty good there towards the end, stiffening it up. The brakes, [as with] all the Japanese bikes, they are there but you just can't compete against the European bikes: KTM and Husqvarna and the Brembo units they have.
GREG TIMMINS
The first time out I was a little disappointed in the engine — it felt like it revved out really quick and lacked some power. I felt like it freed up a little as the day went on. The second outing on it felt much better. The track was also a little harder, too, so it probably helped. This bike felt like it handled very well once I got it set up but still not as well for me as the Euro bikes.
JORDAN BISSAKER
This bike felt a little mellow in the engine department for me. It needed a little extra rpm and clutch work to get moving. I changed to the more aggressive engine map and that helped for sure, but still just a little off the leaders. The aggressive map helped it come to live but also made it feel like you had pull gears very quickly; it would rev out quite fast. This bike had a strong handling package, though. I felt very comfortable in turns and it felt nimble and easy to put where I wanted. I also felt really comfortable standing up on this bike through turns and ruts. Overall, a really strong chassis and suspension package; just a little off in the engine department.
SHANE BOOTH
From a handling point of view this thing would almost scrape into the top three. It's a confidence-inspiring package, it turns well and it can be put wherever you want on the track. The ergos are on the money and I think most of the riders felt really comfortable on this bike; it's just let down by the power, or lack of it. It's not slow — none of these bikes are even close to slow — it's just not the powerhouse of the others. As the track dried out and became harder this bike felt better. It delivers the power smooth and very well [but] it just hasn't got the torque or the over-rev of any of the others. It hits the rev limiter harder than any of the other bikes and it just feels restricted. I think there is some horsepower in there that wants to be released but in its current state it just can't be.
HUSQVARNA FC 250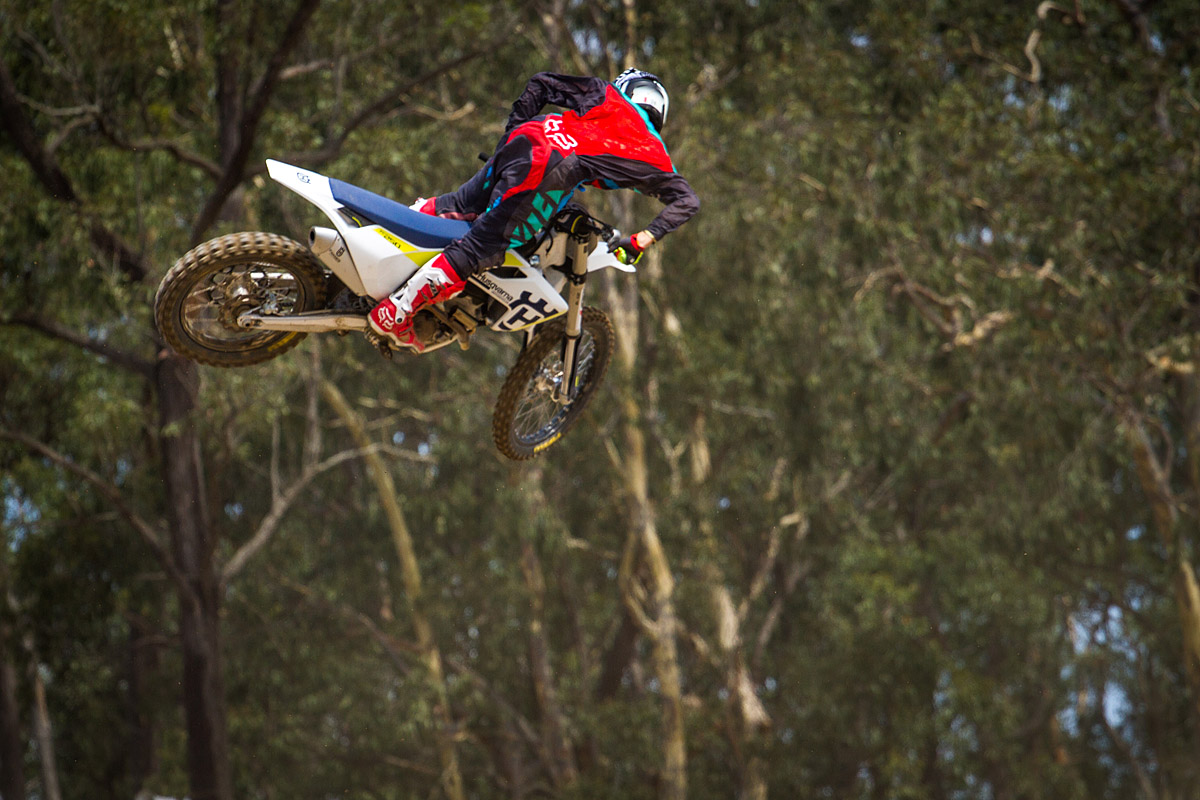 BRIAN SIMCOX
This bike surprised me. I played around with the maps on this a fair bit and really felt the more aggressive map 2 was the best option, even when the track started to get hard and slick. I felt really at home on this bike even though it was the first time I'd ridden it. It's really light and nimble and I felt like I could put it anywhere I wanted on the track. I played around with the traction control — I'd heard mixed things about it [but] it was pretty impressive, actually. I noticed it straightaway on the hard, slick stuff. Overall, just a really solid bike.
CHRIS URQUHART
I really struggled to separate these two bikes. I ran the same settings in the suspension; they handled the same. Really, just everything is the same and it makes it hard to split the two. The biggest difference for me was I just felt more comfortable on the KTM. The seat on the Husky is a little firmer and gave a little bit of a rigid feel, so that's honestly about all I could find to split the two. It does everything as well as the KTM from a handling point of view; it feels light and you can place it wherever you want. I played around with the maps quite a bit and map 2 was my pick — the more aggressive one. As the track dried and become more hard-pack I turned on the traction control and I actually liked it; it just helped stop the rear wheel getting a full light up on the hard-pack stuff like it can sometimes.
DANNY HAM
I can't really split the Husky and KTM other than just feeling a tiny bit more comfortable on the KTM for some reason. The Husky has everything going for it. The engine is super impressive — just like the KTM, it handles extremely well and has premium components. The brakes are a level above the Japanese bikes, too.
GREG TIMMINS
We worked a few different air pressures in the forks and got the sag set and I felt really comfortable on it. The engine felt so strong on this bike; it made it really fun to ride. Brakes are impressive, along with the hydraulic clutch, and electric start is a nice touch. Otherwise, it's just kind of refer to KTM comments for me — they are just that close.
JORDAN BISSAKER
Hard to split this and the KTM but for whatever reason I felt more comfortable on the Husky. I'm a fan of the hydraulic clutch on the Husky and all of the controls just feel nice. I set the fork at the same pressure as the KTM and it worked nicely. I preferred the power delivery of the Husky over the KTM. It was really hard to actually put a finger on what it was I liked better but I just felt like the power rolled on aggressively and smoothly on the Husky. This is the first time I've ridden a Husky 250F and it was impressive; it's my pick of the lineup, for sure.
SHANE BOOTH
Well, this is the toughest part of this shootout. How the hell do you split the KTM and the Husqvarna? They handle the same — I couldn't pick any points that gave one a leg up on the other from that point of view. They both have class-leading brakes and are the only two to have electric start. They both have hydraulic clutches, albeit one is Brembo and one Magura, but they both work and feel great. The only way I could split it was that I felt the KTM's performance was slightly better — and I mean by 1 per cent. It seemed to me the KTM revved a little quicker than the Husky. I rode them both in map 2 so essentially they should feel exactly the same. The only thing I could put it down to is maybe different airboxes? It's so small, though, that it's hard to say. The Husky has a very aggressive seat cover on it, too, which is super grippy — I don't not like it but I think I liked the KTM's seat cover just a little better. So they are pretty much split by a seat cover for me.
KAWASAKI KX250F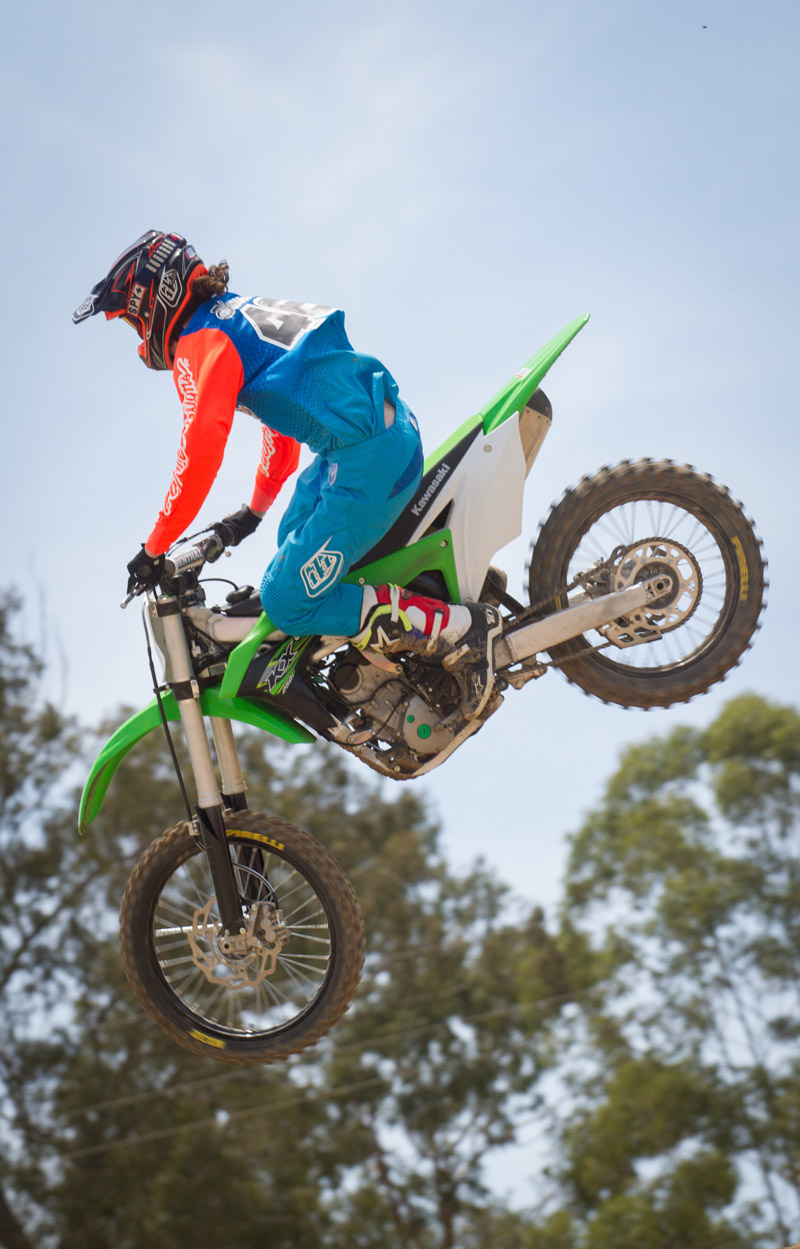 BRIAN SIMCOX
I started off with the standard plug in it and then came back in after a few laps and switched it out for the leaner or more aggressive plug. I put a few laps in with that fitted and actually come back in for the standard plug again. The aggressive one just seemed to make the bike rev out really quick and meant I had to change gears much more. So that was interesting — the standard map felt better to me. I just softened off the forks a little and that was all I needed to feel really comfortable on it. It's a really slim and nimble-feeling bike that I felt like I could put anywhere I wanted on the track.
CHRIS URQUHART
It's such a nice bike to sit on; it feels really flat and I could turn it across ruts and just put it wherever I wanted. I just feel like it didn't stand out in any area. It did everything really well, just didn't have any areas that caught my attention. The suspension was solid, too. I sped up the rebound on the rear to liven it up a bit and improve drive, which it did. The engine is really good on this thing, too, but it's just not quite the KTM, Husky or YZ.
DANNY HAM
The Kawasaki to me was a bit of a surprise package of the Japanese bikes. I really liked how slim the bike was. They've lost a lot of their width through the tank since I last rode one — really easy to move around on and not wide at all. Engine-wise, I felt the Kawasaki was the third strongest behind the two Euro bikes. It seemed to continue to rev and not hit a harsh cliff in the power; it also responded well to feeding it gears and not revving them right to the limiter — I guess a sign of strong torque from this engine. I actually really liked this bike — everything except for the grips; they're just a really hard compound and shred hands rapidly. Suspension worked really well I was impressed at how plush it remained while still holding up and resisting bottoming. I felt really comfortable on this bike.
GREG TIMMINS
It's tough because all the bikes are really close. Once I got the sag right on this I felt it handled really well. I liked the feel of the front end on this over the Suzuki and that's probably what allowed me to split those two. The engine is really strong but just not quite the level of the KTM, Husky or Yamaha. It felt nimble and light, which was great in the turns.
JORDAN BISSAKER
For me, the Kawi was strong through the mid to top end. It didn't quite pull off the turns like the KTM, Husky or YZ but it felt like it was solid once it was moving. I worked with the Kawi guys to make some changes to the suspension to try and settle it a little on the downhills and [it] improved a lot for me, which was great. The Kawi is a solid package.
SHANE BOOTH
They've nailed the ergos on this bike. It's light, nimble and you can put it wherever you want on the track. The suspension works well; it feels balanced and inspires confidence. It's an all-new bike this year and the ergos and handling reflect that. The engine has plenty of performance to offer, too: it's strong off the bottom and through the midrange but doesn't have the over-rev of the YZF, KTM or Husky. This bike doesn't do anything wrong and probably even outhandles the Yamaha, but in the 250 class where power is at a premium, that's where the YZF pips it at the post. It's the first year of an all-new bike, so don't be surprised to see it climb the ladder next year.
KTM 250 SXF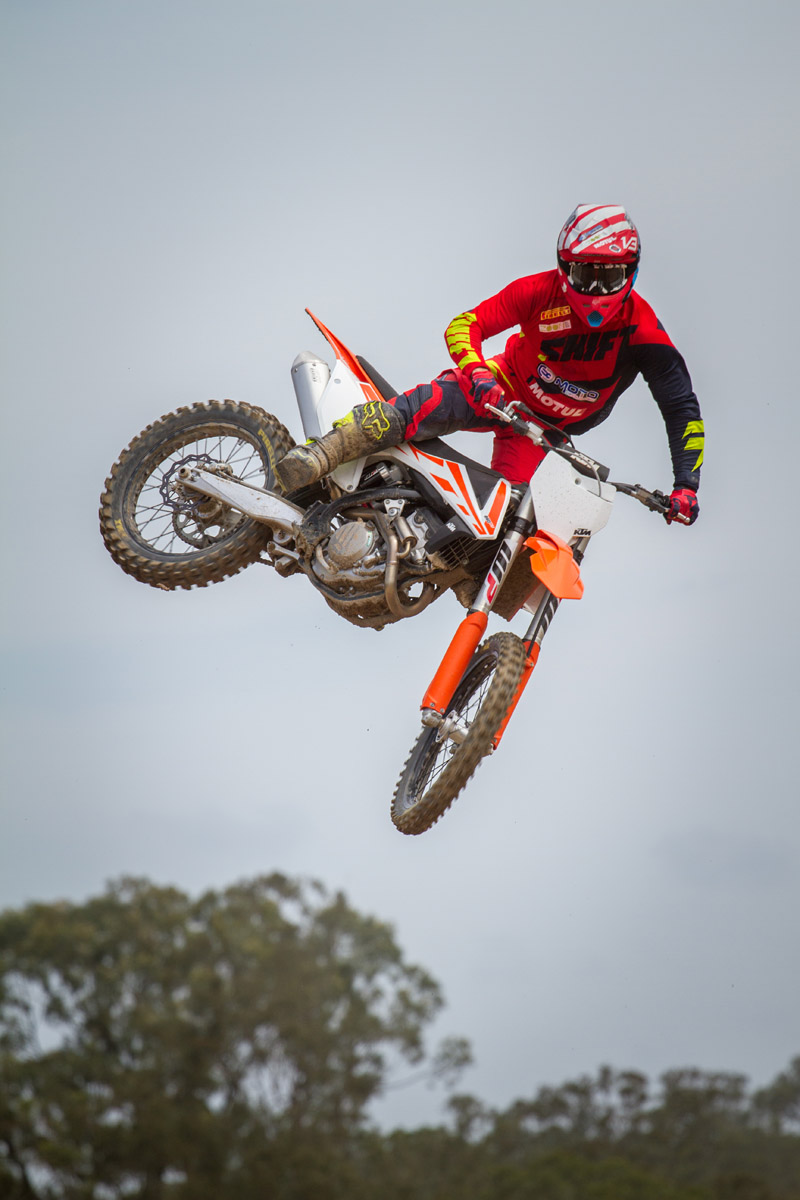 BRIAN SIMCOX
I was pretty keen to get on this bike. I started with the standard air setting on the fork and ended up dropping back to 130psi, which gave a good feeling for me. I really loved how I could carry taller gears on this bike yet at the same time hold a gear if I needed and it would just rev and not ever seem to sign off.
CHRIS URQUHART
The ergos of this thing are great. It feels really balanced, really easy to throw into turns; doesn't matter if it's a berm or a rut, it stays on line. No matter what I did with the forks, whether I went harder or softer, it still turned really well. It was pretty hard to fault the handling. I actually went softer on the fork, started at 144psi and dropped back to about 134psi. The softer setting just worked really well over the little stuff but still held up enough for me to be comfortable everywhere else. The engine is so strong on this thing. Really strong off the bottom, it would over-rev if you needed it to but also pull a higher gear if that's what you wanted. Really, [it] just had power wherever I needed it. The clutch, brakes, all those little things are great on the KTM and just make up an impressive package.
DANNY HAM
For me, the KTM is the winner here today. With only a few small adjustments I managed to get the bike to feel really comfortable. Combine the handling with the engine package and it was hard to beat. The engine is really strong and seems to hold and pull gears longer than any of the Japanese bikes. Whether that's just a gearing thing or power … probably a combination of both. Like the Husqvarna, you just can't beat the brakes on these two bikes. They're strong and require less effort to use; they are impressive. I felt on the KTM like I usually should on a Suzuki. Today, I felt most at home on the KTM and the Husqvarna and I don't know why that is exactly. It's the first time I've ridden both of those bikes but something just clicked. They've done their homework, obviously, and have a very impressive package.
GREG TIMMINS
I ride a KTM 450 so it was pretty easy for me to set up. The KTM or should I say the Euro bikes had the strongest motors, for sure. I'm a massive fan of the new WP air forks on this bike, too. When you add the components like electric start, hydraulic clutch and the premium brakes, this bike is tough to beat. The power just feels like it stretches for as long as you need it to. The thing just keeps pulling. It really is pretty impressive.
JORDAN BISSAKER
This bike is quick. I set the air forks at 130psi and they worked great for me. I could just punch out some laps and didn't have to spend any more time on adjustments. The KTM felt really nimble to me: I could put the bike anywhere I wanted and get turned, no problem at all. I noticed I didn't need to be as accurate in my gear selection like I was on some of the other bikes; there's enough power to pull through and out of turns in second or third nearly all of the time. It's been a while since I've had the chance to ride a KTM 250F; it's come a long way and is a very impressive bike.
SHANE BOOTH
I've been testing bikes for a long time now and the KTMs have always had some really great strengths but have been let down by one or two things. Well, for me, those days seem to be in the past — this bike is the complete package. The engine revs to the moon but also has torque to match. You can rev it or lug it and it will do either for you, no problem. The new forks are great and respond really well to changes. Gone are the days of the soft front end that dives under brakes; these hold up really well and resist bottoming great. They work well on the small stuff and the fact [that] a lot of riders could afford to lower the air pressure to further improve their performance over the small stuff is testament to how well the bottoming resistance works. It feels light and nimble; it's narrow and balanced. Add to all of those traits the hydraulic clutch, electric start and awesome brakes and it's no wonder the bike is hard to beat.
SUZUKI RMZ-250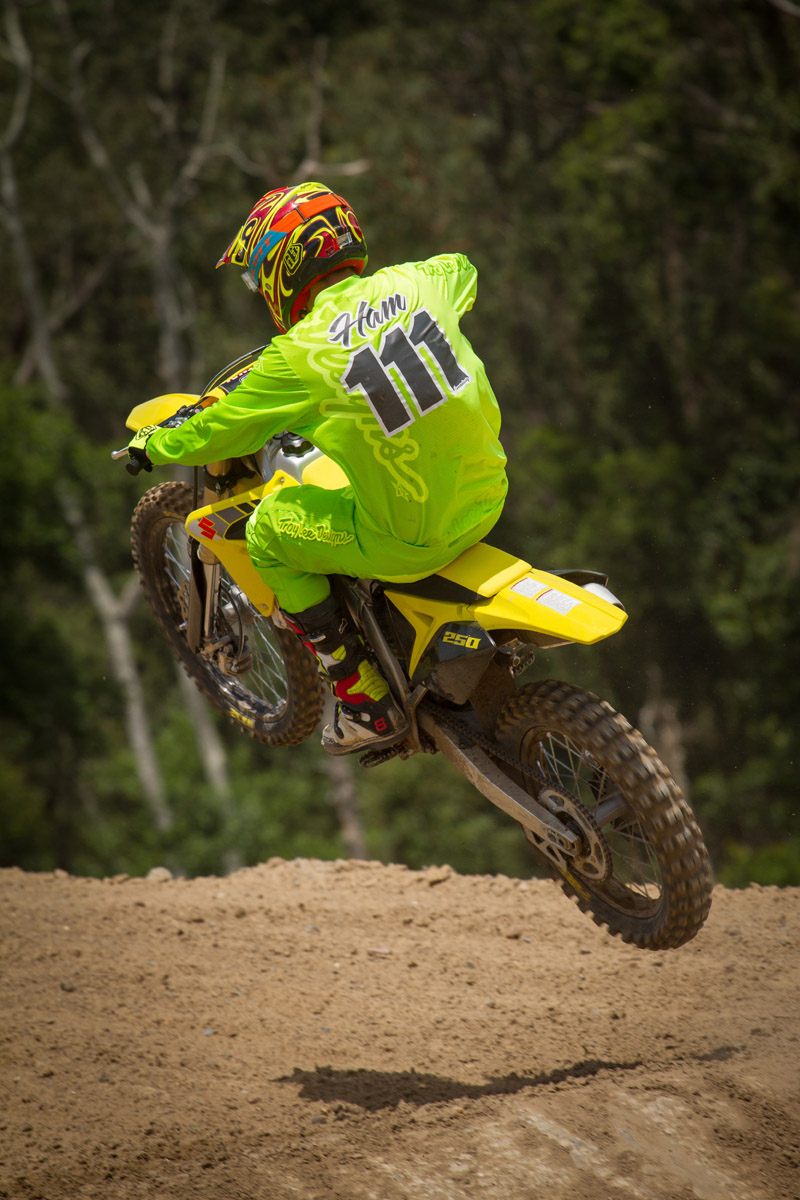 BRIAN SIMCOX
I felt this bike was really responsive off the bottom and it impressed me straightaway. It handled nicely but I struggled a little with the ergonomics: it took me a while to settle in on it and get really comfortable.
CHRIS URQUHART
I felt comfortable on it straightaway but for me the seat was a little bit soft and the ergos a little lazy. It was great fun to ride but just felt a little bit lazy. Handling was good but I struggled a little with the fork; it just tucked a couple of times coming into some of the faster turns. I made a few tweaks and improved it but I'd need to work on that a little more. The rear was great; had no issues there at all. The engine is strong off the bottom but feels like it just needs a little more punch and it would be great if it could rev out a little more. It just signs off a little early but it feels like it wants to offer more. I felt it on a few of the bigger jumps where it would just catch the limiter right at the top.
DANNY HAM
I just struggled to gel with this bike like I normally do when I get on a Suzuki. No doubt, the bike is relatively quick — it's got a good broad power delivery right through. Not the strongest out of the six but usable right through the curve. Signs off just a little bit on top but in general felt pretty good. Suspension was not too bad for me right away; a few little tweaks and I managed to get it to hold up pretty good. Pretty impressed with the way it handled, actually, for a standard bike. I usually feel really at home on a Suzuki from an ergos point of view but — I don't know — today it just didn't totally click for me.
GREG TIMMINS
I didn't have to change too much on the Suzuki to feel comfortable. The engine was solid but felt it signed off a little earlier than the Euro bikes. From Hammy, I dropped a little bit of the air pressure out of the forks, which suited me, and once I did that the whole package felt really comfortable for me. To me, the Suzuki and the Kawasaki felt like they were on a pretty level playing field.
JORDAN BISSAKER
I felt like the Suzuki had a strong power delivery but revved out pretty quick and felt like I needed to shift a fair bit. Not sure of the measurements but for some reason the Suzuki shifter felt like it was shorter and I struggled to make shifts a little bit at first. I did get used to it, though — just strange how I noticed that straightaway.
SHANE BOOTH
To me, this bike and the KXF were very close from a performance and handling point of view. I had no problems feeling comfortable on the Suzuki very quickly. But that may have just been the problem — it almost feels too comfortable. The seat is pretty soft — softest in class, for sure — and that probably leads to the ergos feeling slightly dated. The engine is really solid and responsive: it's strong off the turns and pulls through the midrange well. It just lacks a little of the over-rev that the top three in the class have. A really solid package that will benefit from some ergo love.
YAMAHA YZ 250F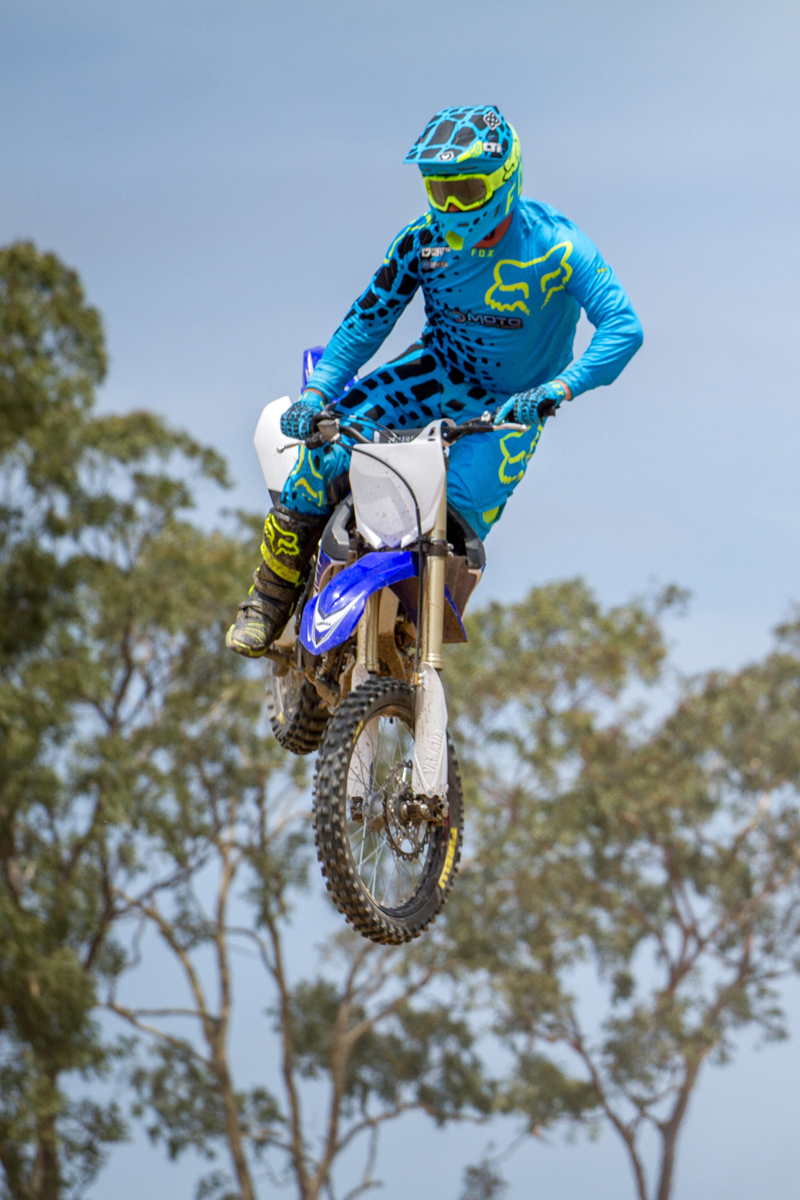 BRIAN SIMCOX
I usually ride a Yamaha so from a comfort point of view that was no problem. I was happy with the setup straightaway. I really like how responsive the power was but also how smooth it rolled on, too. I felt like I could carry a taller gear on it through most turns compared to the other Japanese bikes.
CHRIS URQUHART
Super-strong engine, revs to the moon. It felt really strong but I didn't feel overly comfortable with the ergos. I kept standing the bike up in turns and popping out of lines here and there compared to the Husky and KTM. The engine overrides those issues, though. It's such a strong power delivery: you can rev it or labour it and it responds well either way. The handling was by no means horrible but it just felt a little off or a little more bike than some of the others.
DANNY HAM
The airbox noise on the Yamaha is still off-putting when you aren't used to it. When you got to the mid-to-top-end part of the power, this bike is really strong; it keeps revving and doesn't sign off quickly like some of the others seem to. I felt a little foreign on this bike but not necessarily in a bad way. Even though the Yamaha is a little wider at the front of the shrouds, it feels quite slim through the seat area when you're standing up. Suspension was pretty close on the Yamaha; I just firmed it up a little with clicker adjustments and that was all I really needed to do to get it feeling good.
GREG TIMMINS
The Yamaha is a good thing all over. The motor is good — it just keeps revving. It just doesn't seem to sign off like the other Japanese bikes. The whole handling package is solid. I felt like I seemed to sit further back on the Yamaha than on any of the other bikes; I'm not sure why. To be picky, I wasn't too keen on the handlebar bend but other than that it felt like a really well-rounded package that has great power.
JORDAN BISSAKER
The Yamaha had very strong bottom-end power. It was really aggressive off the turns for a 250F. I really liked the brakes on the YZF, too — I just had a great feel from them. The suspension was really stable for me; there are some fast downhills here and I never had any moments or felt it kick. I could turn it well and overall I liked the YZF a lot.
SHANE BOOTH
This is a beast of an engine. It sounds grunty on track and when you ride it the engine feels angry — in a good way. It feels really torquey and allows higher gears to be pulled in places that other bikes can't. It just keeps revving and to me feels like some of the Yamaha race bike engines I've tested in the past. It's impressive and holds its own with the KTM and Husky on that front very well. The handling is good; the rear had a little bit of a buck in it and we settled that down with some clicker adjustments and it was fine after that. To me, it just doesn't feel quite as nimble as the KTM, Husky or Kawi. It's a little bit more steady on that front. The brakes and controls are solid but again not the same level as the Euro bikes. So the engine is on the money; it just needs to feel slightly lighter and a hydraulic clutch and electric start wouldn't go astray. Add a couple of those things and it would be a tight three-way battle at the front.
THE WINNER
KTM 250 SXF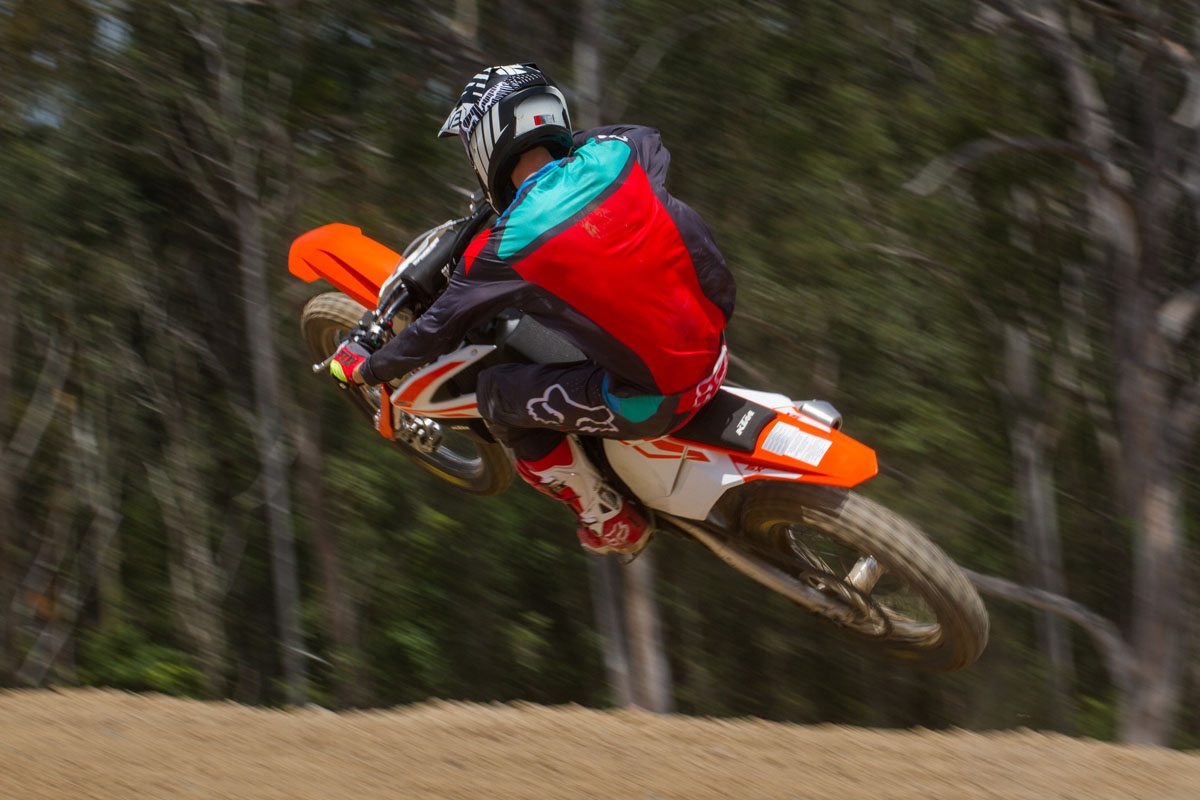 This bike is your winner for the simple reason that it's a complete package that can't be matched in this class right now. Its engine performance matches or is better than any of the other bikes in the class. It's a lightweight, nimble-feeling bike on track and again isn't surpassed in this department by any. The big improvement from the past is the suspension: all of our riders felt comfortable with and were impressed by the new 48mm AER fork and its response to changes. And if all of that wasn't enough to get it across the line, add the electric start, hydraulic clutch, easy-to-use map switch, traction control and class-leading brake performance and it's hard to build any sort of argument at all. This is by far the best package KTM has ever delivered and the riders noticed it straightaway.
SECOND
The Husqvarna came oh, so close but our testers picked the KTM for a bunch of small reasons that mostly came down to feel. The two bikes are essentially the same with very few differences so it makes sense they're close in performance. It was rated no worse than second by any of our testers, showing just how close it did come to the top spot.
THIRD
The YZ250F rolls in a close third with a very impressive engine package that's on par with the winners; it just takes a little more to put where you want on track and, like all that come after it, misses the hydraulic clutch and electric start.
FOURTH
The all-new KX 250F is a bike that impressed all of our testers. It feels light and nimble and actually beats the YZ in that respect. But, for our testers, in a class where horsepower is very important, the YZ was just that little bit stronger and pipped the KXF for the final podium spot.
FIFTH
The RMZ 250 is a bike that doesn't deserve the label of fifth in a shootout. It's not because the bike isn't good; it's just that its competition is so damn strong now. The RMZ has a very responsive and strong bottom-to-midrange power delivery and a stable handling package. It's probably the most balanced package in as far as it does everything well and suffered almost no bad feedback — it just wasn't quite at the level of those that finished before it.
SIXTH
The Honda is a bike that just needs to breathe. It handles really well and if this was based on nothing but ergonomics it would be battling for the win. It's just down on power. All of our riders said the same thing, that it feels like the power's there but it's restricted and the bike can't produce it. I've a feeling we'll see this bike follow in the footsteps of its big brother with a major overhaul in 2018 but we'll have to wait and see.