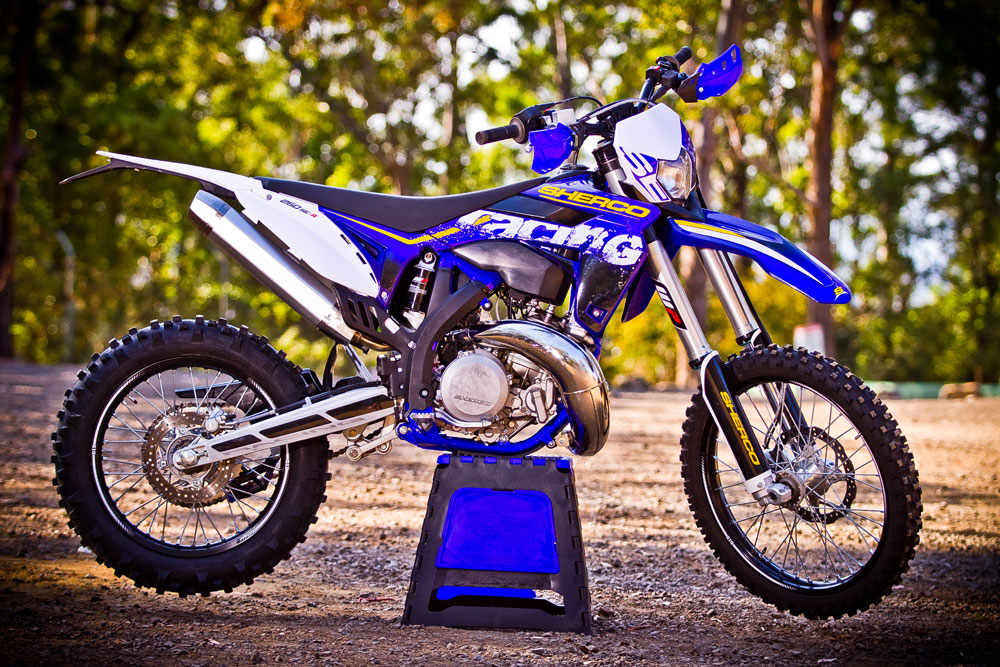 Sherco motorcycles have come out swinging with their first attempt at a two-stroke enduro weapon. Has the French manufacturer reset the benchmark with this E-start only machine?
Story Adam Riemann | Photography Damien Ashenhurst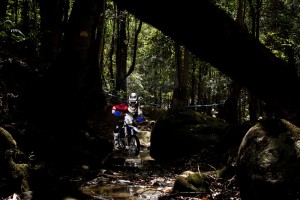 As a moto journo, you don't often get excited when another model is released into a market of already "new and improved" dirtbikes. EFI this, steering angle that, discovering changes isn't as exciting as, say, finding salty caramel ice-cream at a gelato bar.
But when I had a close look at the new 250SE-R from Sherco, cool elements like the under-engine mounted starter motor and electronic power-valve system quickly caught my attention. Then I notice there's no kickstart and the battery is mounted below the air filter in the base of the airbox.
Throw in WP suspension, Brembo brakes and hydraulic clutch, Keihin carburetor and Kokusan ignition — top-quality components used by the bigger European and Japanese manufacturers — and on paper you've got a serious bit of gear. But, more importantly, it's not just a cobbled-together pile of components — it rides like a race-winning dirtbike.
So, yes, I'm excited, but more about the fact that Sherco has a bike that will no doubt put clubman or pro racers on the podium. Ten minutes on the track was enough to know Sherco's development team got this bike right, if only for the fact its chassis is composed with predictable handling — something previous four-stroke models have lacked and something I'm sure former World Enduro champion David Knight discovered before signing with Sherco's Factory Enduro Team for 2014.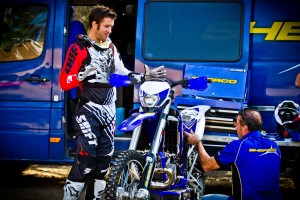 Dissecting the Beast
Let's start with the bike's centre of gravity, the most crucial element when you throw it — and yourself — at a hard-pack, skaty, body-jarring motocross track like Kembla, NSW. Yes, this was the first surface I was exposed to on the new 250SE-R so, if it had any bad traits, they'd show up immediately.
The design elements of this bike are all focused on lowering and centralising the mass, made obvious by the placement of the starter motor under the engine and the battery below the air filter. Regardless of suspension action or steering geometry, the Sherco ejects off jumps and square-edge hits with an even trajectory. There's no weight bias toward the front or rear wheel, which is immediately obvious as soon as the bike is airborne.
It reacts positively with your body position whether you're sitting or standing and doesn't require perfectly smooth line choices before leaving the ground. You can easily adjust the attitude of the bike whether you're in mid-corner or mid-flight.
I've found this trait is only obvious in a bike when manufacturers match the engine's weight and position perfectly to the chassis geometry. Like many of the more established MX brands, Sherco has nailed handling performance from the ground up, simply by getting the mathematics right.
From there, the addition of WP suspension is a perfect complement to the chassis, because it does a good job of maintaining a balanced ride height. I'm very familiar with the habits of this single-chamber-model WP fork, which makes it feel like any standard KTM EXC when you start pushing hard in race conditions. It offers a harsher feel when you need it to act fast on rock or square edges, but at least it's predictable. At pace you become more dependent on the choice of front tyre to maintain traction, but the symmetry of the chassis and centre of gravity combined lets you confidently push the limits of the standard WPs.
All these elements work in your favour when it comes to extreme obstacles, because the Sherco feels and acts more like a two-wheel extension of your body as opposed to a bucking, kicking animal between your legs. Compared to its 300i four-stroke cousin, the new two-stroke model is nearly identical, the only differences being the lower frame cradle and obviously the new 250 two-stroke motor, which is also available in 300cc.
But Sherco brings two production firsts for these classes: electric-start only and electronically controlled power valve actuation. Obviously, this means no kick-start backup if the e-system fails and, unlike the internal (mechanical) centrifugal actuator of conventional two-strokes, the Sherco has an external electronic servo-motor, which actuates the power valve in the cylinder via two cables.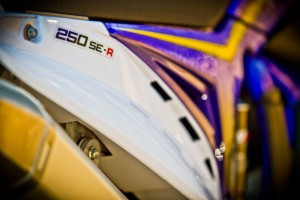 This is something I've not seen on a two-stroke dirtbike since the late and great 2007 Honda CR250R, one of the more powerful 250cc two-strokes of its time. While the electronic power valve introduces another component that requires maintenance, it does look to be part of the future development for fuel injecting this engine. That, and the fact the electronic power valve makes the Sherco engine so usable on the trail.
You see, combined with the two ignition curve options, the electric power valve can better alter power delivery based on throttle position and engine load, regardless of rpm. To put it simply, you don't get that two-stroke yawn (bogging engine) when trying to pull high gears in steep terrain, nor does the engine have that abrupt transition when you roll on or off the throttle. Instead, the electronic power valve constantly adjusts the exhaust port height to best suit the delivery demands of the rider so you're always getting crisp, linear response, whether you're tractoring over slippery rocks or feeding it into a fourth-gear power slide.
It also makes for a more aggressive change in power characteristics when you change between ignition curves, because instead of just altering the ignition curve itself, the power valve action is also changed to optimise each ignition map. What this boils down to is a very universal performance package out of the crate: flick the switch and the engine goes from Sherco to berserk-o.
While I spent most of the time on the softer setting for the hard-pack MX track and rutted-out enduro loop, I had a quick hit on the aggressive setting. To be honest, unless you're riding on a loamy, wide-open grass track or hauling through sand whoops, the soft power curve is the best option for enduro work. On the aggressive setting, the motor takes on a punchier, harder-hitting nature, which ultimately will wear you out faster in the bush.
The Goods
At a glance, the motor shines with two-stroke technology: Keihin 36mm carb, VForce reed block (case reed induction), hydraulic clutch slave cylinder etc. Powering all the electronics is a whopping 220W charging system, which adds plenty of flywheel mass to the engine — another element contributing to the engine's awesome tractability and stalling resistance at low rpm.
The FMF-built pipe is tuned for smooth bottom- to midrange power, which is noticeable by the high rpm sign-off of power. In the soft curve, the power is very linear and I suspect would produce a near-perfect straight line on a dyno chart. The electric start performed as it should and there is barely any free-cranking — it just explodes into idle as you hit the button.
Along with most components on the bike, the stock fuel tank is the same as the four-stroke model (9.5 litre) and even has the impressed moulding for a future EFI fuel pump. Interchangeable parts between models is a big bonus for after-sales service and spare parts availability. Brakes are as good as Brembo brakes get.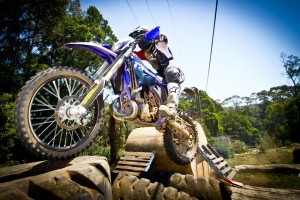 Overall Impression
I love that Sherco got this bike right from the start. It's used the success of its recently re-engineered four-stroke models to hit the ground running with a potential class leader in the two-stroke enduro market. Quality suspension, brakes, electronics and fuel system are all part of Sherco's aim to give riders nothing to fault in the finished 250SE-R. Is it on par with a KTM or Gas Gas? I think so, but obviously time will tell how it handles long-term abuse in abrasive conditions.
As for the ride dynamic, the bike has a small, almost cramped feel initially for my 183cm tall frame but I soon got comfortable with its agile dimensions.
That aside, I believe the new-generation Shercos are finally at a level where they can be seriously competitive both in sales and competition – out of the crate. As a competition package, a Pro rider will ultimately seek a more premium fork option in the dual-chamber WP, which Sherco makes available. But for the majority of trail riders, or those looking for a weekend racer out of the box, the performance of this bike will exceed expectations or ability.
I'd love to see some of our AORC underdogs show up as a Sherco Team next year and pull some outright podiums. I believe it's achievable on these machines: just look at the success Jess Gardiner has had on the world enduro scene in her first year on a relatively stock Sherco 300i.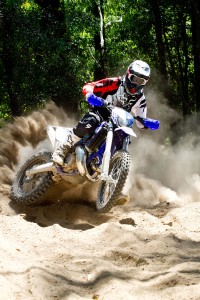 Dimensions
Overall length: 2260mm
Overall width: 820mm
Seat height: 970mm
Wheelbase: 1470mm
Ground clearance: 350mm
Motor
Type: Single-cylinder 2-stroke liquid-cooled
Displacement: 249.32cc/293.14cc
Bore/stroke: 66.4×72mm/72×72mm
Fuel system: Carburetor Keihin PWK 36
Starting system: Electric starter
Battery: 12V/4Ah
Ignition system: DC–CDI no switch with digital advance
Spark plug: NGK BR8ES/Denso W24ESRU
Alternator: 220W
Engine oil: 900mL 10W40
Transmission
Type: 6-speed
Clutch: Multi-disc clutch in oil bath, hydraulically operated
Primary drive: 27×75
Secondary drive: 14×49
Chassis
Frame: Semi-perimeter CrMo steel with aluminium subframe
Forks: WP USD 48mm dia (racing)
Shock: WP with linkage
Travel: Front/rear 300/300mm
Front brake: Disc 270mm (standard), 256mm (racing)
Rear brake: Disc 220mm
Front tyre: 90/90–21″
Rear tire: 140/80–18″
Fuel tank capacity: 9.5L with 1L reserve
Fuel: 95 mixed with 2-stroke oil (2%)