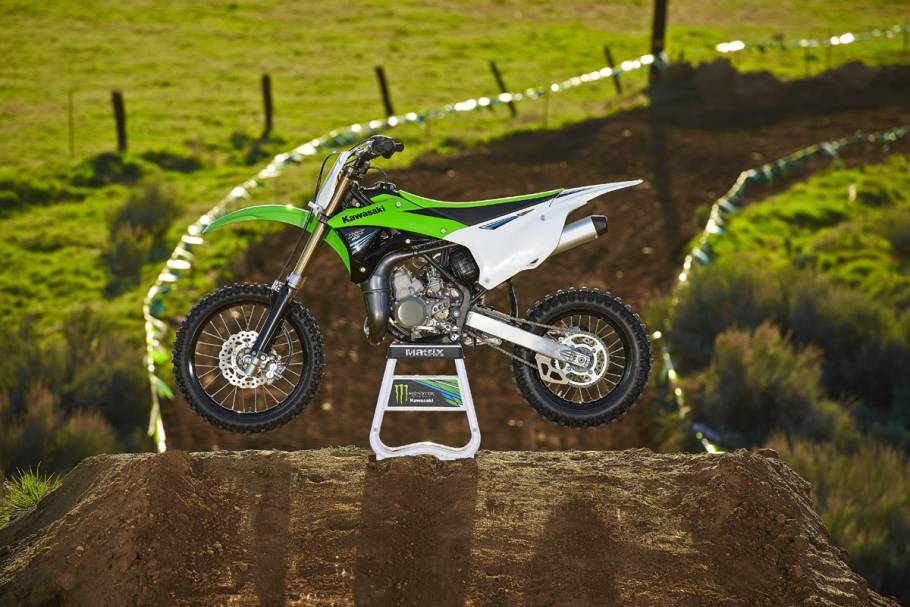 Kawasaki is pleased to unveil the all new 2014 Kawasaki KX85 motocrosser. Kawasaki Australia anticipates that the new model will be available at Kawasaki dealerships in late August 2013 at a RRP to be announced. At both the amateur and professional levels, Kawasaki has long been the dominant brand in mini-motocrossing, with many of today's top professional riders getting their start on KX minicrossers.  Kawasaki continues this tradition by offering a completely revamped green meanie in the KX85.
Designed with the same philosophy of putting riders on the top step of the podium – a philosophy that has not changed since the creation of the KX brand 40 years ago – these new machines feature significantly boosted engine and chassis performance; improved ergonomics care of all-new flush-fit bodywork, new seat and adjustable handle position; and sharp factory looks just like the KX450F ridden by Kawasaki champions Ryan Villopoto and Jay Marmont.
With these new KX models, pushing to the front of the pack has never been so easy or so much fun. Join the revolution!
KEY FEATURES:
 
NEW More powerful 2-stroke Single – PERFORMANCE BOOST
A low-friction piston, new KIPS valve, new cylinder head and numerous other updates give these liquid-cooled, 2-stroke racing engines increased power and torque across the rev range.  There is more power at all RPM and peak power is 19.6% greater.
NEW 6-position handlebars with new bend
A choice of six positions allows riders to tailor their riding position.
NEW Slim ergonomics
All-new minimalist bodywork, flatter tank and slimmer, flatter seat were designed to make it easier for racers to go fast.
NEW 36 mm inverted fork
Revised fork offers improved damping and bottoming resistance, enabling higher-paced riding and contributing to increased ride comfort.  Revised front fork bottom cases (axle brackets) are 12.5 mm shorter, resulting in greater clearance in turns and ruts.  20-way compression damping adjustability.
NEW Uni-Trak rear suspension
Revisions to the rear shock contribute to a more stable ride feel, and offer increased adjustability and lighter weight.  The new mechanism is 24-way adjustable for compression damping, 21-way adjustable for rebound damping.
NEW Petal disc brakes
Disc brakes front and rear ensure strong stopping power with excellent control.  Now with petal discs, just like the larger KX models.
NEW Factory styling – KX DNA
All-new bodywork and racy graphics ensure the new bikes will look good in the winners' circle.  Black alumite rims, black fork guards, and blue alumite1 finish on the suspension adjusters further strengthen their factory image.
Two available sizes – CHOOSE THE RIGHT RIDE
Riders can choose from two available sizes: the KX85II (Large-Wheel) features 19" front and 16" rear wheels; the KX85 (Small-Wheel) is equipped with a 17" front and 14" rear.