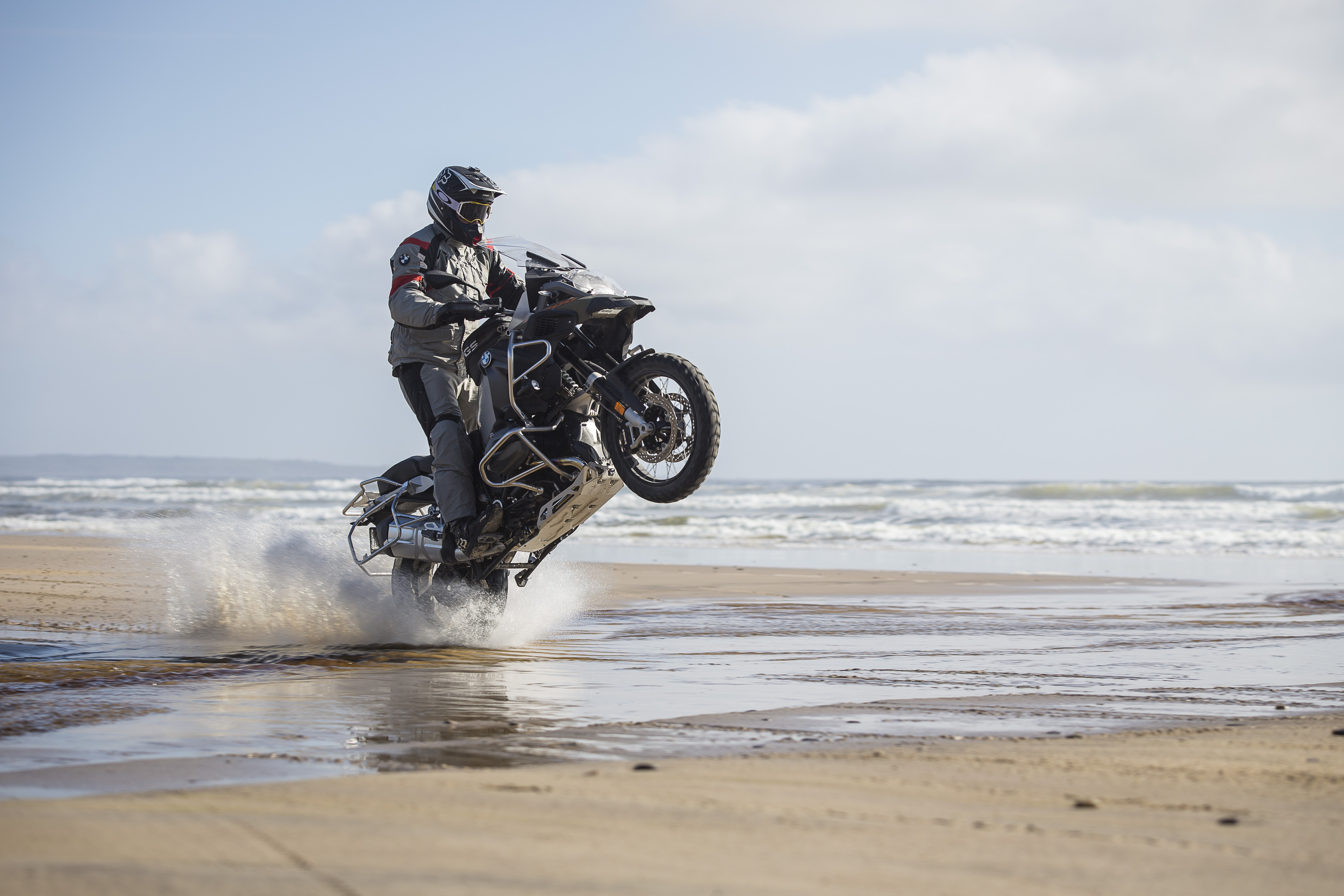 Adventure Bound: An unusual and exciting or daring experience. That pretty much hits the nail on the head as to what you'll get up to on this machine
Story Shane Booth | Photography Greg Smith/iKapture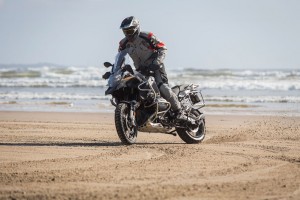 There's plenty to talk about with BMW's new flagship adventurer but I'll get to that in a little bit. This particular launch was itself an adventure — in every sense of the word.
It started with a flight to Melbourne and a short transfer to BMW Motorrad's head office in Mulgrave where, along with the other moto journos, I was allocated my very own brand-new R 1200 GS Adventure. A quick change into riding gear, ditch the bags in the support vehicle and we were off again, this time headed to Station Pier to board the Spirit of Tasmania II for an overnight cruise to Devonport, Tasmania. The seas were kind to us and we rode off the boat to an early start on three days of prime adventure-bike riding.
Tech Lesson
Day one's route led us from Devonport to Strahan on the west coast of Tassie, a great ride to get comfortable on the bikes and have a chance to find out everything they have to offer. There is some very clever and helpful technology at your fingertips but if you've never ridden a bike with any of these options it will take time to get used to it.
The launch bikes were fitted with the optional touring package, dynamic package and cruise control. This means we had five different riding modes to choose from: Rain, Road, Dynamic, Enduro and Enduro Pro. Each of these modes adjusts ABS, traction control, throttle sensitivity and suspension settings to give you the best setup for the corresponding conditions and terrain. You can change the modes on the fly simply by selecting the new mode via a button at your right hand, returning the throttle to zero and pulling the clutch in: new mode selected.
Aside from the riding modes you can also choose from three different Electronic Suspension Adjustment (ESA) settings: soft, normal and hard. You also have the option to switch off Automatic Stability Control (ASC), which is the traction control, and ABS for any of the settings. You have cruise control at your fingertips, which is great on the open roads. It doesn't take too long to wonder how you would ride without it.
There's also the multi-controller at your left hand, which you can use to control many functions on the GPS such as your route as well as different bike information like speed, fuel consumption and trip meter, to name a few. That comes to no less than 12 buttons/switches plus the multi-controller and clutch lever for your left hand to look after, while the right handles the throttle, front brake, mode selection and heated grips.
Sounds like a lot but I wouldn't be happy giving up any of these options once I'd experienced them. By the time we reached the beach at Strahan at the end of day one, I'd made use of everything. Speaking of the beach, what a blast we all had taking these bikes for a run out on the sand.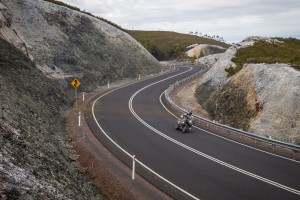 Coast to Coast
The longest day of the journey, day two's route was from one side of Tassie to the other — destination, Swansea on the west coast. It began with a great section of twisty bitumen via Queenstown through to Derwent Bridge. I've never felt so confident on a motorcycle through a solid 70km of turns on the black stuff.
The boxer engine produces such a meaty low-to-midrange power delivery that it allows you to hold at least fourth gear through anything but the tightest hairpin turns. As you roll the throttle on through the exit, the bike feels planted and the smooth power delivery isn't at all intimidating. I had Road mode selected for the majority of the section and the assurance that the traction control would assist if you caught any moist tar on the exit of a turn kept me just that little more relaxed.
The BMW Telelever was the topic of plenty of conversations but the solid, planted feel it gives the front end in turns and its stability under braking on the road is worth the slight compromise you might find in some off-road situations.
Speaking of off-road, we then spent the majority of the day on open gravel roads — adventure riding at its best. This is where this bike stands out to me. The R 1200 GS Adventure has a heavier crank than the R 1200 GS and it really helps the bike deliver its 1200cc in a user-friendly way, even when traction is at a minimum.
Most riders will select Enduro mode for this type of riding and not even feel the ASC or ABS intervene at all, thanks to how well they're calibrated for specific off-road conditions. Enduro mode also offers the soft throttle setting, which helps feed the power on smoothly. I found myself using Enduro Pro mode for any off-road riding, mostly because I like the idea of being able to lock the rear wheel if needed.
Only a handful of times did I switch off the ASC but it was probably more for the exercise than anything else. Even when you have ASC activated, you can still get some very handy drifts going on the gravel roads.
Once you have a mode selected and just get down to riding, you find this bike pretty soon starts to feel much smaller. I got comfortable with its size quicker than I'd have thought possible, especially when I was standing up on it. In the standing position, the bike feels much slimmer and once you get used to planning your turns and braking distances accordingly it flows along a gravel road with ease and will more than likely leave you with a grin from ear to ear.
It was towards the end of day two that the bike's flexibility really started to sink in. Earlier in the morning, I was tearing through twisty turns on the tar on a bike that felt like that's what it was meant to do; later, back on the tar, I had the same feeling. In between these two sections of road we'd just ridden 100km of various gravel surfaces from smooth and flowing to slightly rougher and more technical and it felt at home there, too. This bike is truly versatile.
Enduro Mode
Day three began with a beautiful ride up the east coast, ocean and a rising sun on our right and, off to the left, huge mountains that we would inevitably tackle. This was by far the freshest morning we'd had — nothing harsh but just enough for you to appreciate the larger adjustable screen that comes on the Adventure.
I wound it up to the highest position and it deflected the majority of cool air away from me. I even gave the heated grips a go — probably not necessary but I tried them out, anyway. They get well and truly warm enough to heat through even the thickest gloves.
It wasn't long before we swung off towards the mountains. This turned out to be the most technical riding we faced and it was probably at the right time — by now we were all pretty comfortable on the bikes and up to the challenge.
What started as a regular fire road slowly started getting narrower and more technical. It got steeper and started to look more like a trail than a road — still a narrow car width but I don't think there had been a vehicle along there for a while.
As we climbed further the growth started closing in more and at some points the ferns almost joined in the centre of the trail. It was first-gear riding with Enduro Pro selected and the bike was handling it, no problems. At this point I'd also lowered the screen so I didn't hit it with my chest while I was leaning forward — sounds so simple but it's a nice feature.
The trail technicality peaked at a small rock garden we had to traverse, a two- to three-metre section you could mistake for something from Erzberg: an intimidating prospect on an enduro bike, let alone a motorcycle that weighs in at over 250kg. Crazy thing was, everyone handled it; the bikes did it, no problem at all, and the riders controlled the nerves and nailed it, too. It was a single testament to the confidence the bike had instilled in the riders over the two previous days.
From that point we enjoyed some great gravel roads and some sandy sections, too. It was all slightly more technical than the off-road on the previous day but I think everyone enjoyed it because of that.
Once again, we switched terrain back to the tar for a great ride up and over a mountain range followed by a cruise back down into Launceston, where we parked the bikes at the local BMW dealership and hitched a ride to the airport. The schedule got a little tight towards the end but I'd rather be riding than sitting at the airport early, that's for sure.
Do you need one?
That's the $30,000 question. If you're interested in doing some real adventure riding — big days over varied terrain — it would be very hard to beat this bike. Don't let anyone tell you all the electronics are overkill, either. I really think they're a major part of what makes this bike as versatile as it is.
At the end of the day, you're purchasing a BMW, so you can be comfortable you're investing in a premium product. BMW is too proud to sell you anything less.
Compare the Pair
Key differences between the Adventure and R 1200 GS
* Heavier crankshaft
* Enduro RDC
* Spoked wheels with off-road tyres
* 10L-larger fuel capacity
* Bigger screen for increased weather protection
* More crash protection
* Auxiliary LED riding lights
* 20mm more suspension travel front and rear
* Wider footpegs
* Two-position rear brake pedal
* 3mm-longer wheelbase
* Concentric gear lever tip for adjustability
* Small stowage compartment on top of fuel tank
BMW R 1200 GS Adventure Specs
Engine type: Air/water-cooled twin-cylinder boxer engine
Displacement: 1170cc
Output: 92kW/125hp
Torque: 125Nm@6500rpm
Frame: Tubular steel bridge frame, engine self-supporting
Front suspension: BMW Telelever
Rear suspension: BMW EVO Paralever
Front travel: 210mm
Rear travel: 220mm
Wheelbase: 1510mm
Front brake: Hydraulic twin-disc Ø 305mm
Rear brake: Hydraulic single-disc Ø 276mm
ABS: BMW Motorrad Integral ABS (disengageable)
Fuel consumption: 90km/h, 4.3L/100km
Acceleration: 0–100km/h 3.75s
Weight: 260kg (tank 90% full)
Standard Features
* ASC and riding mode: rain & road Automatic Stability Control
* Chrome exhaust
* Heated grips
* RDC tyre pressure control
* LED additional fog lights
* White LED indicators
* Off-road tyres
* Pannier fastenings for aluminium panniers
RRP: $24,300
Optional Packages
These need to be factory ordered:
Touring Package incl: $1800
* Dynamic ESA Electronic Suspension Adjustment
* On-board computer Pro
* Preparation for GPS device
* Cruise control
Dynamic Package incl: $1400
* LED headlights
* Riding mode Pro, Dynamic, Enduro and Enduro Pro
* Daytime riding light
* Cruise control (N/A with Touring Package) $500
* Anti-theft alarm $505
Accessorise your Adventure
Aluminium side cases pair (coded)   $1648
Aluminium topcase $751
Luggage plate     $266
Tank rucksack     $498
HP sports silencer by Akrapovič     $1314
Windscreen, tinted      $473
Windscreen, high, tinted      $600
Rallye seat with luggage plate 895mm      $642
GPS Navigator V   $1148
Enduro aluminium bashplate    $468
Headlight guard (for off-road use only)   $195