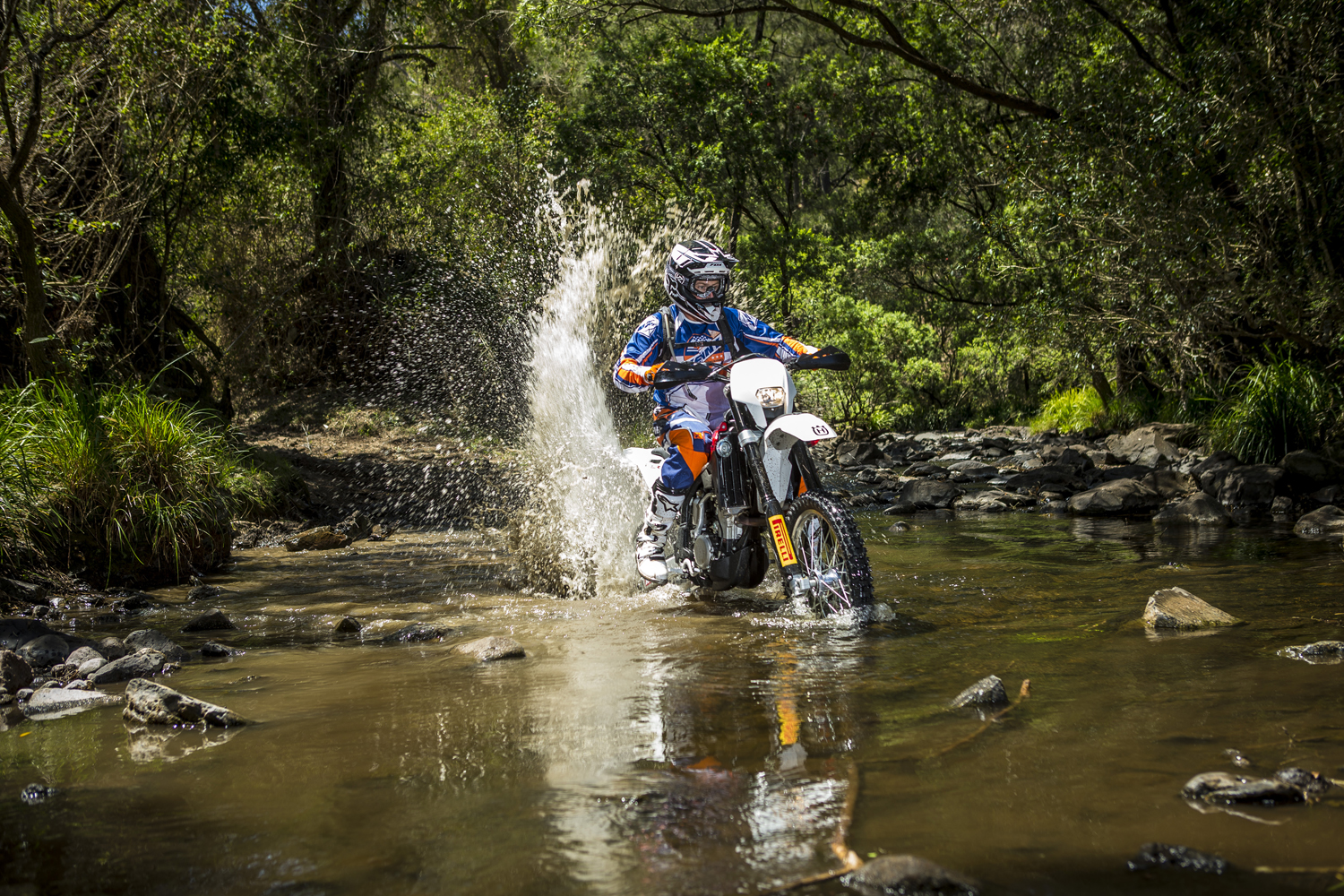 Easy Rider: Husqvarna's 2013 TE310 is up against some serious competition but it won't take any backward steps
Story by Damien Ashenhurst |  Photos by Barry Ashenhurst
I've ridden the TE310 plenty of times but when I thought about it I realised it was generally at a model launch and back to back with the TE250. I've always liked the TE310 but in a way my opinion was tainted by the fact that I rode it straight after the TE250.
You see, up until 2013 the TE250 was chronically underpowered and getting on anything that offered some more grunt at that point made the next bike seem perhaps better than it was.
So the TE310 appealed to me because it was better than the 250 but I was never positive this was a bike I'd like to keep in my shed instead of KTM and Husaberg 350s.
So, with a raft of changes and upgrades for 2013, has the TE310 found its place and got everything it needs to command attention?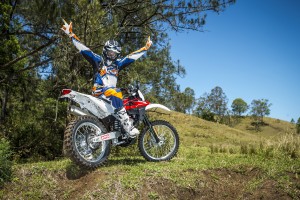 New For You
There's a long list of refinements for the TE in 2013, beginning with a new cylinder head, crankshaft, air intake and piston. The EFI has also been upgraded along with the chain guide, although I suspect two different departments were responsible for each. Having said that, if I'd spent a year working on intricate and time-consuming EFI improvements I wouldn't mind winding down towards the end with a bit of chain guide redesign duty.
The end result of all this is a claimed five per cent gain in power and eight per cent gain in torque. That's pretty good. But is it just corporate fun with numbers? I'm sure Yamaha told us the 1989 YZ250 would be six per cent faster because of the pink graphics.
Well, it didn't take long to figure out that the 2013 TE310 is a better bike that any of its predecessors. Those small percentage gains mentioned before are impossible to miss; the TE is more responsive and has a midrange punch well beyond the 2012's efforts.
Most trailriders will fall in love with an engine that offers what the TE does in stock form. For me, though, it signed off pretty early and is in need of some more top end. There is a fix through the EFI that does exactly that and we're told you can even keep the stock pipe on. I wouldn't mind riding a bike set up like this.
The bike feels stable and not in any way flighty at the front. The suspension has something of a harsh feel to it but on our ride day we found it could take anything we hit without dramas. We rode single trail and fast open tracks and finished the day on some fun jumps and didn't change a setting throughout the day. I think some amount of tuning will be needed for anyone looking to push the TE but the average bloke will probably work the clickers for a plusher feel.
Take Flight
The bike seems well balanced overall. The engine sits in a sweet spot that provides the torque you need to conquer trail trash and hills but also the power you want to get a buzz. The gearing seems pretty close although that depends on where you ride; we might look at dropping a couple of teeth at the rear to buy back some top-end pace. There's bottom end to spare, believe me.
Of course, the TE also runs a hydraulic clutch and a very nice set of Brembo brakes that are up to par with anything else on the market. In fact there's very little in the way of disposable parts on the TE. Look to replace the stock bashplate with a metal unit and ditch those stock grips immediately for something with some amount of comfort.
The only item that truly bugged me was the gear lever. It can be harder to find than whats his name in Where's Wally? It's too short and sits too far to the right of your boot, so I'd replace it with a larger Hammerhead job or something similar.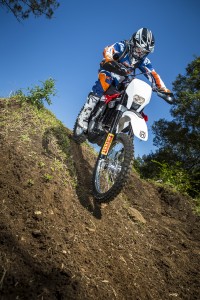 Giddy Up
The TE310 has come of age. This is a very good bike — perhaps one of two bikes in the current Husqvarna stable that has everything it needs to stare down the competition. Our mate Stephen Tuff has spent the better part of a year on one; he loves it and I can see why.
The 300–400cc bracket seems to be a sweet spot of sorts for the trail market and the TE is an example of how that's come about. It's a well-thought-out bike that offers the ability to ride at your pace without fear of a bolter but with no giving up the option of riding damn fast.
The Competition
KTM 350 EXC-F
KTM was the first to throw its weight behind the modern, mid-sized enduro bike and it has a very good thing on its hands with the 350EXC-F. The TE comes in a lot less expensive than the KTM and the performance gap that once existed is now narrower than ever, as the number of genuine parts for the Husky grows. However, they don't feel much alike with very different ergos and suspension, so ride them both before you make any decision because they really are different animals.