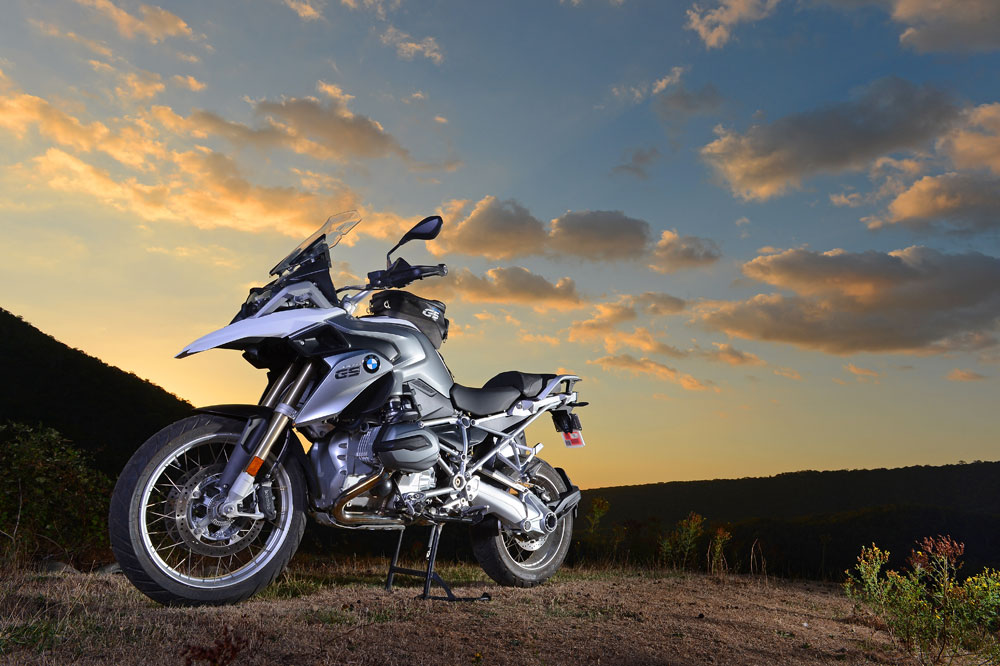 All-Time Adventurer: BMW's versatile new flagship adventure bike the R 1200 GS has arrived, bringing with it some impressive technology — and some radiators
Story by Shane Booth | Photography by BMW and Jeff Crow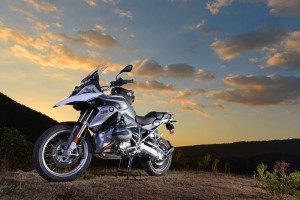 Heading to a BMW launch is always a pleasure, but when it's for an all-new version of their flagship model adventure bike it makes it just that little bit more exciting. We headed to the High Country of Victoria to join the crew from BMW and get acquainted with the new R 1200 GS and the massive list of changes it has received.
The biggest talking point would have to be the all-new, more powerful water-cooled boxer engine. It's the first time the R 1200 GS has had radiators. The updates don't stop there; in fact there's only a handful of parts that carry over from the previous model.
This really is a completely new bike and the list of featured updates is as long as your arm. The electronics package had been raised to a new level, including five riding modes that can be easily selected on the fly; the throttle cable has been replaced with a "fly by wire" electronic throttle; there's an all-new frame and a new lightweight cardan shaft that runs on the left-hand side.
What does all this mean when you head out? It means you're on a bike that can handle just about any terrain and handle it very well.
Wasser Boxer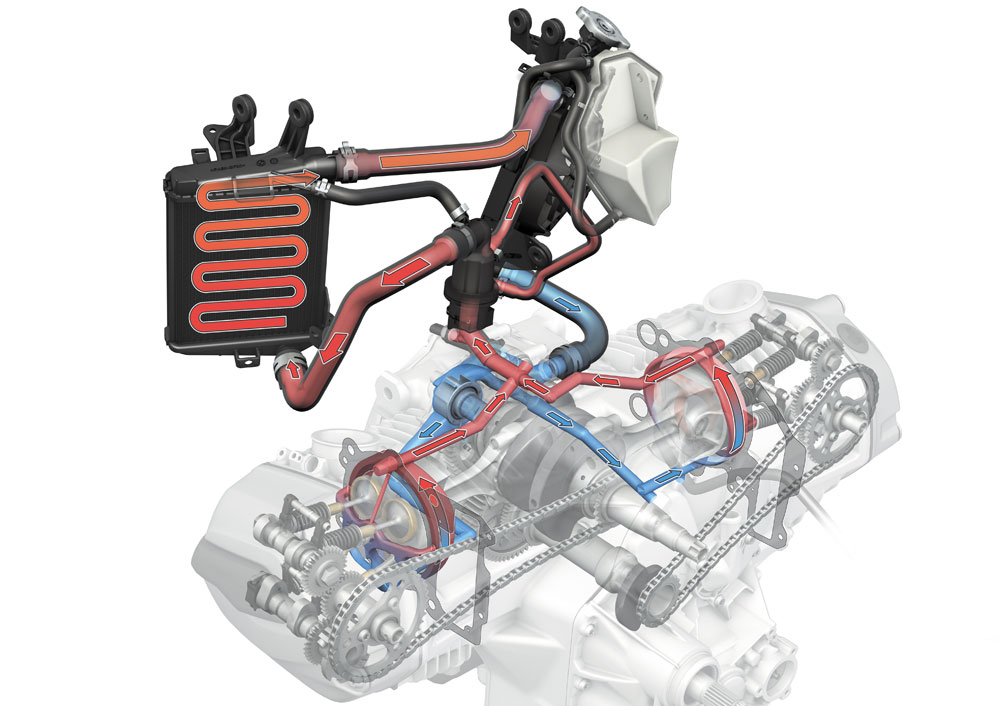 This all-new water cooled two cylinder boxer engine produces 92kW (125bhp) at 7700rpm and has a maximum torque of 125Nm at 6500rpm. The torque this engine produces is nothing short of amazing. It has a capacity of 1170cc, which is the same as the previous version, as is the bore and stroke of 101 to 73mm.
The new precision water cooling system doesn't provide 100 per cent of the engines cooling but rather handles the duties of keeping temperatures in the two cylinder heads and parts of the cylinders in check. The actual engine cooling ratio is 35 per cent water and 65 per cent air.
The system uses two compact radiators that are pretty well tucked away, although a set of guards wouldn't hurt for extra protection from stray rocks. There is a fan behind the right radiator that kicks in when needed. As mentioned, air still makes up part of the cooling package but with the addition of water BMW claims it can keep a more precise engine temperature during all conditions.
When you get out on this thing it's very impressive. It has the most torque of any bike I've ever ridden and that makes it a very fun machine to be in control of. You can carry a high gear, which helps provide a nice smooth power delivery, and if you choose to hold a gear once you reach around 6000rpm it surges with some serious performance. Now, I'm not a road bike rider but plenty of the other bike journos at the launch were. They were very impressed with the performance of this bike and they're much more experienced on high-capacity machines than I am. The best part is the power isn't intimidating because the torque lets you short-shift and keep it well controlled, plus the electronics allow you to further adjust the way it's delivered.
Electronic Assistance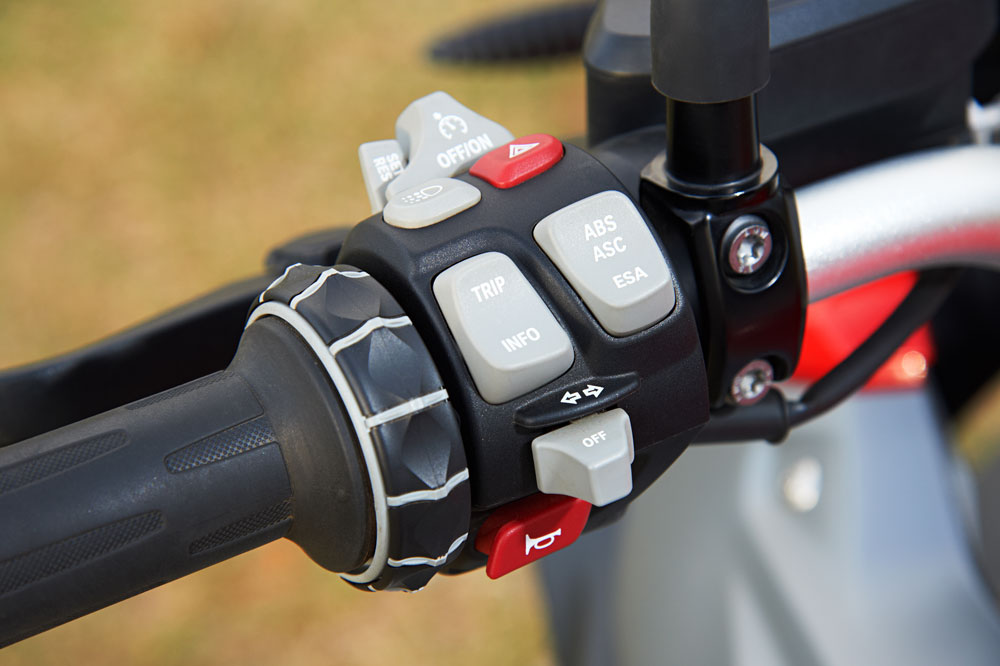 This is where this bike stands out over anything else I've ever ridden. The new optional Automatic Stability Control (ASC) features five easily selectable modes available to the rider as conditions change: Rain, Road, Dynamic, Enduro and Enduro Pro.
These modes all feature different throttle response, ABS and traction control settings to match up to the conditions you are riding on. They are easily selected and activated while riding simply by choosing the mode you want, rolling the throttle off to zero and pulling the clutch in and releasing it. It sounds like a bit of a process, but by the end of the ride it was like turning on a blinker for a corner — I would adjust it every time we changed surface almost instinctively.
Rain mode offers a slow throttle response and hypersensitive ABS and traction control settings to help maintain traction on slick roads.
The Road setting has slightly quicker throttle response and an ABS and traction control setting that's a little less interventionist.
Dynamic mode offers the rawest performance with an even quicker responding throttle and less intervention by the traction control and ABS.
For off-road, there's the Enduro mode which will see your throttle response softened to help get the power to the ground gently.
The ABS has been specifically calibrated for off-road conditions and it really impressed me. It allows a certain amount of slip but will still stop the bike better than any ABS system off road by far. The traction control is much improved, too, with much smoother intervention, rather than leaving you feeling like someone just hit the kill switch.
Then there's Enduro Pro mode, which really impressed me off road. BMW recommends this mode be used with knobby tyres, which is what we had fitted for the second day of riding. Enduro Pro mode isn't fitted standard but rather by inserting a plug that's provided standard and stored under the seat. We all fitted it ourselves with no problems. When fitted, it gives you the fifth option of Enduro Pro. Enduro Pro has much less intervention than traction control, to the point that with smooth throttle control you can still get the bike in a controlled slide on the exit of turns. The ABS system is only active on the front brake; the rear is disengaged, allowing the rider to lock the rear if required to slide the bike.
On top off all of those choices, you can also switch off traction control and ABS at any time while riding — there's no need to stop to do it. Now, I'm the first person to switch off any electronic assistance on a motorcycle when it leaves the bitumen but I will admit with Enduro Pro mode selected I was happy to leave everything activated. It was only when I was pushing a little off road that I preferred traction control switched off but I never disengaged ABS. When we were just cruising off road, I'd turn traction control back on; it just helps keep the 120hp in line if you aren't concentrating 110 per cent on what you're doing with your right hand. On the bitumen I was happy with the road setting and used it whenever we were on the tar.
Suspension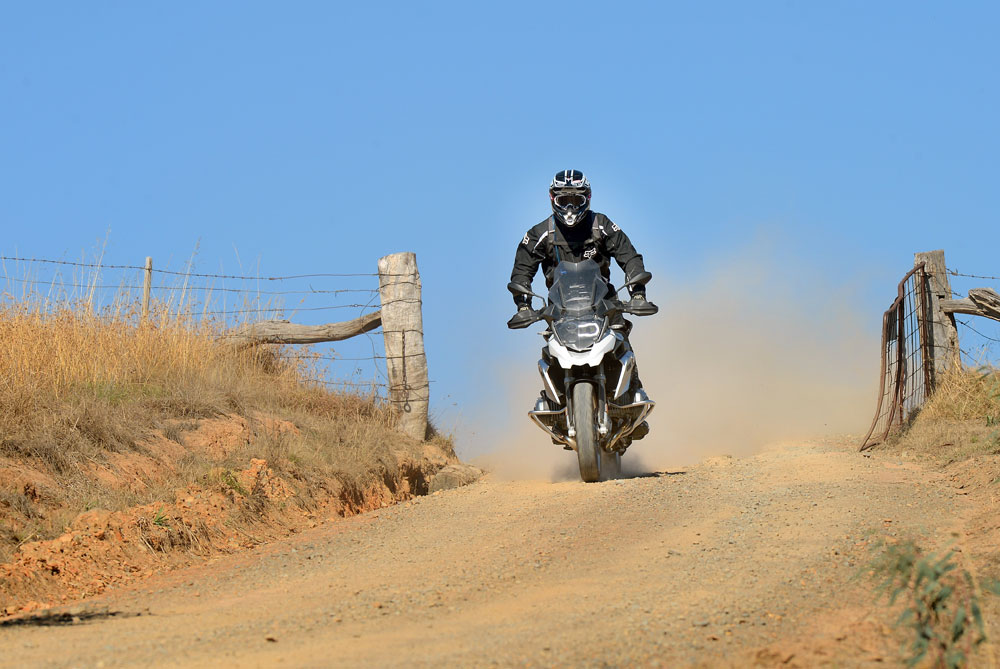 The suspension on this bike comes in the form of BMW's patented telelever system on the front and a Sachs rear shock. These offer the same travel as the previous model, which is 190mm and 200mm respectively.
The suspension also enjoys electronic assistance. With the optional dynamic ESA, the semiactive suspension monitors vertical movement of the front and rear wheel and considers speed, along with the selected ASC mode, to help adapt the damping to deal with the current conditions. There are three ESA settings — soft, normal and hard — which are pretty self-explanatory as to what they do to the suspension damping. Each ASC mode has a default ESA setting that can also be changed manually between soft, normal or hard, depending on what the rider prefers.
For the size of this bike, it handles its time off road very well. You will be rewarded with smart line selection and avoiding heavy impacts where you can; if you do that you'll have no problems attacking any dirt or gravel roads, including water bars and the odd jump. On the road, it seems to settle in very nicely and selecting road or dynamic mode will get the bike set up well. It was never unsettled for me on the tar, even on rougher sections of road.
Everything Else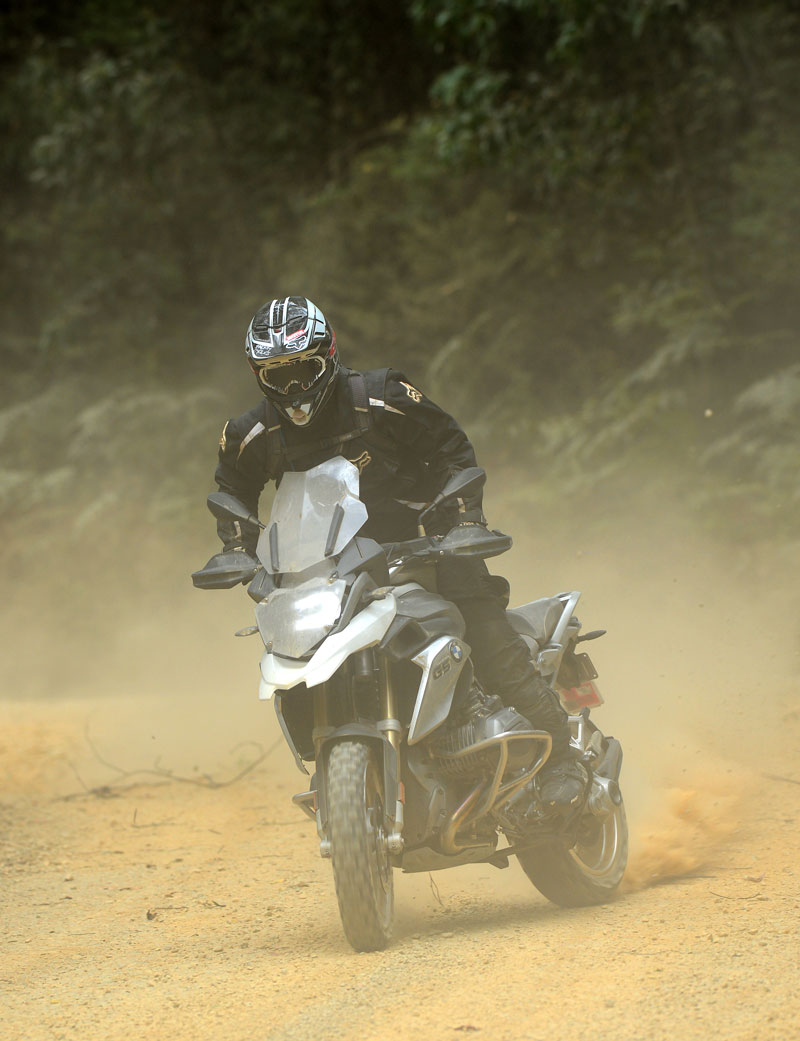 Once you get past the performance and handling and all of the available on-the-fly adjustments and settings there is still a bunch of cool stuff to cover on this bike. The seat height is easily adjustable and the pillion seat can be moved forward and backwards if needed. The windscreen is adjustable by simply turning a knob alongside the dash, something I found I could do easily while riding if necessary.
The bike was fitted with the optional electronic cruise control, which was very cool. It's the first time I've ever ridden a bike with it and I'll admit it was a strange feeling at first but such a great option when you're on the highway for any length of time. It also allows you to give your right arm a rest if you have the opportunity.
There are heated grips that offer two heat settings as well. The optional LED headlight is very cool looking and gives you the option to illuminate a LED daytime running light, which also looks very cool. There is an optional integrated GPS cradle, which was fitted to our bikes although we didn't have the actual GPS unit fitted. The genuine BMW GPS is controllable via a multi-selector at the left-hand grip on the bike, allowing you to select options without taking your hand off the handlebars. The rear brake has a flip-down option, which is great when going from road to tar if you like to adjust the height of the brake pedal.
This is a very impressive machine with technology beyond any other motorcycle I have ridden. Its versatility is what makes it so great. The effort that has been put into easily adjusting the motorcycle to the conditions you are faced with, without stopping, has paid off with a motorcycle that can go just about anywhere and do it very well.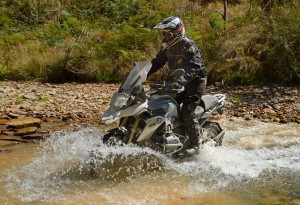 Break it down
Here is all the info you need to set your budget.
STANDARD BMW R 1200 GS (K50)  $21,250
Includes:
Chrome Exhaust
Heated Grips
RDC Tyre Pressure Control
Hand Protection
White LED Indicators
Pannier Fastenings
OPTIONAL DYNAMIC PACKAGE $3150 (Fitted to test bike)
Includes:
ASC and Riding Mode Automatic Stability Control
Dynamic ESA Electronic Suspension Adjustment
LED Headlights
On-Board Computer Pro
Preparation for GPS Device
ACCESSORIES FITTED TO OUR TEST BIKE
Cruise Control $500
Spoked Wheels $580
Adjustable Rear Brake Pedal $261
Headlight Guard $195
Crash bar $627
Enduro aluminium engine guard incl. mounting kit $468
Small Tankbag $285
ADDITIONAL ACCESSORIES
Vario cases left and right set (panniers) $1,542
Inner bags for panniers (left & right) $418
Vario topcase, incl. carrier, bolts & lock $1,069
Inner bag for Top case $209
Backrest pad for topcase $136
Large Tankbag $498
Sports softbag small $230
Sports softbag large $230
Tinted windscreen $473
Wide enduro footrest set, incl. springs $308
Front footrest peg, adjustable, left & right incl. springs $405
BMW GPS navigator incl. AUS/NZ mapping $1,379
Anti-theft alarm $532
Auxiliary headlight kit, incl. brackets & wiring $647
All prices above are inclusive of GST but do not include fitting costs. Prices correct at the time of print and are subject to change without notice.
BMW R 1200 GS SPECS
Engine capacity: 1170cc
Bore/stroke: 101×73mm
Output: 92/125kW/bhp at engine speed 7700rpm
Torque: 125Nm at engine speed 6500rpm
Engine type: Air/water-cooled 2-cylinder boxer engine
Compression/fuel: 12.5:1/premium unleaded (95 RON)
Valve actuation: DOHC
Valves per cylinder: 4
Ø Intake/outlet: 40/34mm
Ø Throttle valve: 52mm
Carburetion: BMS-X
Emission control: Closed-loop 3-way catalytic converter
ELECTRICAL SYSTEM
Alternator: 620W
Battery: 12/12V/Ah maintenance-free
Headlight: H7/LED (SA)
Starter: 0.9kw
Clutch: Anti-hopping wet clutch
Gearbox: Constant mesh 6-speed gearbox
Primary ratio: 1.65
Transmission ratios
I     2.438
II    1.714
III   1.296
IV    1.059
V     0.943
VI    0.848
Rear wheel drive: Cardan shaft
Transmission ratio: 2.91
Frame: Tubular steel bridge frame, engine self-supporting
Suspension, front: BMW Telelever
Suspension, rear: BMW EVO Paralever
Spring travel, front/rear: 190/200mm
Wheel castor: 99.6mm
Wheelbase: 1507mm
Steering head angle: 64.5°
Front brakes: Hydraulically actuated twin disc brake, Ø 305mm
Rear brakes: Single-disc brake Ø 276mm
BMW Motorrad Integral ABS (standard, part integral, disengageable)