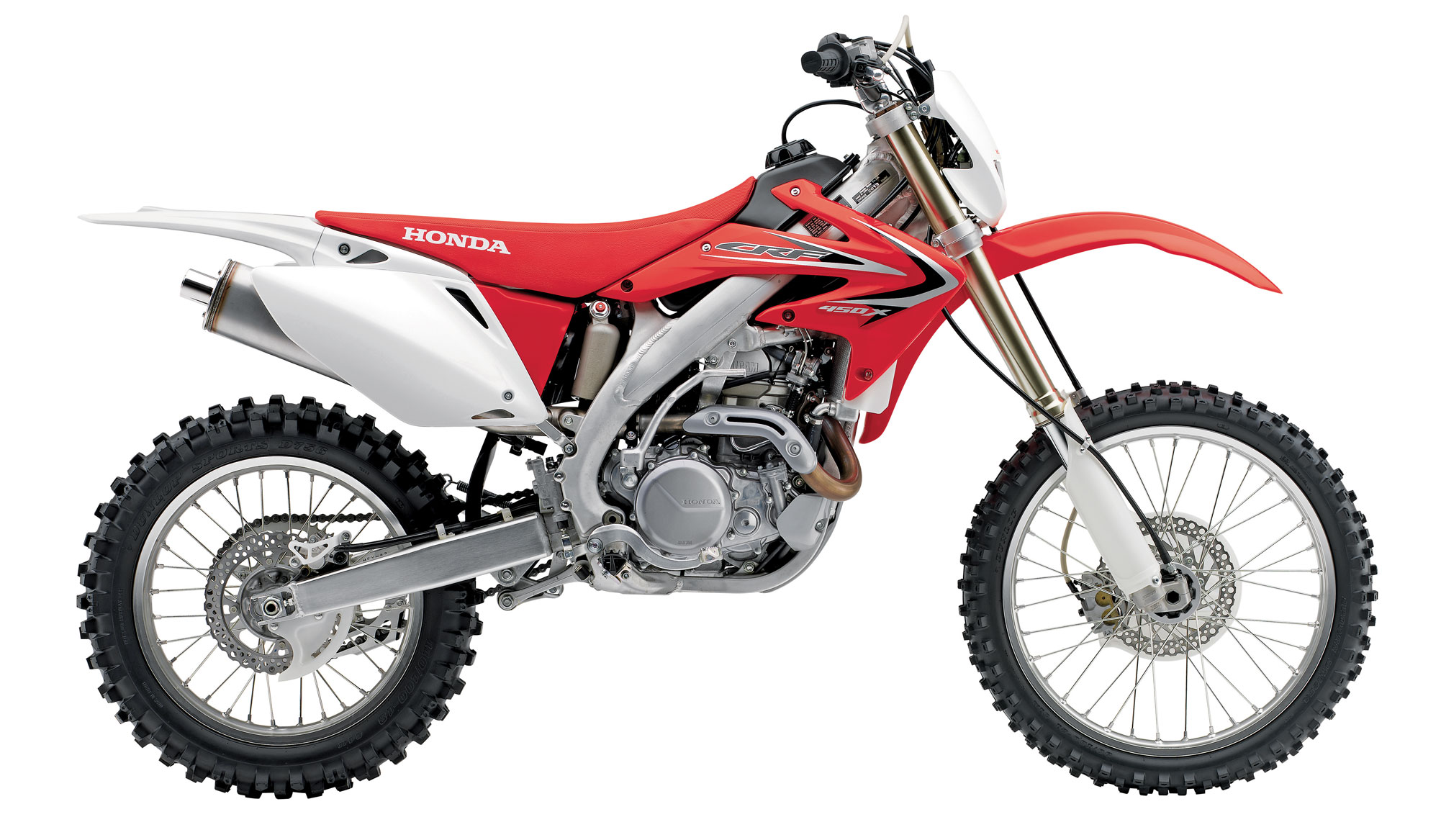 A Date With The X: Nothing has changed for the 2012 Honda CRF450X — you can still ride her as hard as ever!
Words by Adam Riemann  |  Photos by Toby Price (Yes, that Toby Price)
Like scrolling through your phone to booty-call an old flame, organising a day on a CRF450X is guaranteeing yourself a good ride. Ever-reliable, great chassis, perfect power and supple suspension that can take a pounding at speed — what more do you want in a woman … I mean, bike?
Despite being a little overweight, she can still hold her own in terrain that favours a more nimble ride. This is thanks to the underlying geometry of her MX cousin, the early-model CRF450R. In fact, the X emulates the R's ride dynamic well but with a more lethargic action. Whether you're ducking and weaving through tight single trail or floating through rocky dirt roads, the Honda is as predictable as your ex, giving you the confidence to attack terrain as it unfolds.
Since its inception in 2005, the X has been a slow work in progress — if only because it was a good thing from the start. Since then, Honda has trimmed a bit of fat by streamlining its ADR gear and fitting a smaller tank and a few ergonomic upgrades, but ultimately it's still the cushy trail bike it's been since '09. You could also say the X is still the pride of Honda's off-road range in that it performs better than some of its more updated 450cc rivals.
That's a big call, but I'm happy to make it after my recent outing with her. You see, DIRT ACTIONwanted a true test of the X so, instead of having one groomed, prepped and chauffeured out to us by Honda, we snatched ourselves a virgin from an unsuspecting Sydney dealership. That's right: no waxing, no makeup — just wheeled off the showroom floor in all her natural glory.
We took her just as any customer would, only we skipped dinner and got straight down to business in gnarly terrain. Mirrors off, fuel tap on … party time.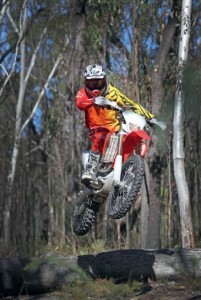 Ride Sally Ride
Get up on her and you'll find the X is one of the most stable and predictable-handling bikes on the market. Neutral chassis dimensions coupled with Showa suspension allows her to float across rugged trails like the iron horse she is, but you have to tweak the fork height and shock preload to get her railing ruts and turns. You need to do that to all bikes, though, just so they sit balanced under your body weight and riding style.
The Honda's prowess as a high-speed drifter is obvious when you hit the open trail and start cracking big slides from one apex to the next. The broad spread of torque only adds to this dynamic, given how easily you can meter the power to adjust the attitude of the slide or the rate you need to accelerate through a turn. With a strong mid to top end, there's still plenty of power to loft the front end at speed or help correct the big girl if she gets bucked out of shape.
Having said that, the X is not a bike you want to start slamming into deep whoops at race pace — she'll almost certainly throw her weight around and kick you out of bed.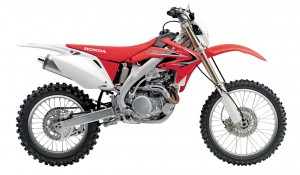 If anything, though, the power of the Honda is near race-ready, as it's one of the few engines that generates bulk torque and midrange without a compromise of top-end power or the ability to keep accelerating at high rpm. There's nothing worse than an engine's power curve that drops off so hard it's like you've stepped on the rear brake. Not the Honda — she hauls from idle to over-rev.
At low speed, the tractable bottom end and electric smooth delivery make it a hill-climber extraordinaire because you can literally start at the base of a hill — standing still — and just tractor your way to the top. The engine finds traction, turns it into drive and composes itself quickly enough for you to keep balanced, gain momentum and conquer the ascent.
All the gadgets on board are of Honda quality, yet the switch blocks at the bars are still reminiscent of chunky late-80s road-bike gear. The exhaust is still the same chunky unit with the afterthought of an aluminium bung stuffed in the end to pass Australian emission regs. However, it works in perfect harmony with the Keihin carb to produce strong, quiet power.
As with all of the Japanese bikes that rival the CRF450X, the biggest letdown is the cable clutch. As soon as you start pushing through first- and second-gear terrain, the clutch heats up, which in turn increases cable freeplay and your chances of stalling the engine. You can manage the freeplay with the on-the-fly cable adjuster but it's primitive compared to the European bikes that run self-compensating hydraulic clutches.
Miniature indicators and a neat speedo package are a good thing but ultimately the Honda is still weighed down by the over-engineering of its road gear brackets, wiring looms and the usual ADR crap you'd expect to find only on a farm bike. Oh yeah, the footpegs are piss-weak and look like leftovers from a minibike production run.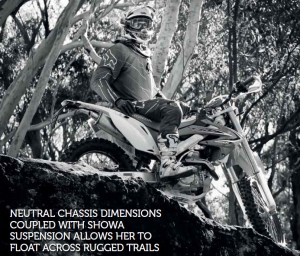 Winning Formula
That aside, you can't overlook the fact that this is the bike that's claimed four Australasian Safari wins in the hands of Ben Grabham (two) and Jacob Smith and Todd Smith (one each). GHR Honda (Glenn Hoffman Racing) have turned their 450Xs into masterpieces of rally engineering, but the engine configuration and suspension setup on the bikes Grabbo rode in '07 and '08 were very much standard equipment — especially the fork.
To this day, the Showa fork on the Honda offers one of the best-acting front ends you'll find on a stock bike. If you're after a solid ride that'll do everything well, all you have to do is call "the X".