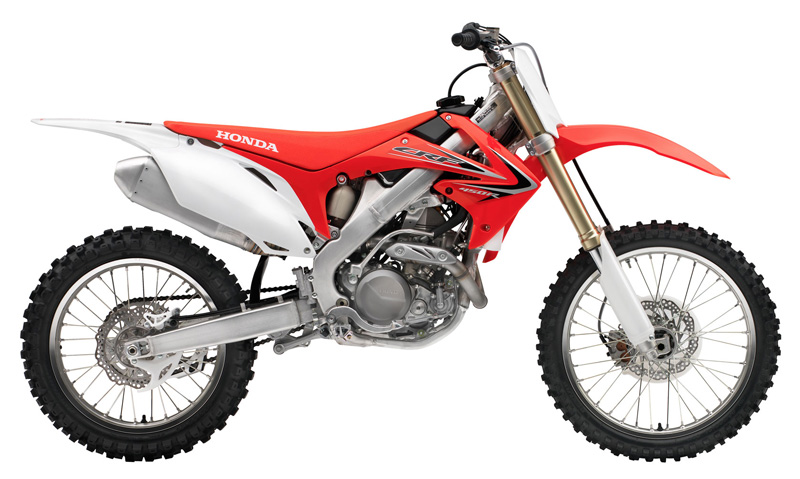 Refining Red: Something seems to have stirred at Honda lately and we've put our team to the test to find out what
Story Scott Bishop and Shane Booth | Photography Matt Bernard
Though always a proud company with a long tradition in racing, the past few years has seen its racing enthusiasm wane and, as a result, the championship victories have been few and far between.
But things appear to be ramping up for 2012. In the US, Honda has announced its biggest support program yet, offering factory support to the Factory Honda in-house effort, the Chad Reed-owned TwoTwo Motorsports, as well as the new Larry Brooks and Jeremy McGrath team with Andrew Short. That's on top of their Geico Honda partnership in the Lites program.
In Australia, Honda has been quick to announce the signings of Ben Townley and Brad Anderson to its team for 2012 while Ford Dale is likely to be the Lites rider.
Something is going on here, folks, and there's no doubt a word from the top has filtered through to race teams around the world. Honda wants to win again and wants it now. But the big question is, are the bikes good enough to do it?
Race Bikes and Production Bikes
The Honda CRF450F has struggled for top billing in recent bike tests and comparisons. Since the 2009 model with its EFI and complete overhaul it hasn't been without its issues and, while there's plenty to like about the bike, it's made the most of its potential.
When we tested the bike in 2011, we felt it had a lot of great characteristics but somehow Honda didn't nail the final product. A livelier feel at the throttle and some more grunt, heavier fork springs and better gearing were all that was required to get the 2011 Honda CRF450 where it needed to be.
There's no doubt that at factory level racing the bike is good. Reed has been glowing in his praise of the bike and this comes from a rider who's raced every brand of Japanese bike at factory level over the past four years.
Our hope for the CRF450 for 2012 is that some of that knowledge and performance on the factory bike have filtered through to the production model. This bike has been in the same guise since 2009 and, with a rumoured all-new reversed-cylinder machine for 2013, Honda should have nailed it with a highly refined, first-class package.
We grabbed the new bike and headed trackside to find out all the answers on the 2012 Honda CRF 450.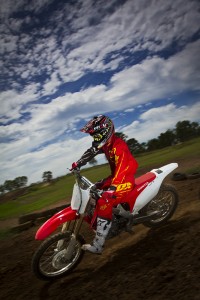 What's new for 2012?
The new Honda 450 is bristling with new parts and this is in line with the current economic situation facing the manufacturers. But the bike didn't go untouched and 2012 brings a stiffer fork spring, a new shock linkage and wider footpegs — hardly changes that are going to set your world on fire but the fork spring change was essential, the updated linkage was also high on the priority list for Honda riders and the footpegs are long overdue.
Is the motor faster than the 2011 model?
No, the motor components are all the same as last year. Therefore, the bike is no faster but it's also no slower. In standard trim, the motor, including the mapping, exhaust and throttle body, is identical.
How does it compare with the other brands?
Last year we said the Honda made smooth, mellow, easy-to-use power that made it a gentle giant in the 450 class. While EFI generates a similar style of power across all brands, there's no doubt that, as delivered, the Honda lacks the punch, the power and the over-rev of the other brands.
When you consider Honda had its last full redesign in 2009, Yamaha in 2010 and Kawasaki in 2012, you begin to understand how each manufacturer has made steps forward in those years. Sure, Honda has continued to refine the bike, but ride it back to back with the raw grunt of a KXF 450 and the development in EFI power is instant and obvious.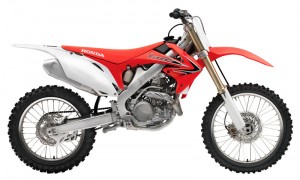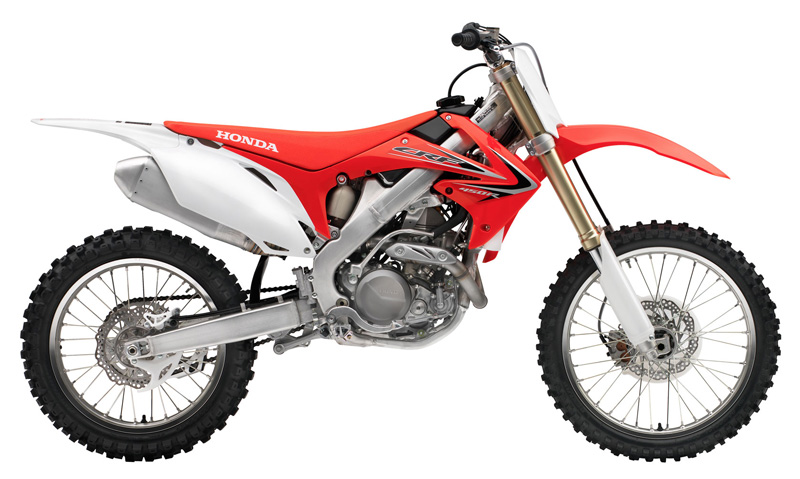 What changes would we make to the motor?
The same as we would make last year. The ultra-quiet stock exhaust is great for noise reduction but terrible in producing race-breed power. Any aftermarket exhaust adds power, response and over-rev. We'd also add a tooth to the rear sprocket to get some life in the bottom end and close the gap in the gears, then fine-tune the mapping to the changes we've made. This is a pretty simple package that will at least get you on level terms with the other brands. If you're hard on clutches, you might need a personal car park out front of your Honda dealer. The four-spring clutch doesn't take well to clutch abuse. The options are to fit the older six-spring clutch from the pre-2008 models or go completely aftermarket and look at a Hinson basket, hub and pressure plate.
How does it handle?
The one major strength the CRF450 has over all its competitors is weight. This bike is light, up to five kilos lighter than its rivals, and that is a noticeable difference. Obviously, getting the weight down must be hard or expensive as I'm sure the other brands must target the Honda weight but are still yet to match it. Honda must be commended for its engineering in designing a building a bike that is light yet remained strong and sturdy.
What's it like to ride?
Well, here's the thing: the CRF 450R gives you a first impression of being very mellow, to the point of feeling slightly trail bike-ish. Give it a few laps, though, and you start to realise its smooth, mellow delivery isn't so bad and for the majority of riders it will prolong the period before ride-stopping arm pump sets in. I struggled with the clutch for a bit and probably stalled this bike more times in one day than I've stalled in the last five years. At first I thought I was having a really bad day but Mackie mentioned he'd had similar problems, especially on a brand-new clutch. The only real fix is changing to the six-spring setup clutch. Eventually I worked out how to ride around it; with some added idle and almost zero free play in the lever the stalling stopped. I'm sure a pipe, an extra tooth on the rear and maybe a mapping tweak would add some fire to this bike, but I'm not sure it would be a wise decision for the majority of riders.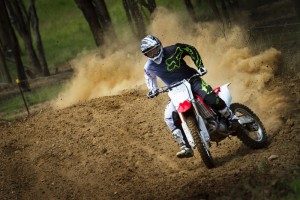 Is it a better bike than the 2011 machine?
With only minor changes it would be crazy to sit here and say it's way better than last year's. It definitely felt like it turned better than last year's bike and probably turned better than any bike I've ridden in stock form. I noticed the wider footpegs instantly, so that's a simple yet major improvement right there. Otherwise, a very similar-feeling bike.
How do we rate the bike?
In a class of very capable bikes, this is among the top of the list. It's easy to ride, feels light for a 450 and turns as well as — if not better than — anything out there. It's no wonder there's currently a trend of out-of-work racers choosing CRFs as their preferred purchase to go racing with. Honda's back on track and producing very capable race bikes.
Feedback
Cody Mackie
After spending plenty of time on the Honda 450 this year, obviously I felt comfortable on this bike straightaway. It did impress me quite a bit. I knew my race bike felt good but it's been a while since I rode a completely stock bike. I thought the stocker would be way off what I was racing but really it wasn't. It was definitely mellower in the power delivery but the bike still handled well and turned good. It felt like you could just keep pushing harder and harder into turns every lap, which is pretty good for a standard bike. I'm not a fan of the stock clutch but that can be fixed with a six-spring setup like I ran this year. The few small changes seem to have been positive and I think this is one of the best bikes in the class.