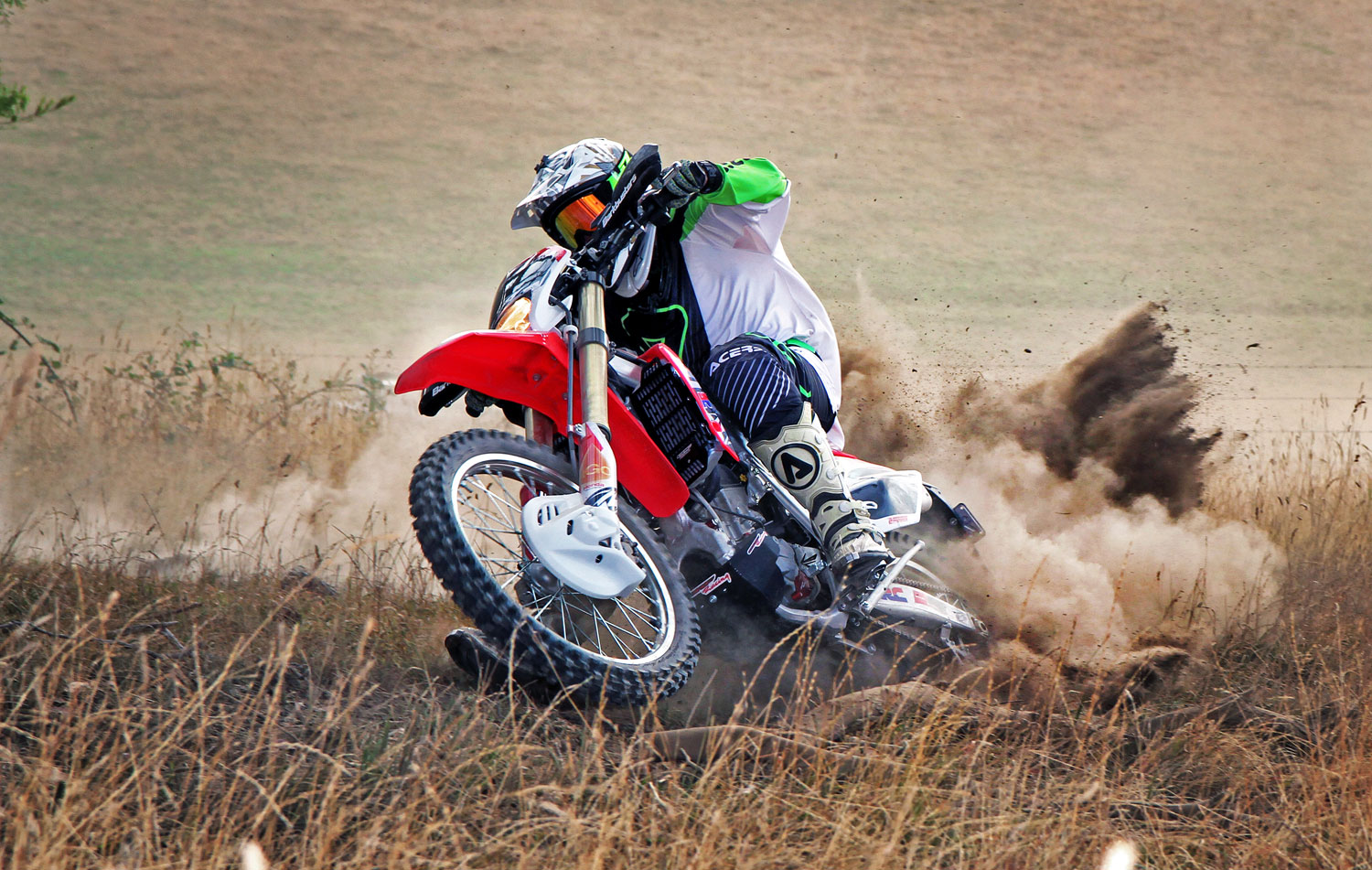 Imagine a bike that performed like a CRF250R but with the trail-ready nature of the CRF250X. Enter the Honda CRF250R Enduro
Story and photography Tuffy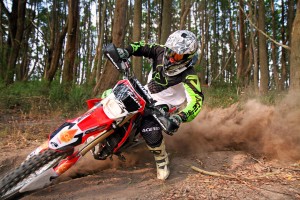 Honda has been caught sleeping on the 250cc enduro bike shift — nothing is happening in that department. In fact, nothing has happened at all in the enduro sector of Honda for a few years. The red army isn't the Lone Ranger on that front, though, which is a real shame.
Current Australian Four-Day Enduro and Australian Off-Road champion Daniel Milner is proof that 250cc four-strokes can be giant killers in the bush. But even Milner rides a motocross bike.
Current sales figures of 250cc four-banger enduro bikes are hardly encouraging, so I guess the manufacturers read that as, "Why try harder?" On the other side of the coin, the consumers have a bunch of new mid-sized four-strokes and ever-evolving two-strokes to drool over.
But what if — just maybe — a brand-new 250cc four-stroke hit the ground that performed like a motocross bike but had all the goodies that make an enduro bike fun to ride all day long? Imagine that.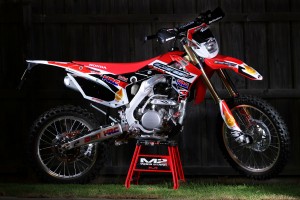 Call to Action
If you were smart enough to read the 2014 250cc MX Shootout in DIRT ACTION issue #178, you'll know the Honda won plenty of praise for its overall comfort. The comfy seat, light clutch action and easy suspension made it a bike you could ride hard.
But the engine copped a bit of a flogging from motocrossers as it lacks the over-rev of its competitors and signs off a little early. It was stated by all the test riders in the shootout, from pro-class to veteran and clubman alike, that the CRF turns very well and can be ridden hard with confidence because of its mild manners. It's an easy bike to ride yet it held its own against its competition in a series of race starts.
A comfortable bike with plush suspension and a comfortable seat but without a highly aggressive engine sounds like the perfect enduro weapon to me. The guys at Honda Australia thought so, too — so much so, they went ahead and built the best 250ccc enduro bike they could.
Behold the Honda CRF250R Enduro. She looks good, doesn't she?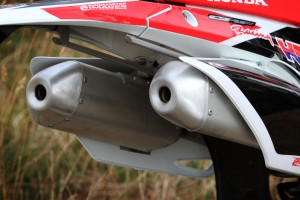 Bolt-on Frenzy
Looks are only skin deep, as they say, but there's just something special about a Honda.
Perhaps it's got something to do with the fact that pretty much everyone has owned or ridden a Honda. Maybe it's that Honda has won a gazillion titles. I don't know, but for some reason I love looking at Honda motorcycles. The Honda wing against the red stirs up emotions of pure motorcycling — that gut feeling that makes me want to ride.
The guys at Honda Australia went nuts with this thing and bolted on every piece of HRC and CRF Racing bling they could lay their hands on. They also sourced a few bits and pieces from GHR Honda to complete the job and what they created is one sexy-as-hell enduro weapon.
But you can roll a turd in glitter to draw second looks. The CRF250R Enduro looks top-shelf and sounds like it could be top-shelf — but is it any good on the trails between the trees?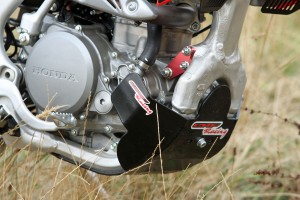 Hammer Time
When we got word that Honda was working on this project, we shotgunned the first ride. The guys at Honda HQ are pretty cool and they actually let us ride it before they did. With that in mind, we headed to the roughest, most chopped-out single-line special test track we could find to give the little red rocket a real shakedown.
First things first: there's no electric start and no compliance plate, so road registration is out of the question. Depending on where you live and what sort of riding you enjoy, the rego thing may or may not be an issue. As for the kickstart-only argument, you can have that argument all by yourself for as long as you want because, in all seriousness, it just isn't an issue to us.
To fire this bike into life, all you need to do is push through the kickstart lever and the beast begins breathing. It's that simple. Hot or cold, it makes no difference. Kickstart is not a disease.
For those lazy bastards who disagree, just remember Australia is one of the fattest nations on Earth. Burning an extra calorie while kickstarting just might lower your chances of a heart attack. Maybe.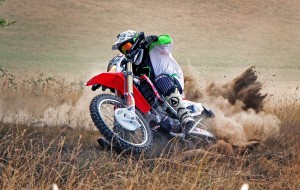 Ripping Trails
Rolling out on to our test track for the first time, I had an uneasy feeling. Conditions were dry and dusty and the track had been ripped to shreds by two expert enduro racers for the past two months. It was chopped out and rut infested and the ground was hard.
I figured the best way to attack this test was with some pace. A couple of laps in, I was having fun. The CRF turns incredibly well and holds its line. I held my breath as I exited one particular turn over an off-camber, rut-filled clay section with holes and the CRF stayed straight. This impressed me a lot.
Corner ruts were handled with confidence, something I'm far from guaranteed to do. The agility of this bike is a big plus yet it's very much planted. This made me question the suspension settings, but Honda swears the suspenders are dead stock.
Looking back at the MX shootout, all test riders did mention how plush and soft the suspension felt for MX. It works extremely well in the bush.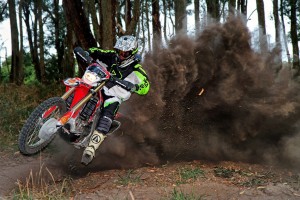 Power Down
Rolling on the throttle has the CRF hooking up and driving. There's nothing sensational about it other than the generous amount of drive. The bike puts the power down to the ground and drives. It's great.
I held second gear for the entirety of the track and, as I railed ruts and revved out on the longer bits, it pulled from down low without screaming its titties off.
Our stunt rider is an expert-level rider and he found third gear, as he felt the engine signed off a tad too early for him. What we both agreed on was that the bike let you push harder without feeling you're riding on the edge. This bike lets you ride it fast and stay in control — and that, my friends, is an awesome feeling. That is why we ride.
I had such a good time riding, I forgot I was actually testing a bike. When I pulled my brain back to the task at hand, I actually had to look down at the clutch — mid-lap — to see if Honda had fitted a hydraulic clutch, the clutch action is so light for a cable. Well done, Honda.
Performance Plus
Truth be told, there's around $3500 worth of cool-looking stuff on this bike that I wouldn't have on my bike. It all looks flash and really cool but, for the dollar, it's not for me.
I'd take a stock CRF250R, slap on a head- and tail-light, horn and sidestand, a Fastway steering damper, Barkbuster handguards and Dirt Trix BDR front and rear brake discs and roost off into the horizon.
Safari Tanks is currently working on a 12-litre fuel tank for this bike and I'd definitely fit one of those, too.
The CRF250R makes a great enduro bike.
Parts Bin
The Honda CRF250R Enduro is bedazzled with bling, starting with the CRF Racing Enduro Transformation kit that retails for $880.
* Headlight
* Speedo
* Rear guard extension
* Rear guard extension subframe
* Sidestand
* Wiring look
* Horn
* Indicators (our test bike had indicators removed)
In addition, this bike had the following fitted:
HRC triple clamps $1573
CRF Racing bashplate    $194
CRF Racing radiator guards    $184
CRF Racing case saver & cover $82
CRF Racing rear caliper protector   $70
CRF Racing rear disk guard    $102
CRF Racing Pivot Pegz   $248
HRC front engine mounts $180
HRC front brake line clamp    $75
HRC rear brake master cylinder cap  $45
HRC front brake master cylinder cap $52
HRC rear brake clevis   $70
Dirt Trix/DBR front brake disc      $180
Dirt Trix/DBR rear brake disc $180
DBR Ironman front sprocket 13T      $50
DBR Ironman rear sprocket 49T $140
DID Race X-ring   $170
Fastway System 5 damper & fitting kit     $669
Barkbusters MX guards   $65
Total      $5209