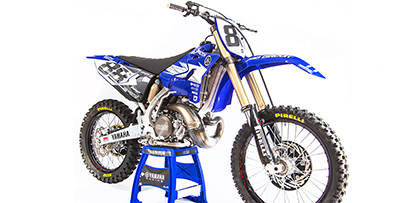 We build up a YZ250 that will quench your two-stroke thirst 
STORY SHANE BOOTH PHOTOGRAPHY DAMIEN ASHENHURST
This is a little project I've thrown around in the DA office for years but for whatever reasons had just never made happen. Earlier this year I rode a YZ250 after not having done so for a while. It instantly got me excited to fire up this idea and make it happen.
We started with a brand spanking new 2016 Yamaha YZ250 and then I went about choosing parts that I felt were premium products to bring together an ultimate build of sorts. To me this is an ultimate build-up that's within reason: parts that add to the performance, look and feel of the bike without spending another $10K on top of the initial purchase.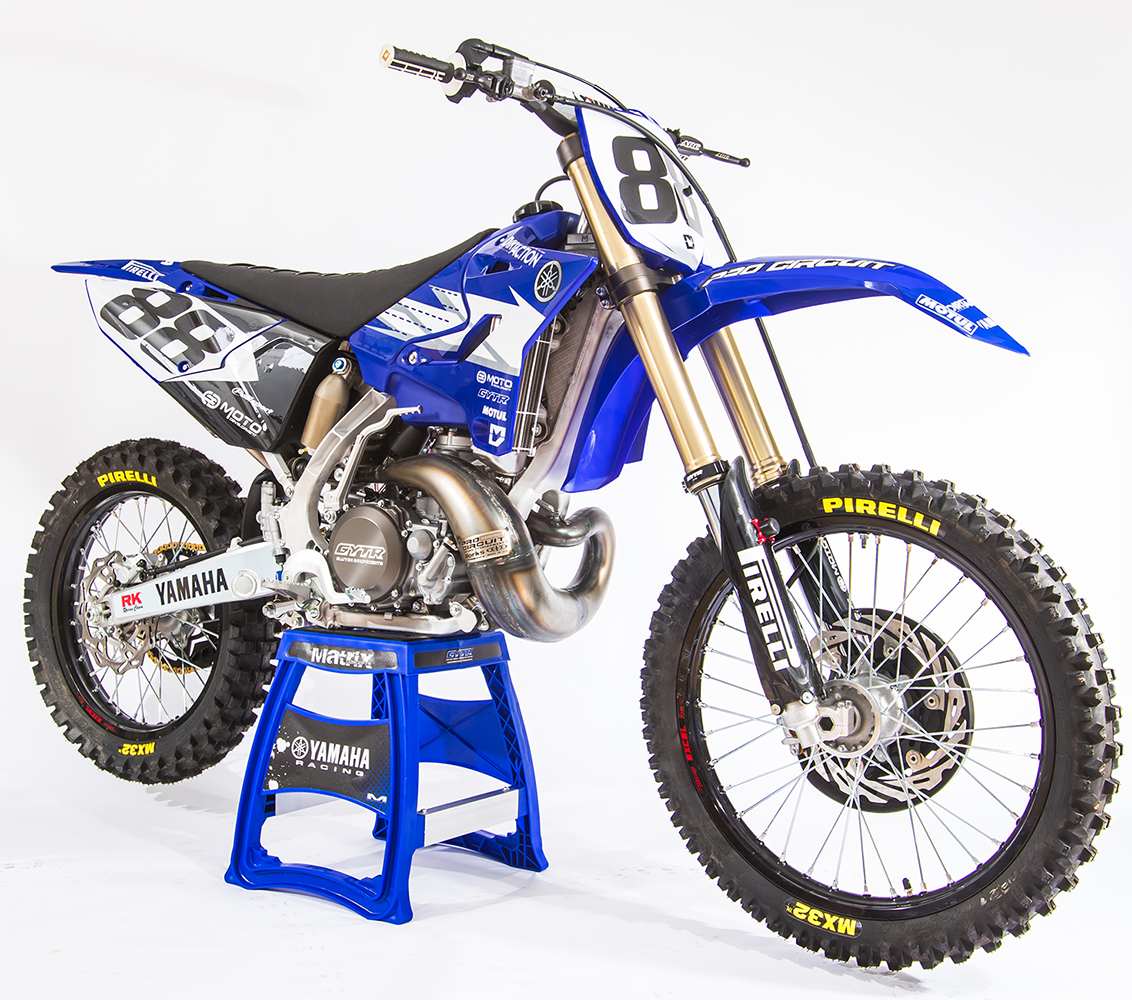 I raced plenty of YZ125s and 250s through the 2000s and also spent a good chunk of time in the US through that era and have always felt the Factory YZs of 2004 and '05 were damn cool-looking bikes. That's the look I wanted to base this bike on: really corporate and clean looking, the look that factory bikes had before outside sponsors were required to top up budgets.
I didn't want a whole heap of coloured anodised alloy parts, just a dash of carbon fibre, titanium and the odd speck of GYTR blue. The works Pro Circuit pipe and silencer not only increase performance but add a look that can't be matched with any other product. The R304 Shorty silencer is a work of art, manufactured using a combination of carbon fibre and titanium; it doesn't get any better. I changed out some white plastic for blue and black, switched to a plain black gripper and made the majority of sponsor logos white.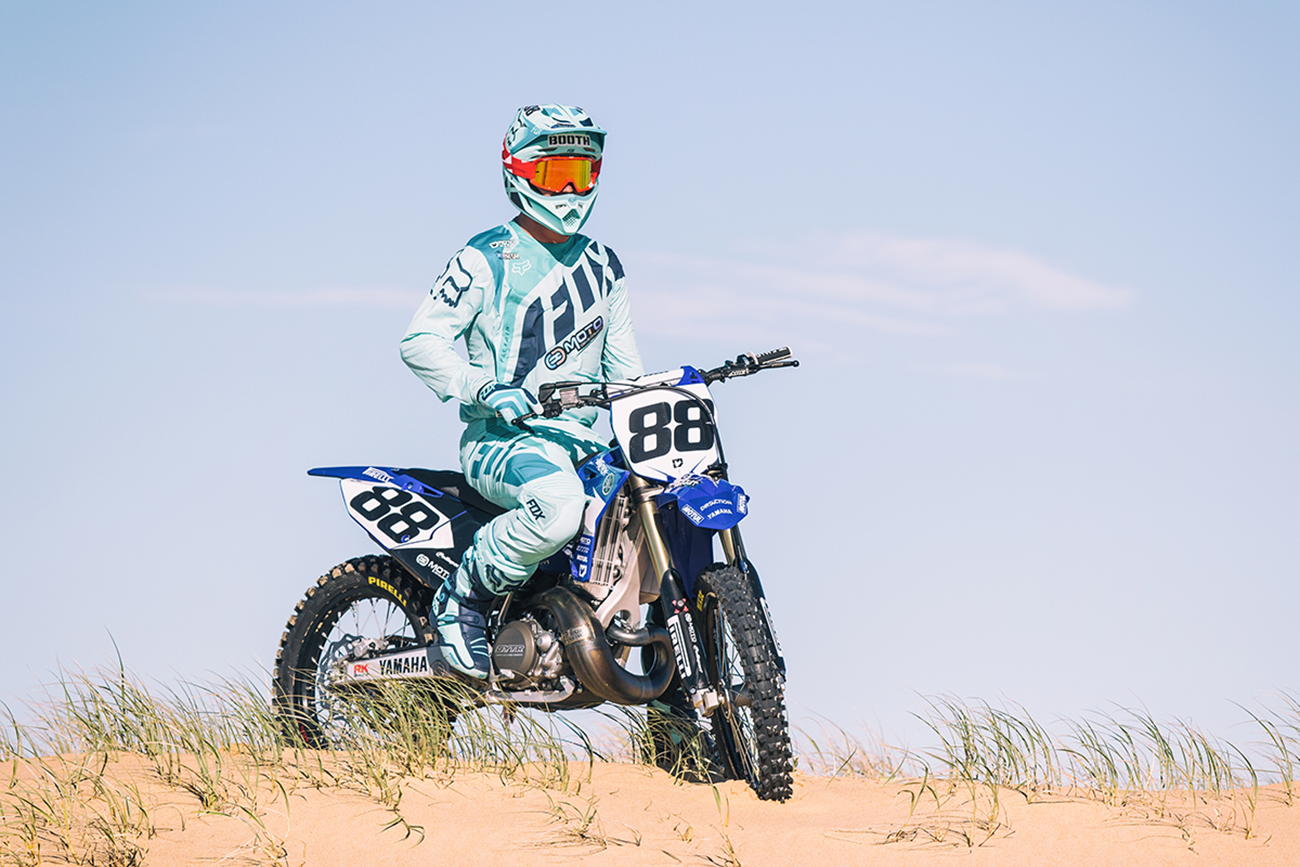 Overall, I think the bike has come up pretty damn sweet and it should be just as damn sweet to ride. Here's a rundown of everything we've done to this YZ so far.
ODI CFT HANDLEBARS
I chose to fit ODI CFT McGrath Bend handlebars, a high-quality product and a very comfortable bend. The Controlled Flex Technology takes some of the harshness out of what usually transfers into your hands. It works via a telescopic cross bar that allows some movement.
ODI EMIG V2 LOCK ON GRIPS
Emig V2 lock-on grips by ODI were my choice here. The lock-on system is hard to beat and the grip's half-waffle design and soft compound are great to ride with. If you haven't tried the lock-on system, give it a shot — no more grip glue or wiring.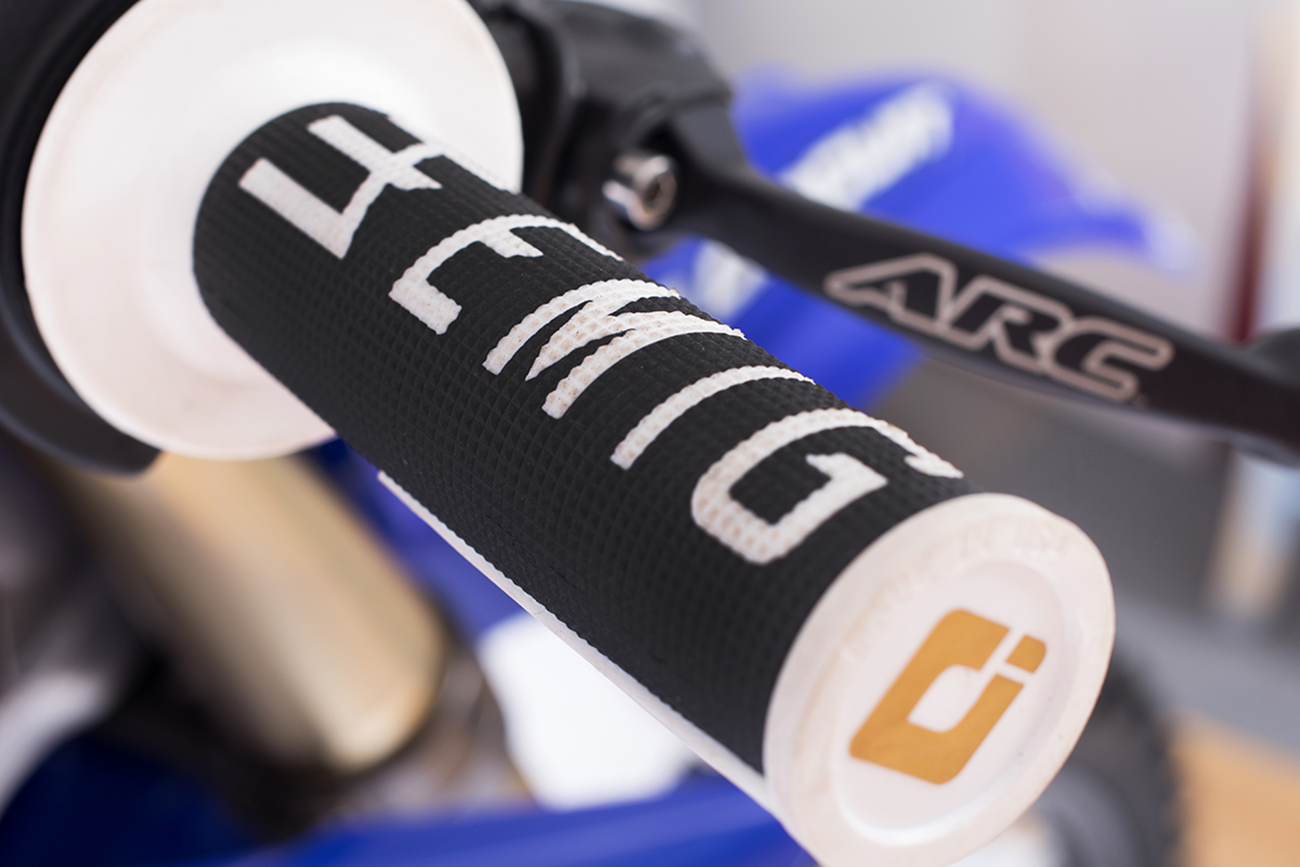 ARC PERCH AND LEVERS
An ARC clutch perch and both brake and clutch lever add a premium touch to the controls. Both levers are folding, so the chance of breaking one in a crash is much less. The clutch perch has a very nice-to-use easy-adjust wheel and also comes with a nylon sleeve to allow it to rotate in the event of a crash. The finish on the perch is of the highest quality, right down to the tie-wire detail.
PIRELLI MX 32 TYRES
Pirelli's MX 32s were one of the first changes I made to the YZ — a great tyre that will work very well on just about any terrain and excels on any sort of prepped track.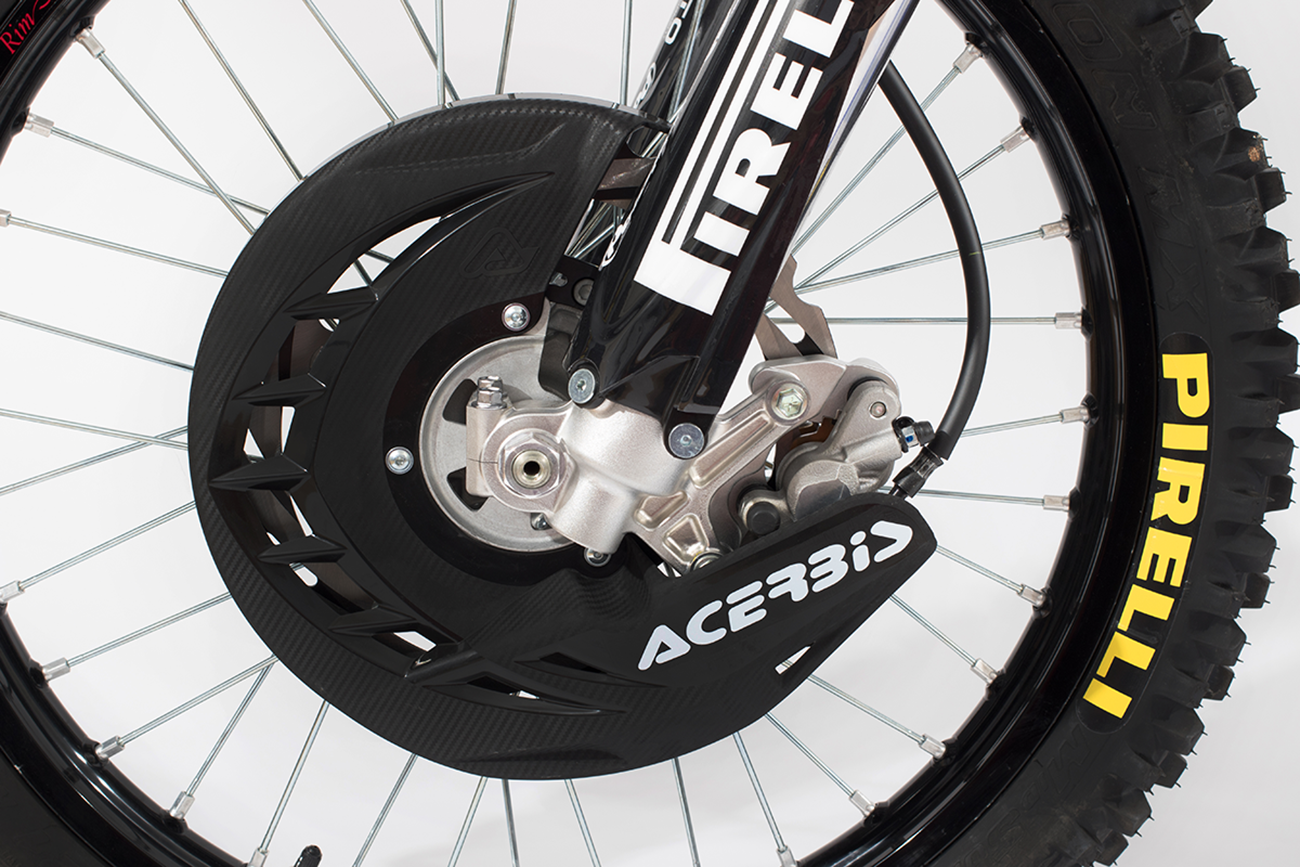 ACERBIS X-BRAKE FRONT DISC COVER
Some added protection for the oversized GYTR front brake rotor that also adds a nice look to the front end of the bike.
ACERBIS CHAIN GUIDE
A nylon-style chain guide that can handle solid hits and will flex and return to position — not bend like the standard alloy unit, which can then result in chain derailment.
PRO CIRCUIT Ti-2 SHORTY SILENCER
This is not only a great performance part but also a work of art. The sound that will come out of this thing will be as good as it gets.
PRO CIRCUIT WORKS PIPE
Additional performance from this product along with, as the name suggests, a real works look.
LIGHTSPEED CARBON-FIBRE SKID PLATE
Additional protection from a premium product that you'll find on many factory team bikes.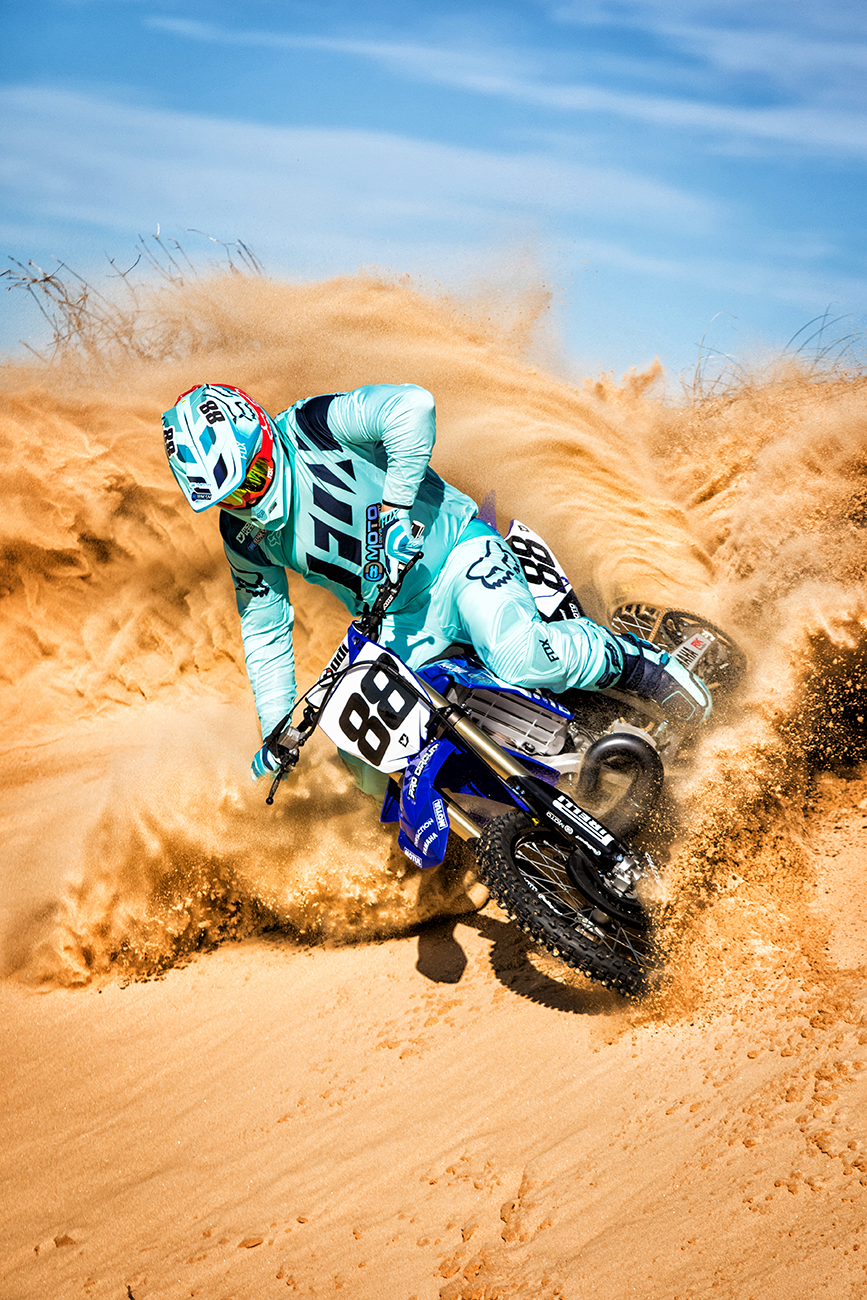 MOTO KIT GRAPHICS
Moto Kit are the ones responsible for getting the look just the way we wanted and providing us with the full kit to make it happen.
RK CHAIN & VORTEX SPROCKET
The RK 520 MXU chain is one I've used for a long time and is as good as it gets. The gold link finish also makes for a nice look. I've paired it up with a black Vortex alloy sprocket with a hardened anodised finish for increased durability.
GYTR CLUTCH COVER
A billet alloy part that not only gives your bike a factory look but is hard anodised so it doesn't wear and scratch up like the stock one. If you want your bike to look newer for longer, one of these is a great investment.
POLISPORT PLASTICS
Polisport helped us achieve the look we wanted, supplying black fork protectors, a blue front numberplate and blue side panels for the YZ. They are high-quality and great-fitting aftermarket plastics.
VFORCE3 REED BLOCK
We have added a VForce3 reed block to increase throttle response and improve overall performance — one of the best bang-for-your-buck mods available.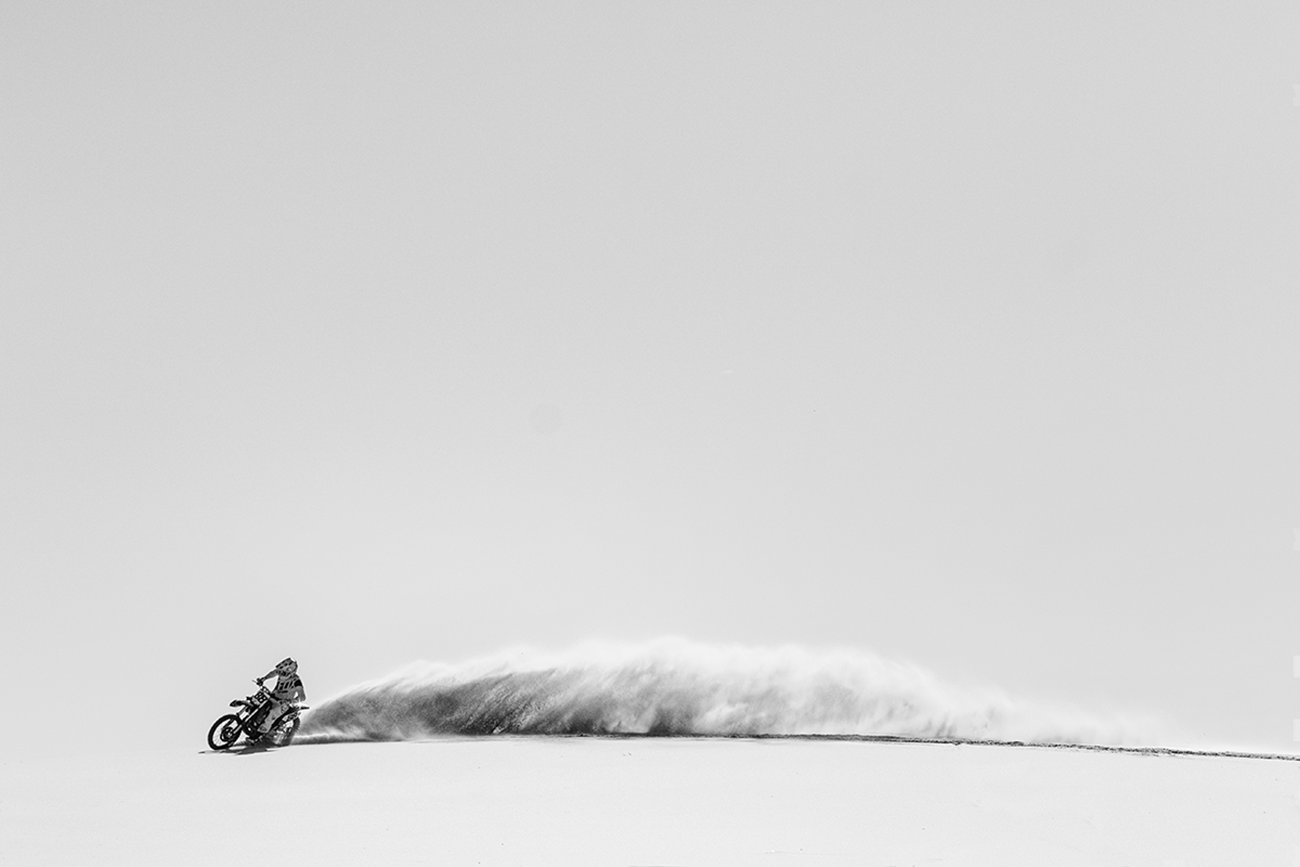 MOTO KIT GRIPPER SEAT COVER
I wanted a plain black seat cover and Motokit supplied this one with the additional pleats for grip. It's a well-finished product that fitted nicely.
GYTR REAR BRAKE CLEVIS
This is a nice little detail part. The billet alloy GYTR rear brake clevis has also been paired up with a GYTR front brake line clamp, both high-quality products from Yamaha's genuine performance arm. There is also a GYTR holeshot device fitted.
DIRT ACTION YZ 250 BUILD
Front tyre: Pirelli MX 32 80/100-21
Rear tyre: Pirelli MX 32 100/90-19
Handlebars: ODI CFT McGrath
Grips: ODI Emig V2 Lock-On
Clutch perch: ARC RC8
Front brake lever: ARC
Exhaust pipe: Pro Circuit Works
Silencer: Pro Circuit Ti2 Shorty
Clutch cover: GYTR
Front brake rotor: GYTR 270mm oversized
Holeshot device: GYTR
Front brake line pinch: GYTR
Rear brake clevis: GYTR
Reed block: VForce3
Front disc cover: Acerbis
Chain guide: Acerbis
Skid plate: Light Speed
Graphics: Moto Kit
Seat cover: Moto Kit
Chain: RK 520 MXU
Rear sprocket: Vortex