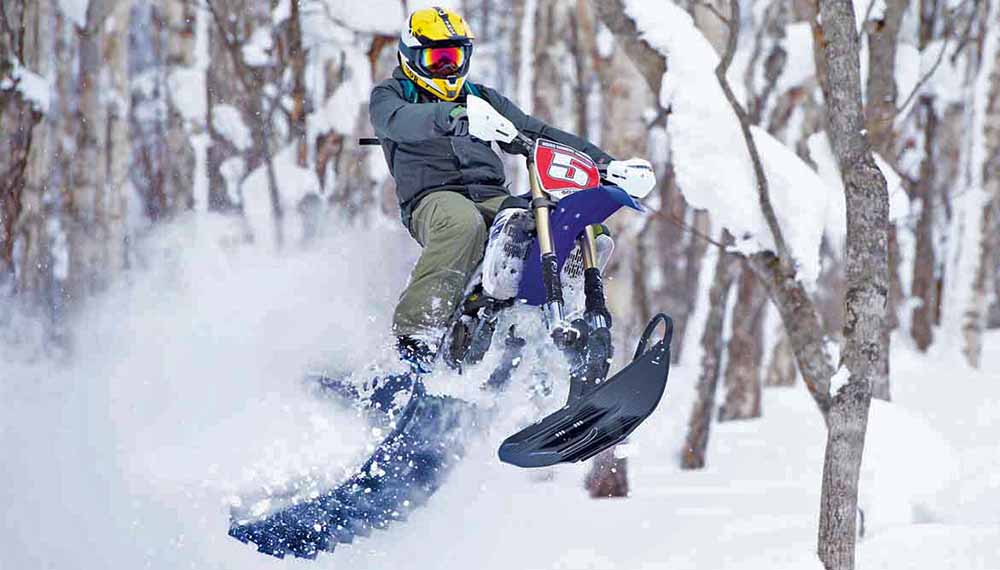 Australian Mat Cox is a travelling moto-maniac. A former A-grade motocrosser, he's worked in the USA with motocross tour companies among others and has recently taken up a position as a tour guide with Niskeo Snowbike Adventures in Japan.
Carving the Japanese back-country on a snowbike converted motocrosser sounds like a pretty good job to us! We chatted with Mat and the owners at Niseko Snowbike Adventures to get the inside line.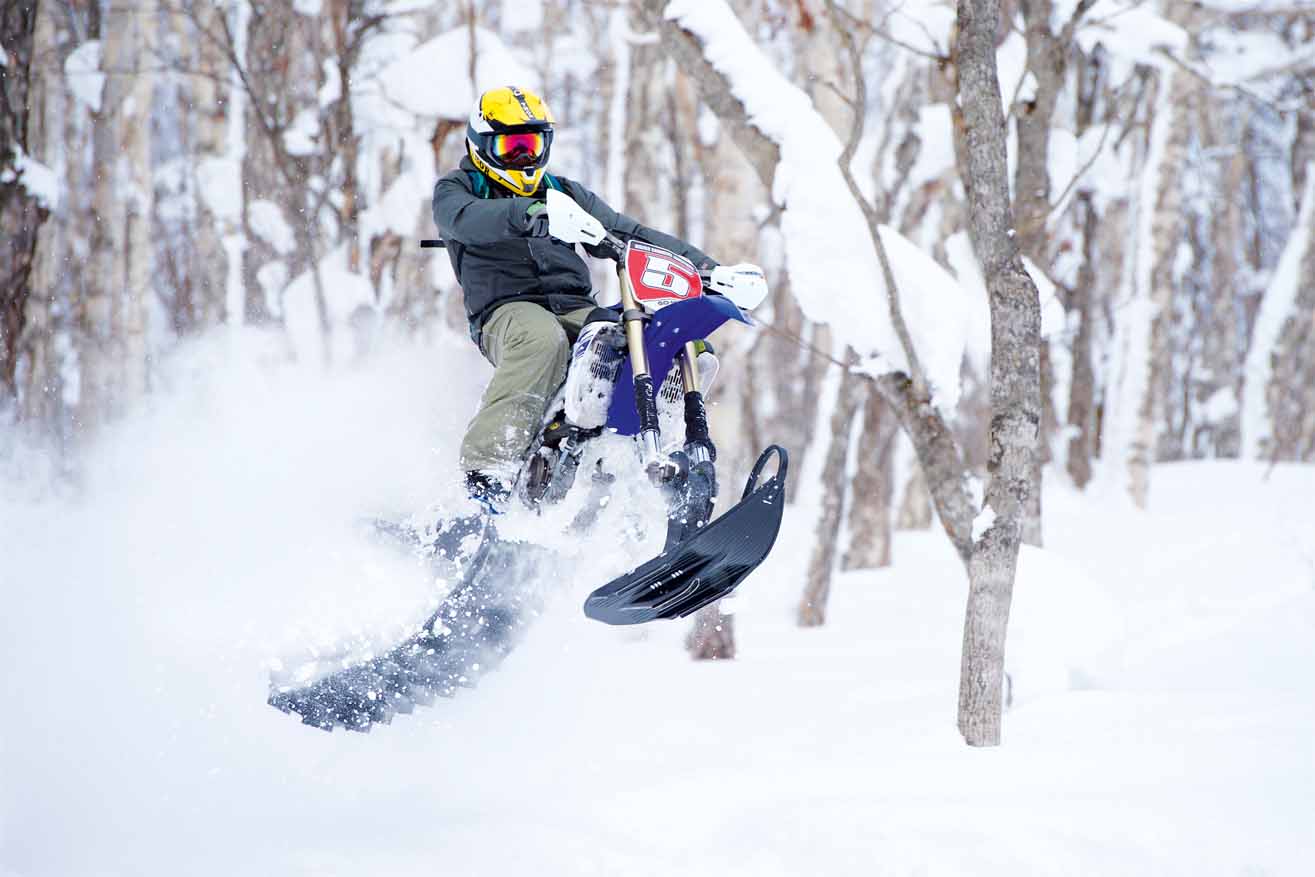 Tell us a little about Niseko Snowbike Adventures. What would a day out on the bikes consist of?
After being picked up from your accommodation at 8.30am we arrive at base at about 9am for briefing, fitting safety gear and an introduction to the snowbike.
By 9.30am we're headed up the trail to our first riding area not far from base where we spend around half an hour letting the riders get used to the snowbike and ensuring all their gear is OK. After this we then head off back country. We ride to different areas throughout the day with some amazing scenery along the way. We don't have a set route and we try to ride fresh untouched powder for every tour. From hill climbs to wide open paddocks to tight trees to creek crossings to whooped-out trails, we really have it all.
Around midday we stop for a supplied lunch, refuel and to take in some of the amazing Japanese scenery. We recently dug a snow cave into a hill for shelter on those really cold days, which has been a big hit with the riders for a quick lunch stop. After lunch we continue deeper into the backcountry and find a lot of play areas with drop-offs, log jumps and other features. By 2pm we start riding back towards base, stopping in for our favourite hill climb and whoop section before returning to base around 3pm.
Riders are then transported back to their accommodation where they usually go for an onsen or beers, as every muscle starts to realise how good a day it was.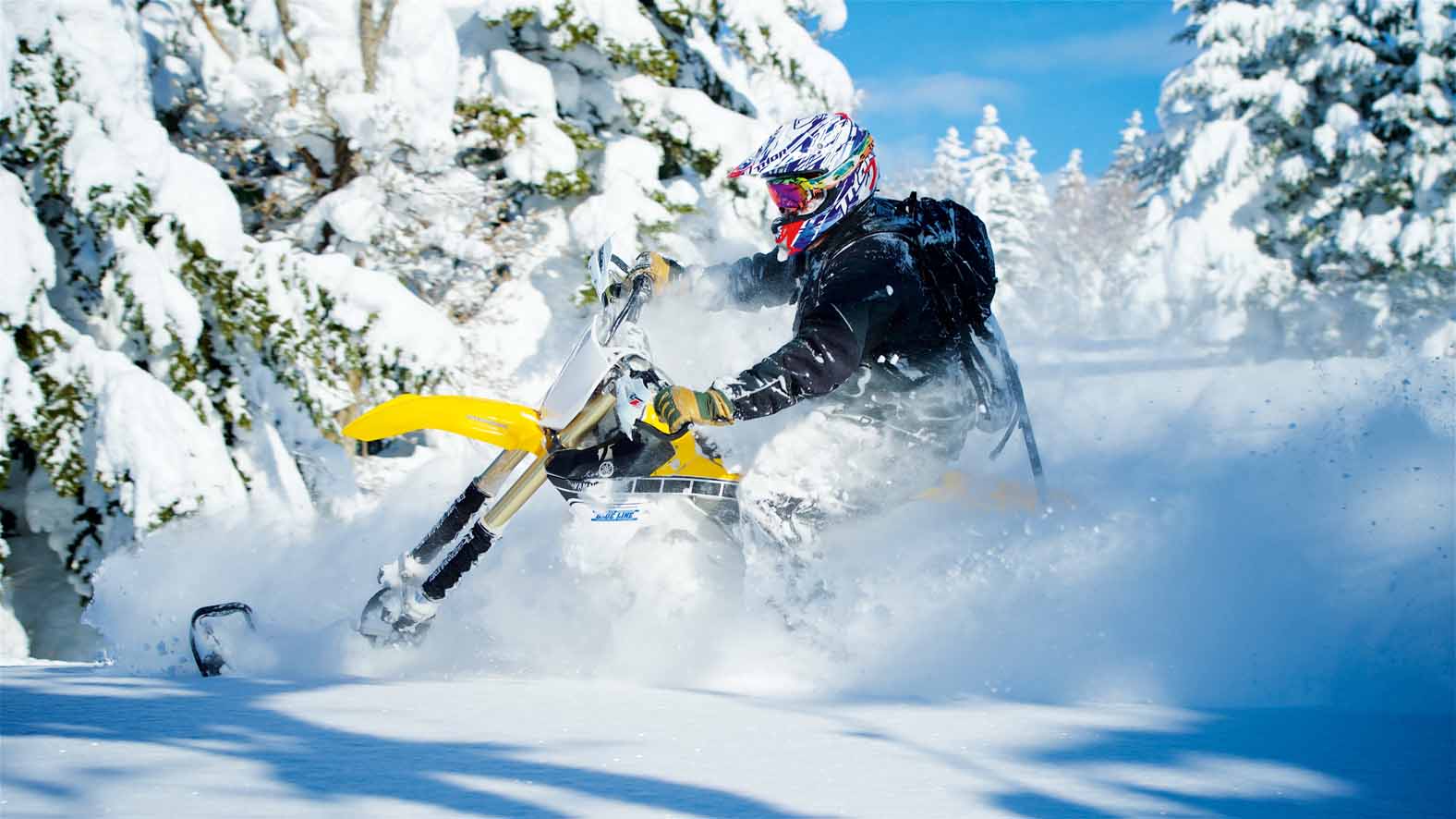 What can a rider expect when they arrive to go on one of your tours?
Most riders can expect to never want to do anything but snowbike ever again! When you start carving deep turns into the powder it blows you away with what these snowbikes are capable of. You'll look at a hill climb and think, "There's no way I could make that." Well, the snowbike just hooks in and tractors up the hill. When the snow is really deep you can angle the bike more across the slope where the track really cuts into the hill and keeps you powering up.
The tour really offers a lot of variety with plenty of obstacles and features for our motocross guys who always love to carve in a track on a nice natural-terrain snow paddock. Then we have the trees and deep gullies for our enduro riders who really are tested with some awesome challenging terrain. Finally we have trails and huge amount of land for our touring guys who are just happy cruising along seeing the sights and some of the spectacular views along the way.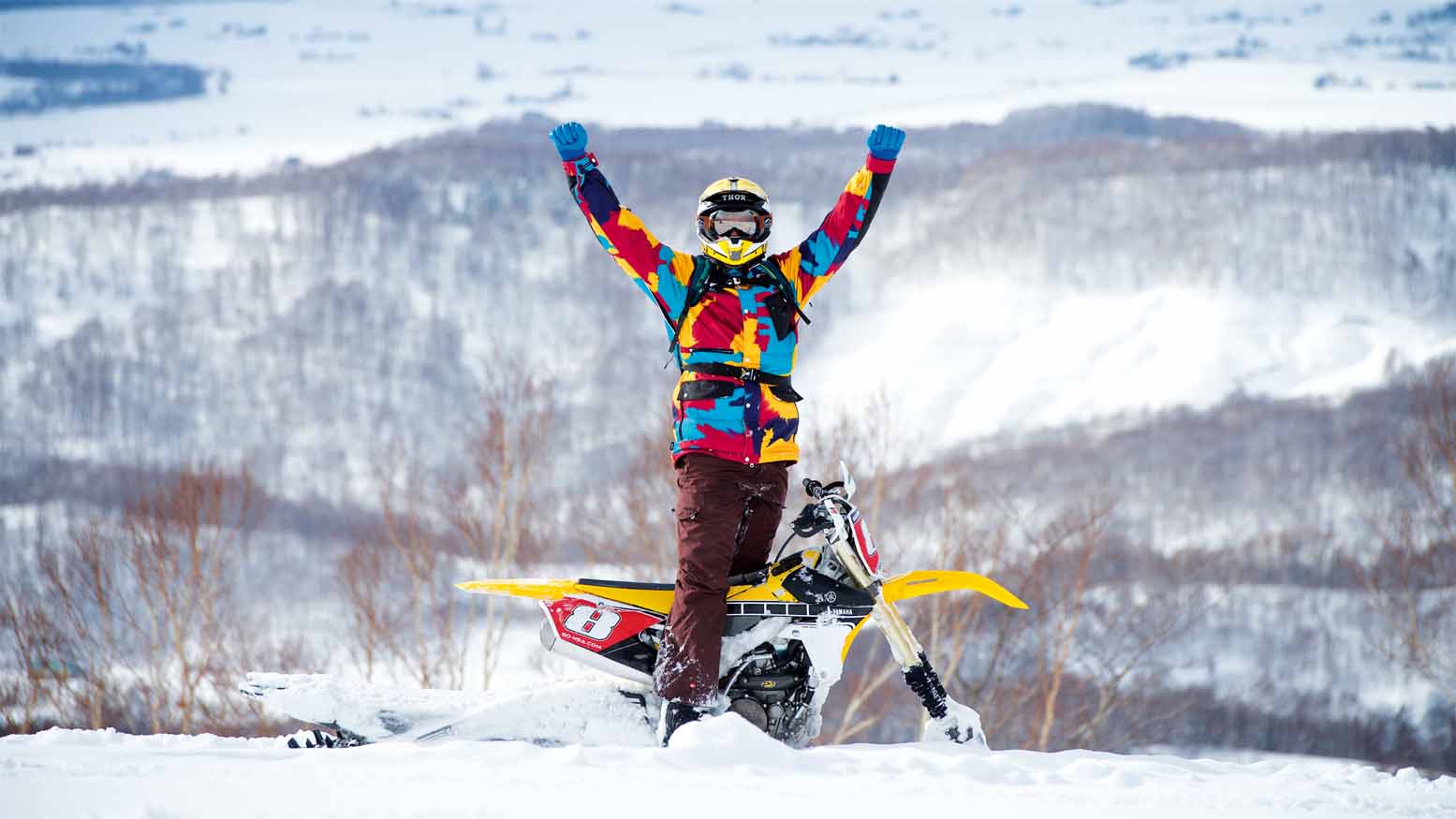 From a rider's perspective, how do you ride one of these machines compared to a regular motocross bike? What riding ability is required?
Any person who rides a motocross or enduro bike will feel at home pretty quickly as the setup is very similar. The hardest part really is stopping as the snowbike will stand up on its own and if you're short like me you'll go to stick your leg out just like [on] your dirtbike and, depending on how deep the snow is, you'll most likely fall over. Most people only do this a couple times and realise they don't want to pick their snowbike up out of the snow any more — then stop perfectly every time after that.
Riding is very similar to riding sand: being smooth on the throttle, flowing and really moving the bike underneath you to allow it to carve into the snow. On fresh, untouched snow, you just feel like you're riding a dirtbike through the clouds. It's an amazing feeling being able to throw your bike anywhere you want.
Having intermediate to expert experience is a huge advantage as the rider can adapt to a bike quickly and we can tackle much more difficult terrain throughout the day. In saying that, we've had first-timer groups who've never ridden a motorcycle and managed to get them out and about in the back country. Snow is definitely much softer to land in than hitting the dirt or tar, so they have no problem having a few crashes along the way.
We cater for all group skill levels and run the trip on what the riders like to do.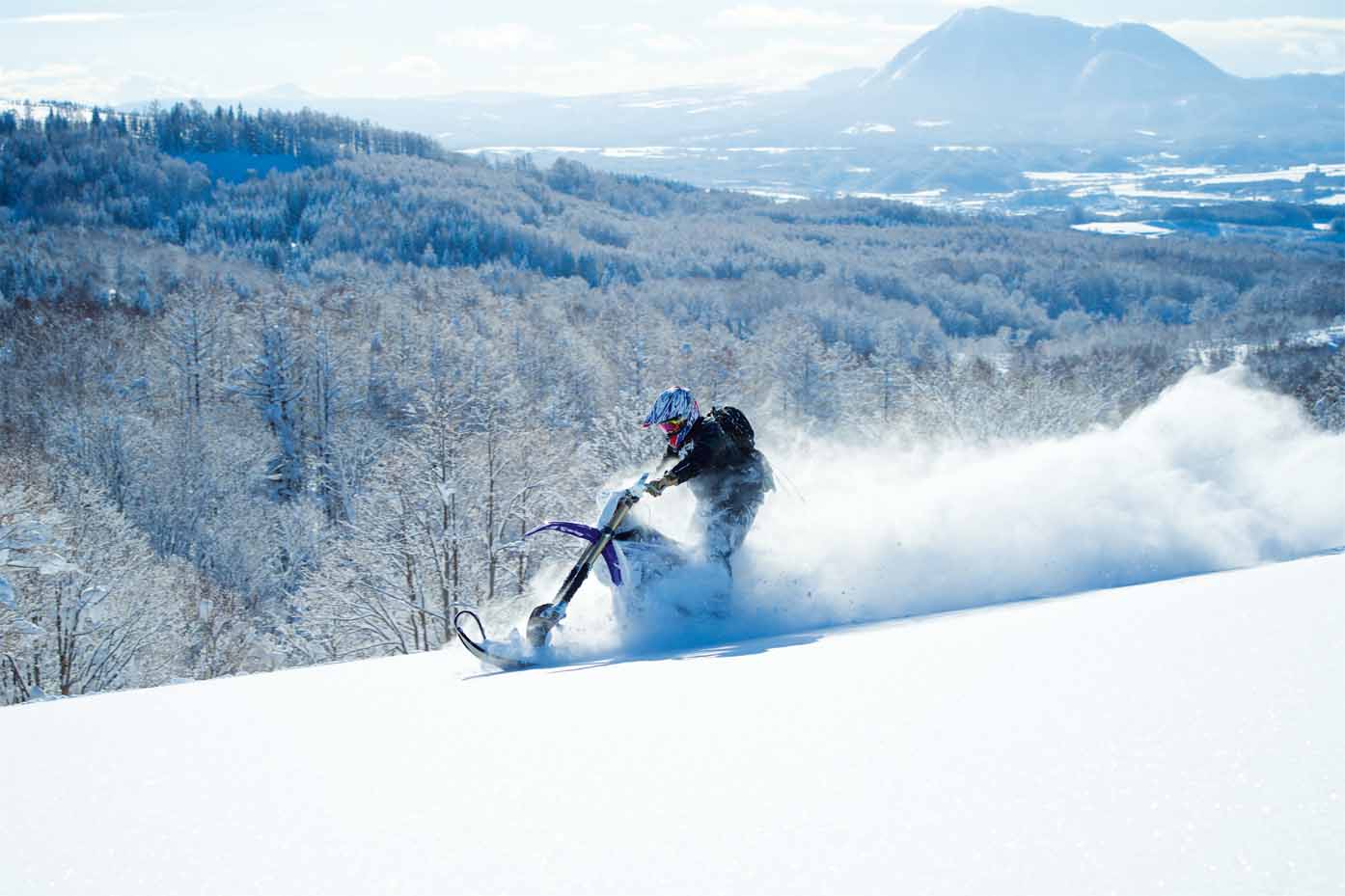 What are the costs involved in to go on one of the tours and what's included?
A day trip is ¥69,000 (AU$800), which includes a 2016–17 high-spec 450cc snowbike, DOT-approved helmets, avalanche safety gear, qualified and experienced guides, hot drink and small lunch pack. Most riders opt to use snowboard boots for the warmth and comfort but if not we can provide a snowboot for the day. Goggles and gloves can be provided for those who don't bring their own.
Also included in the price is insurance, which provides personal injury, equipment, third-party personal injury and property damage. There is a surcharge for under-21-year-old riders, which must be organised three business days prior to the trip.
We also offer package deals by request for groups of four-plus and can offer multi-day tours covering more terrain deeper into the back country.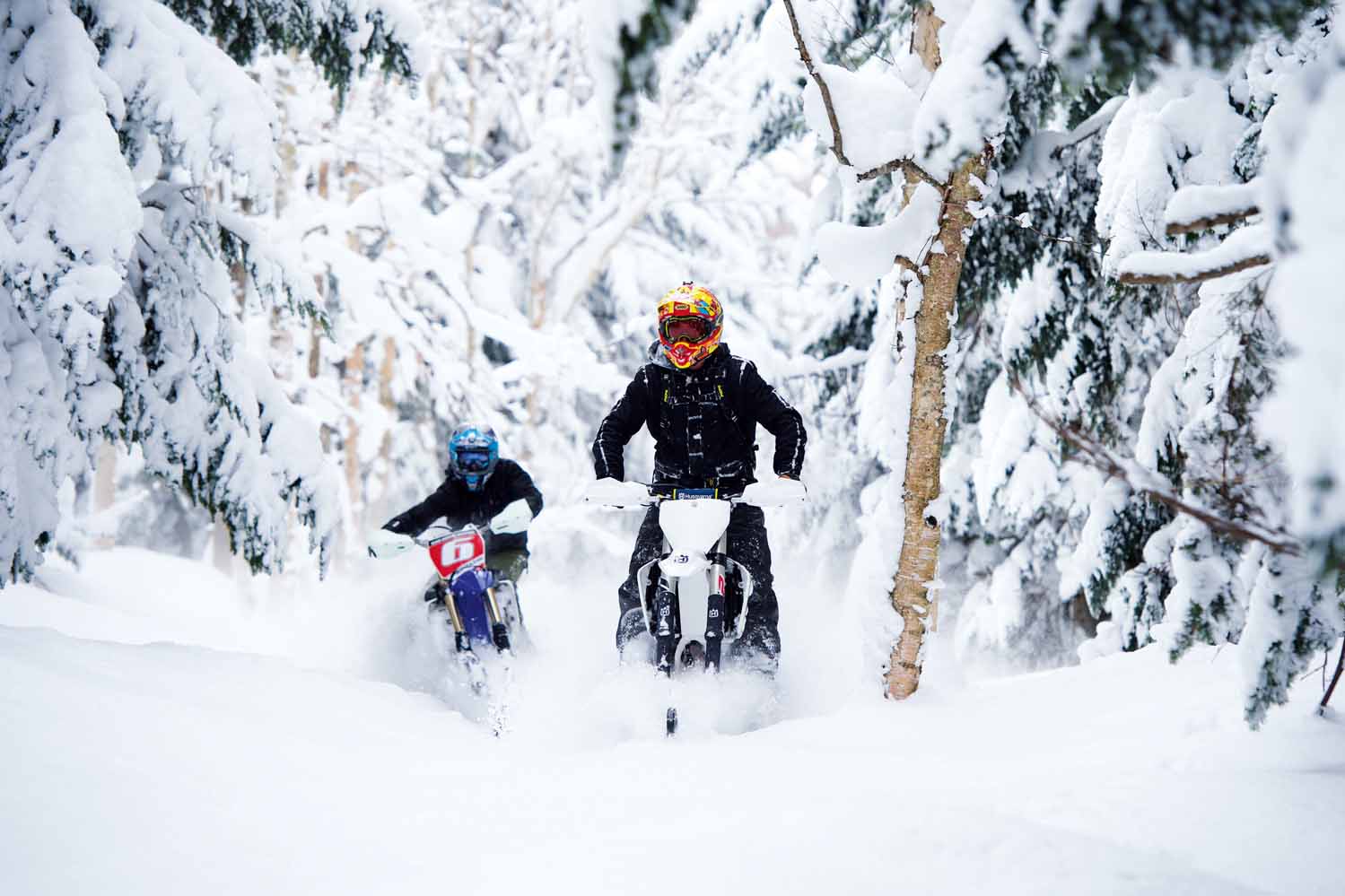 Where in Japan is it located? What could an Australian tourist fit into a trip around the area?
Japan is located almost directly north of Australia. The time difference is only an hour and flights from Australia are much shorter than to the US or Europe. You are on the ground faster and without losing valuable holiday time due to jet lag.
For an Australian into snow sports, no other destination in the world matches the convenience and quality of Japanese ski resorts. It's why so many Australians are already here and are the vast majority of our customers.
If you're into nature and wildlife, possibly photography there is a lot to see in Hokkaido. People fly from around the world every year in winter to see the local wildlife and sights. Also, late-season snow in Hokkaido is spring in the south and cherry-blossom season.
For cultural sites, grab a Japan Rail pass and it will get you around the country very quickly to see Tokyo, Kyoto, Hiroshima, Mount Fuji — there's an endless list of famous places to see.
Just into bikes? We can do multi-day group tours; in late March there are excellent accommodation deals available. We can put a custom package together to explore the mountains with a multi-day tour. These are best in spring as the weather clears, the days are longer and it's possible to range far and wide into mountain ranges we skirt the edges of in deep winter.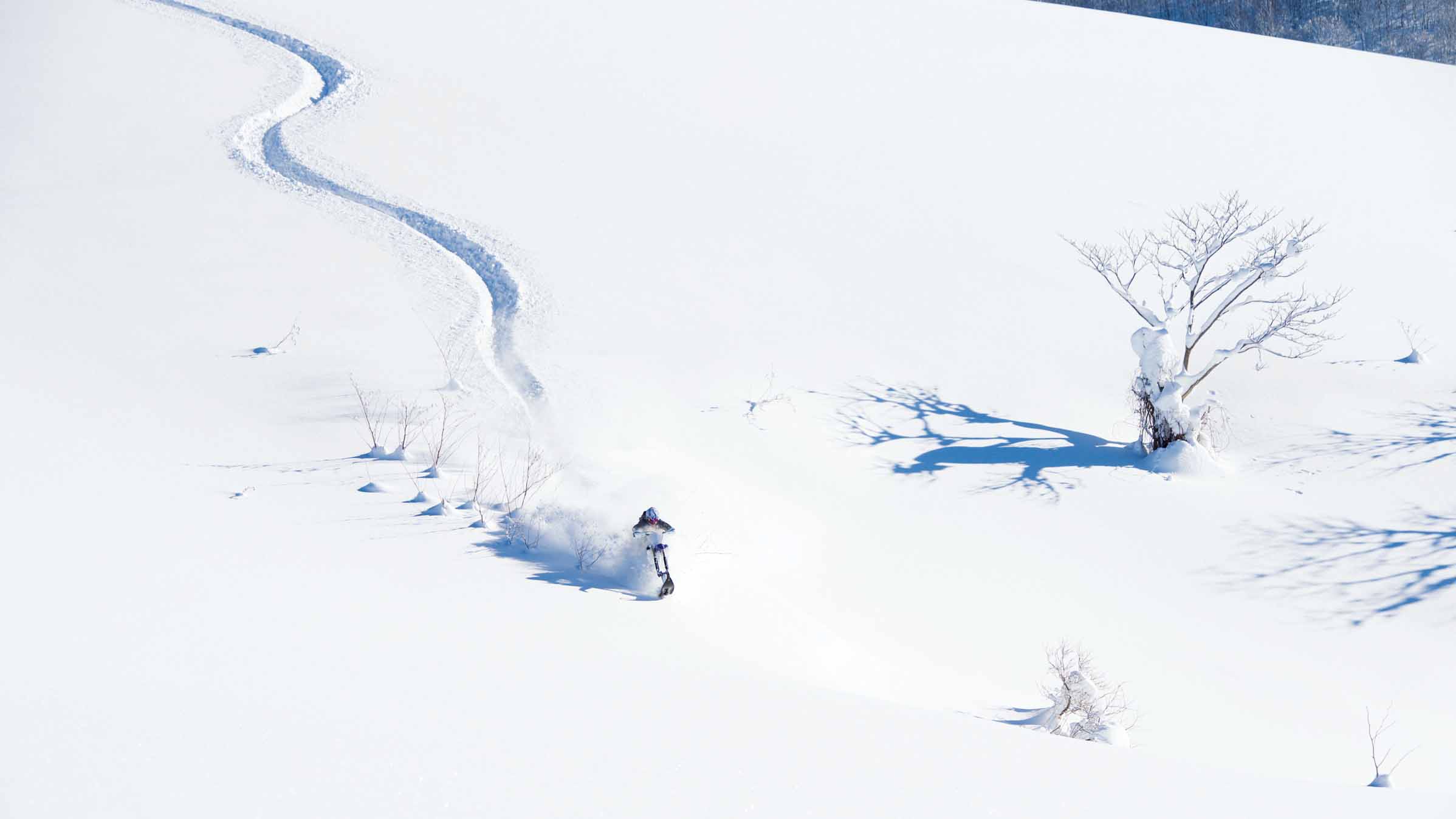 What are some of the highlights of the tours?
For the majority of riders the whole day really is a highlight. There is so much variety in terrain and deep, dry snow that it's always hard to pick a favourite. My personal highlights this season have been the breathtaking views on a perfect sunny day looking over Niseko and Mount Yotei. Riding a section of trails with heaps of fresh snow, it's like a half pipe with twists, turns and plenty of jumps along the way. Then launching into deep wind drifts of super soft snow and just ploughing right through it!
Oh, and we can't forget, the boss's wife Yukari packs us a really tasty hot chocolate for lunch time.