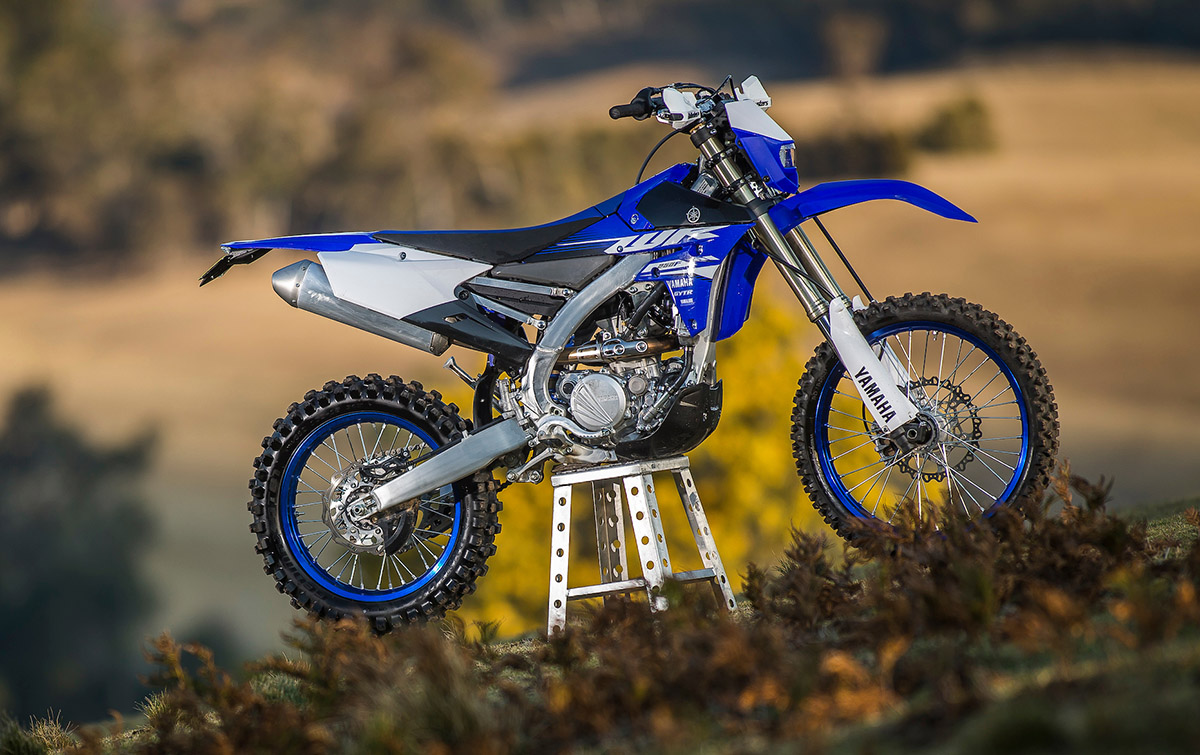 We spend a freezing day carving the trails of Sunny Corner on the vastly-improved 2018 Yamaha WR250F.
A lot of effort has gone into improving the engine on the 2018 Yamaha WR250F with all the updates resulting in a claimed 15 per cent horsepower increase. In a nutshell, the gap between the WR250F and YZ250FX has been closed. The FX, which was built for racing, is now differentiated almost only by the fact that it runs no ADR gear for registration. This is a huge step for a bike that was not all that long ago seen as the epitome of the classic trail bike and now is damn near identical to a purpose built race bike. Is that a good thing? That's a good question and I'm glad you asked; we'll get to that later.
We'll list all the technical changes elsewhere in this feature but one that might turn a few heads is the removal of the kickstarter. This isn't the first bike to have that happen and it's an indication of the effort to cut weight (one kilo in this case), and the confidence inherent in electric start. And yes, it's a cable clutch. The Japanese believe in the cable and we have no problem with this at all. Cable clutches have better feel than hydraulic units and while they aren't as light to the touch, if you can't operate a cable then you're probably in the wrong sport. We love 'em both but seeing comments like, "I'd never buy a bike with a hydraulic clutch because they're too heavy," makes us wonder what's going on with left arms in this country. Don't go soft on us guys.
And the blue rims? We miss the days when manufacturers would take a risk on aesthetics (remember the Suzuki slingshot or Yamaha's 1992 YZ250?), and these days blue rims are pretty extravagant so we'll take it.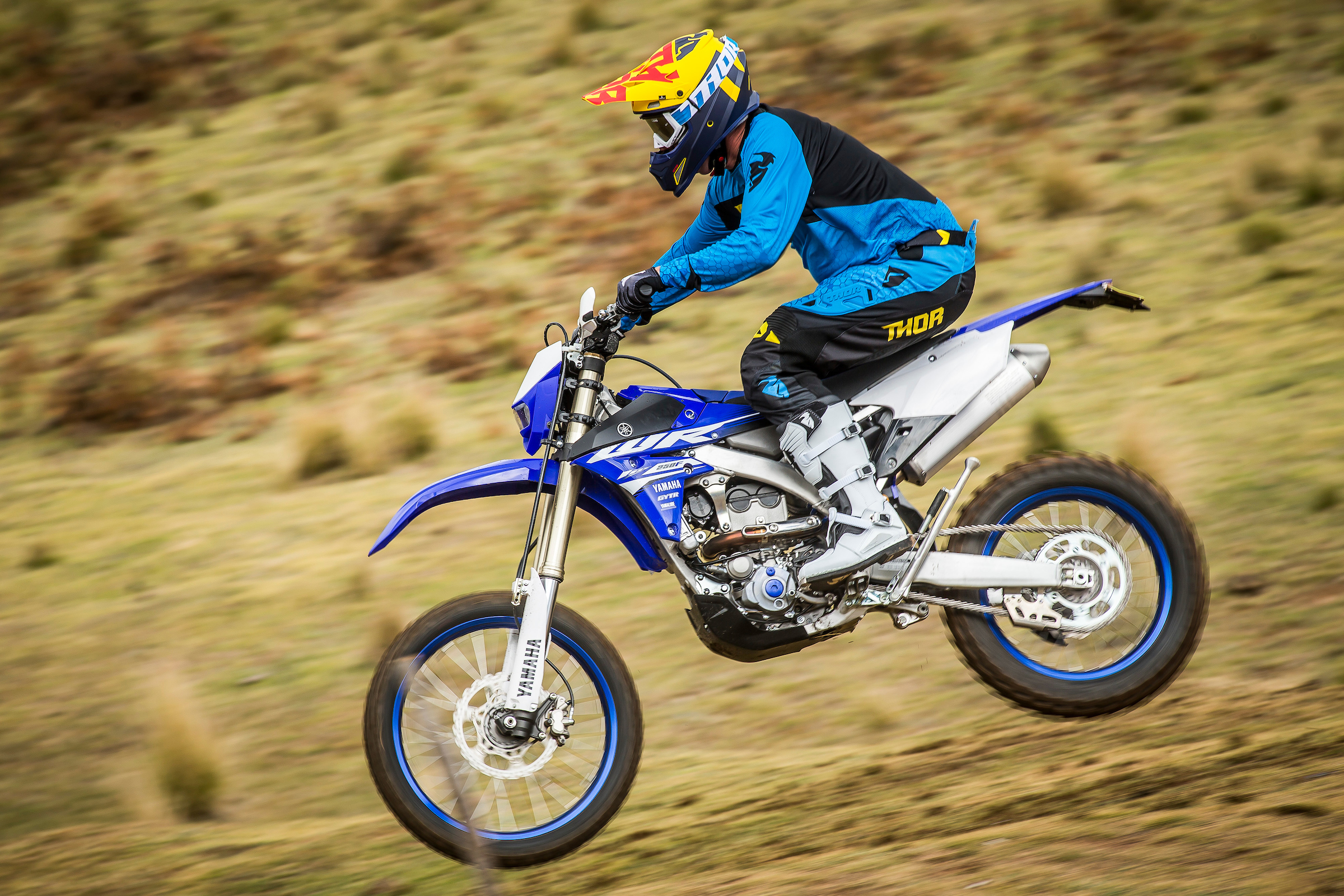 ON YA BIKE
Our test area was pretty impressive. It was in fact the Sunny Corner Rally site within which we had a grass track to ride, a small bush loop and then we hit some of the actually Rally loops before all the punters arrived for a couple of cold nights camping at one of the biggest rides in the country. All this gave us plenty of scope and variety to check out the bikes of which there was on hand the WR250F, YZ250FX and YZ250X two-stroke model. We also had the opportunity to ride the WR250F with the YZ muffler fitted just like the FX has as standard.
I started the day doing a back-to-back comparison between the standard WR250F and one with a YZ pipe on it. There is no hiding the fact that the 2018 WR-F has more power and is the fastest that it's ever been. The new engine updates bring the extra power and put it all in the right places with a heap of bottom and mid-range pull that doesn't just drop off the shelf completely up top.
The gearing is pretty much spot on for what we rode and I didn't have to tap dance on the gears to keep it in the right spot. In fact you can lug the engine in lower revs than any previous model and it'll still pull.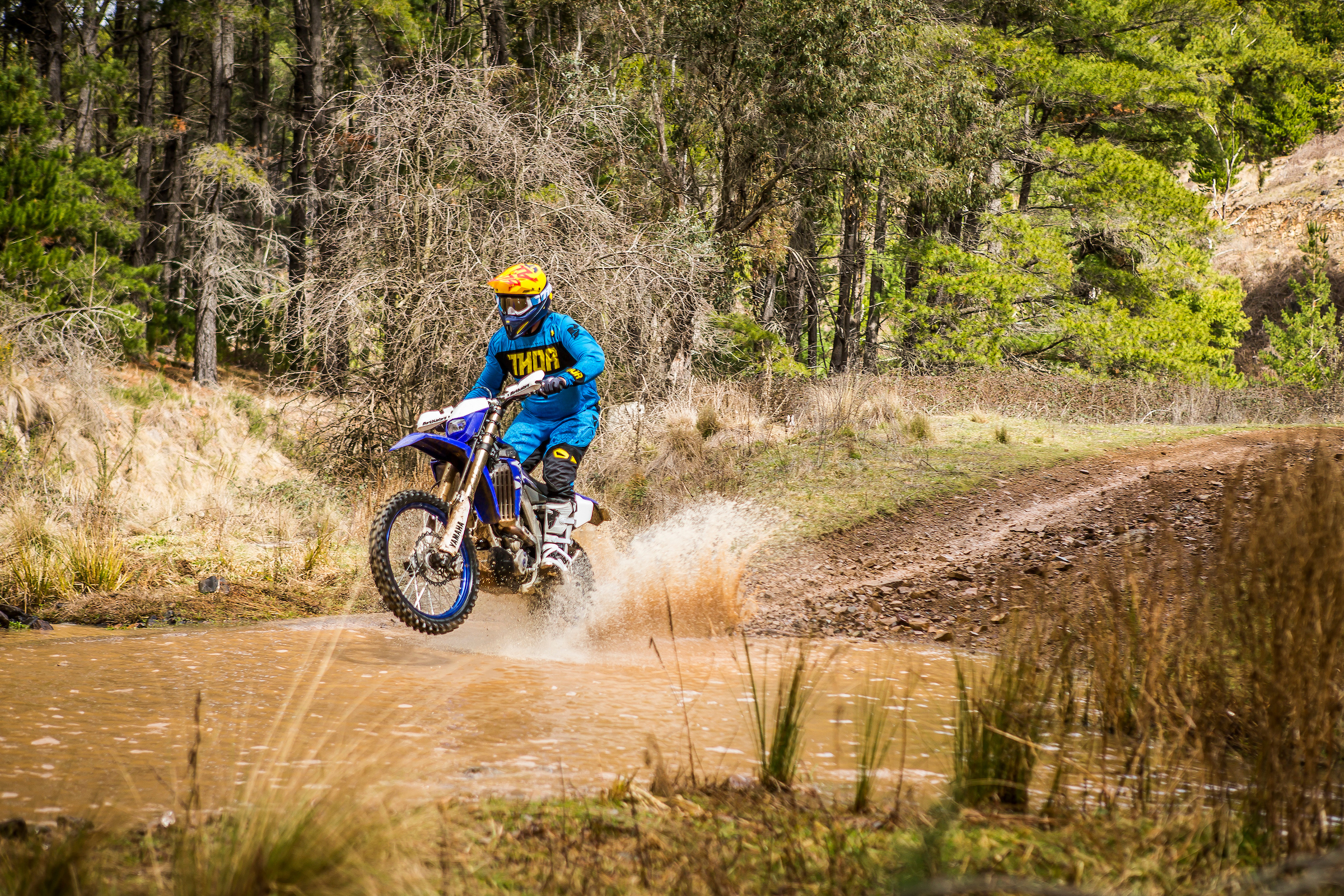 Swapping to the bike with the YZ pipe was a surprise. This is the basic trim that Josh Green rode in the 2017 Six Day and it's ridiculously fun to ride. There is even more around the low/mid-range that creates a surge out of corners and is something you genuinely have to manage to keep in check. The WR250F has never been this aggressive. In fact a WR250F has never really been aggressive, but believe me the 2018 is. This is all backed-up with a slightly revised chassis and suspension package that offer very precise handling characteristics and for the faster rider it's a set-up that will win a lot of fans. I appreciated the new larger front brake disc too which offers better stopping power but also excellent feel through the lever.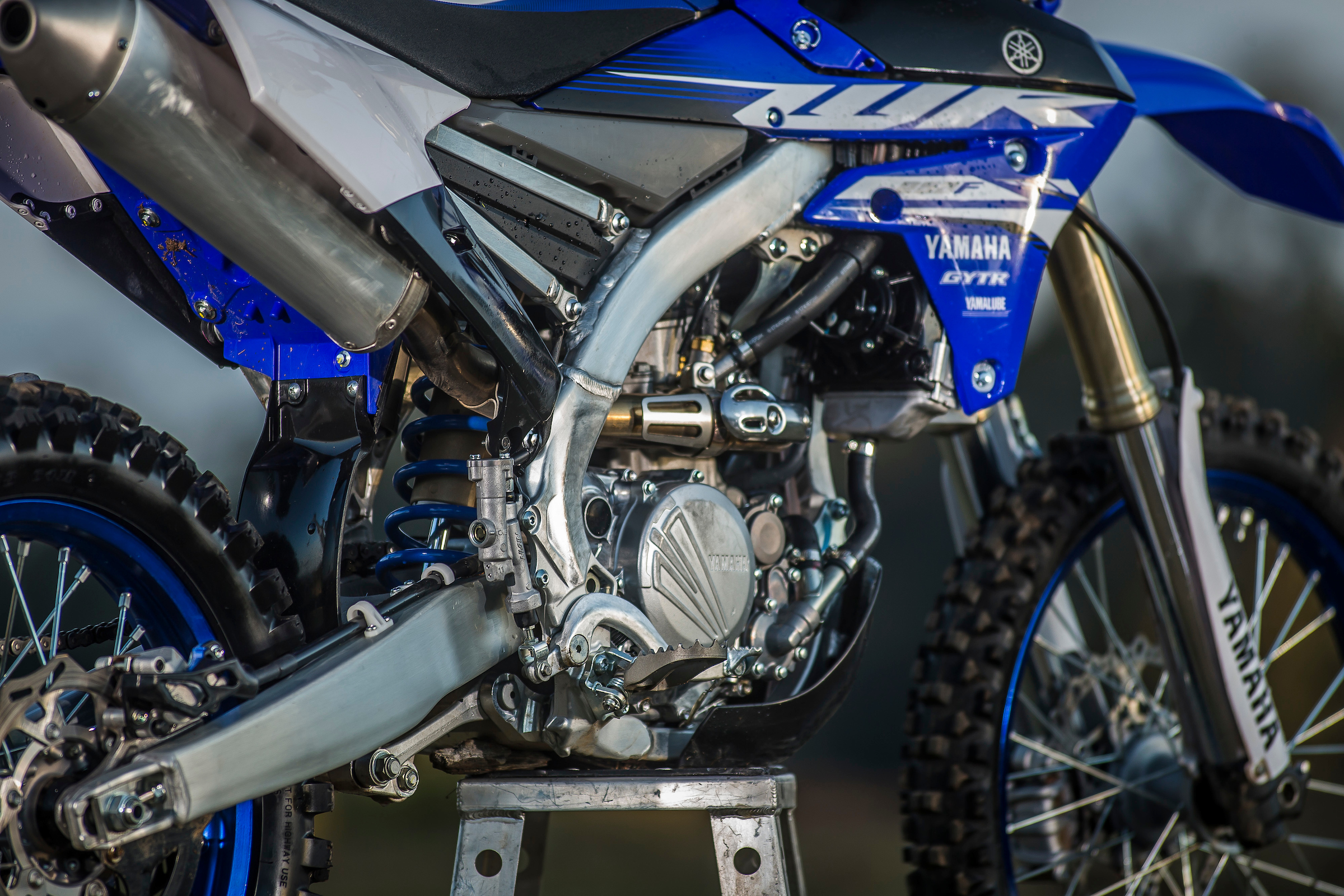 So many of the complaints or doubts you might have about a 250F are blown away with the 2018 WR250F. It can jump out of corners, coming up on logs on the trail is no drama and getting a boost off a rock ledge is just a flick of the clutch away. Of course there isn't as much on tap as on a 450 but I don't need most of that anyway. I'll take the excellent power on offer with the 250F any day and the amount of times I'll wish I had more will be less than the amount of times I wish I had less power on a 450.
The 2018 will change a lot of minds about the 250F. If you love single trail then this is the weapon of choice. The six speed gearbox allows it to open up and blow open stuff away as well but this bike is a quick steering, super responsive package that wears its YZ race heritage on its sleeve and a comparison between the Yamaha, KTM and Husqvarna would be very interesting. The two Euros feel very different to the new Yamaha but in the performance stakes it would interesting to see who's approach is best for the average trail rider as well as the racer.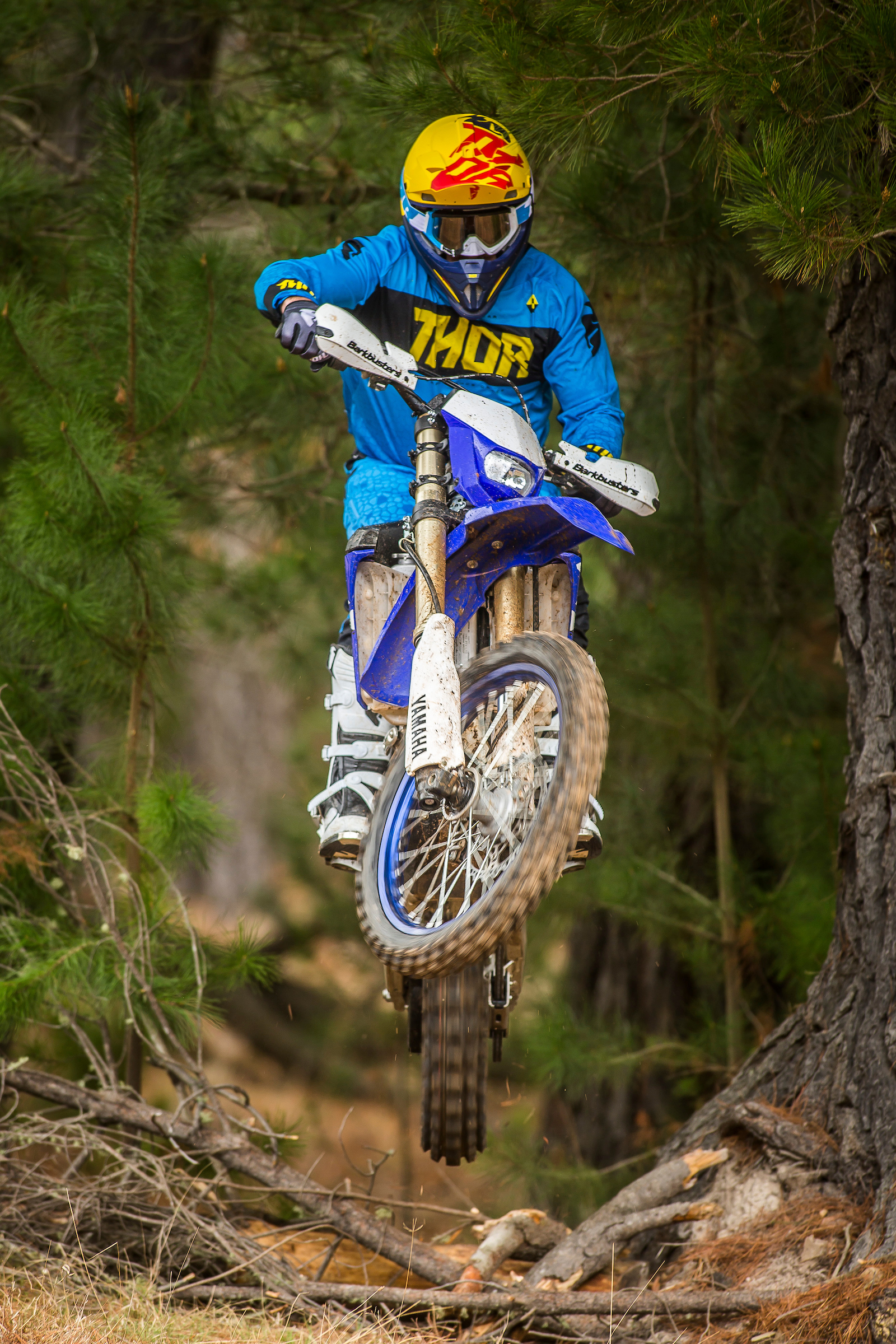 IS IT FOR YOU?
If you've been conditioned into believing that the 250F isn't the bike for you because it's not fast enough, then just Yamaha is basically saying "Hold my Beer…" with the new WR250F. They've taken the challenge to change minds, based the new bike off an excellent package and now have a bike that's faster and more aggressive than ever before.
So, what happens to the trail bike it used to be? This is a valid question. If most of us don't race why is there a push to turn bikes into a race machines and talk to us non-stop about winning? Where are all the trail bikes going? Well in this case Yamaha points to its WR250R as a true trail bike and they certainly have a point on that one; the R model is a great bike. And while I bleat on constantly about the persistent marketing of race wins over fun factor I see no real drama when it comes to the 250F getting more power, but stiffer chassis and suspension for ultimate performance does worry me. The '18 WR250F is a stiff bike by average trail speed standards and therefore not as comfortable. It's designed to hit obstacles hard and skip over trail trash at speed. I would personally opt for a softer suspension set-up which is no big deal and even rudimentary clicker adjustments allow a good deal of that to happen. I know from experience that the aluminium frame will loosen-up over time and become more forgiving and while I've overall been critical that the 450 has gone too far away from the average rider I like where the WR250F is at and I reckon its blow a lot of doubters away.
UPGRADE CHECK
New cylinder head
Intake port raised and straightened
Intake valve diameter increased from 27 to 27.4mm
Larger throttle body/head joint – better fuel vaporisation
New high lift camshafts
Stronger valve springs
Intake cam working angle narrowed for a low to mid power increase
Shortened intake funnel for improve over-rev
New control filled aluminium bilateral beam frame
Revised suspension settings with new oil level and settings
Scraper added to oil seal in forks
New front disc rotor. Increased diameter from
245mm to 270mm
Larger bore header pipe with larger radius bend
Lighter piston with DLC coating – reduces friction
Pent roof shape changed to flat – improve burn
New nickel-chromium-molybdenum steel conrod
New ECU with revised rev limiter
New high strength crankcases
Kickstarter mechanism removed – less approx 1kg